Praying for President Trump Is Biblical, Not Heresy, Evangelical Leaders Say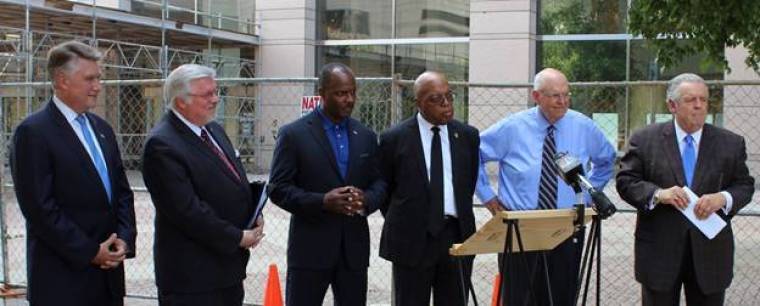 Responding to a recent statement by the liberal Christian civil rights leader Rev. William Barber that praying for the president is a "theological malpractice that borders on heresy," evangelical leaders responded that the Word of God clearly asks us to pray specifically for our leaders.
"The Scriptures are exceedingly clear that we are to pray specifically for our leaders," the Rev. Mark Creech, executive director of the Christian Action League of North Carolina, said at a press conference outside the Charlotte-Mecklenburg Government Center, according to the Christian Action League.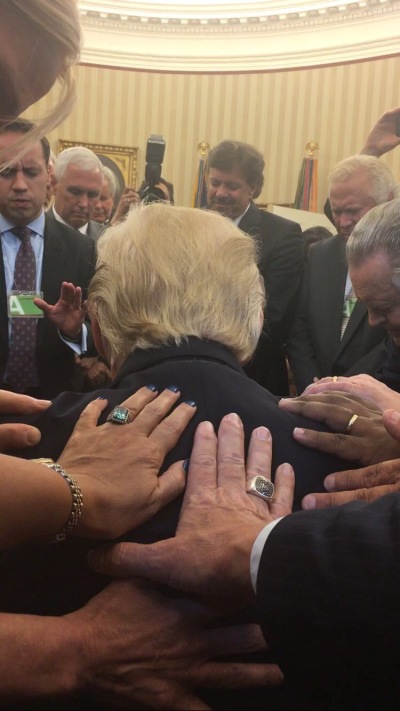 Barber, president of the North Carolina chapter of the NAACP, had told MSNBC, "[I]t is a form of theological malpractice that borders on heresy. When you can p-r-a-y for a president and others while they are p-r-e-y, preying on the most vulnerable, you're violating the sacred principles of religion."
Barber said this after a group of evangelical leaders prayed over President Donald Trump in the Oval Office on July 10, with Vice President Mike Pence in attendance as well. Johnnie Moore, president of the KAIROS Company and an attendee of the prayer meeting, took a photo of the laying of hands on Trump that was widely circulated on social media.
Barber also quoted from the Old Testament to argue that the evangelical right is guilty of a "moral hypocrisy."
"You know, there is a text in Amos Chapter 2 that says religious and moral hypocrisy looks like when a nation of political leaders will buy and sell upstanding people when they will do anything to make money, when they will sell the poor for a pair of shoes, when they will grind the penniless into the dirt and shove the luckless into the ditch and extort from the poor," Barber said. "That is an actual text. There is a text that says when you do not care for the sick, you are actually violating the principles of God."
Creech, an adviser to The Christian Post at the press conference, argued, on the other hand, the apostle Paul wrote in First Timothy "that we should pray for [leaders] without qualification. I remind you that when Paul wrote this the kings that were ruling at that time were mostly tyrants."
Dr. Richard Land, president of Southern Evangelical Seminary, said that a meeting hosted by the Office of Public Liaison, after which the leaders prayed for Trump and Pence, involved no taxpayer funds.
"When I read Rev. Barber's comments, I wondered just what part of 'praying for all those in authority' does Mr. Barber miss. That is in the Bible, and it is a command," Dr. Land said. "We were being obedient to the command."
He quoted Martin Luther King Jr., "Whom you would change, you must first love."
Dr. Land added that while he never voted for President Obama, he prayed for him every day during his presidency.
Clarence Henderson, a civil rights activist and president of the Frederick Douglas Foundation, asked Barber, "What better thing could these men have done than lay hands on President Trump … that they would impart unto him the Holy Spirit to guide the president to lead our nation?"
He continued, "We must do as George Washington did. When he held his first meeting with Congress, the first thing they did was pray."
In a statement emailed to The Christian Post after the prayer event, Moore described it as "a very special moment but it was also not an unusual one."
"Various ones of us have prayed with him many times and have been praying for him for a long time ... We believe we are a praying nation, and we begin by praying for our leaders," stated Moore. "As you know, most evangelicals believe it's a sacred responsibility to pray for the president, and this is very much in our tradition as Americans who once took — and sometimes still do take — this responsibility seriously."