'Preachers of LA' Gets Second Season; 'Preachers of NY,' Other City Spin-Offs in the Works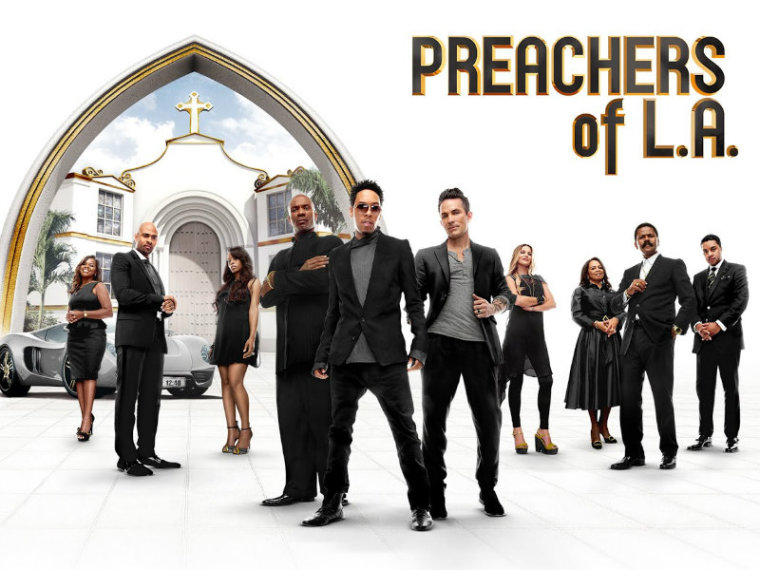 The controversial yet successful "Preachers of L.A." docu-series that premiered on Oxygen Media last year has been approved for a second season, and producers of the program that features Bishop Noel Jones, Deitrick Haddon and other Southern California ministers will start casting for Christian preachers in New York, Atlanta, Dallas and Detroit for future spin-off series.
Other original cast members returning for season two of the "candid and revealing" television series include Bishop Clarence McClendon, Pastor Jay Haizlip, Pastor Wayne Chaney and Bishop Ron Gibson. The program was promoted as an inside look at the lives and ministries of high-profile Christian leaders who have to deal with very down-to-earth issues.
"'Preachers of L.A.' touched the heart strings of our Oxygen viewers. They were captivated by the triumphs and tribulations of these men of God and the amazing women and families that stood alongside them," said Rod Aissa, senior vice president of Original Programming and Development for Oxygen Media, in a press release. "We look forward to bringing more of these compelling stories to life both in LA and around the country."
According to Oxygen Media, "Preachers of LA." was the most watched new series in the network's history among viewers 25-54 years old, and averaged well over one million total viewers. The faith-based docu-series also performed well online. "Preachers of L.A." was the #10 most-social cable reality program for both October and November, and earned two million video on demand transactions.
Though popular, the docu-series proved controversial for some Christians, who gave the program negative reviews even before its premiere episode, due to a three-minute trailer that seemed to focus on the expensive cars and mega-homes of the featured preachers.
In addition to calls for a boycott of "Preachers of L.A." and Bishop T.D. Jakes seemingly calling the program "junk," a group of African-American pastors criticized the show for "misrepresenting" black Christian ministers.
"I don't think the show represents the best of the black church tradition," the Rev. James C. Perkins, pastor of Greater Christ Baptist Church in Detroit, Mich., told BET.com.
"The downside is that people often paint all pastors with a broad brush and, after watching this show, they may well begin to associate all pastors with those behaviors," added Perkins, who is vice president of the Progressive National Baptist Convention. "There are many pastors who are out here serving the people and not just serving themselves."
Cast member Deitrick Haddon, a preacher and gospel recording artist, dismissed criticism of the program, which in its eight episodes took on subjects like preachers being paid to preach the Gospel, Christian couples living together while unwed, and other issues.
"At the end of the day, if we're truthful with ourselves, if everybody that is watching the show, if we really are just really truthful with ourselves we have to know that preachers do not go on reality shows to show off what they have. No preacher is crazy enough to go on a reality show just to show you his Bentley," Haddon told The Christian Post in an exclusive interview in October.
"These men are all individually compelled in their own right to share their stories, and they can't help it [if] they have a car and houses, you can't help that. If you're going to do a reality show on me, you're going to see what I have. But each and every preacher has an agenda, you can rest assured, each and every preacher has an agenda of winning souls. It's not as bold and prevalent as you would get it if you were watching The Word Network or TBN, because this is mainstream television with worldly mainstream viewers," he added.
Jay Haizlip, pastor of The Sanctuary church and the only white lead cast member of "Preachers of L.A.," told CP that he and the other men might have differing philosophies and approaches to ministry, but they are all "good guys."
"They are real, they are genuine. I like all of them. The people that I've gotten to know, and I know all of them to some level ... I mean these guys are good guys. They're not about their cars. The goal of ministry for them isn't about the size of their bank account or the kind of car they can drive or how big a house they can live in. That is way down the list of their priorities. Their number one priority is ministry," said Haizlip in an October interview.
Season two of "Preachers of L.A." is scheduled to premiere in the fall. No dates have been made public regarding future releases of the program's spin-off series based in New York, Atlanta, Dallas and Detroit. "Preachers of L.A." is produced by L. Plummer Media in association with Relevé Entertainment, with Lemuel Plummer and Holly Carter serving as executive producers.