Preemie's First Year Video Goes Viral; Baby Overcoming Obstacles Gets Fans Talking About Faith, God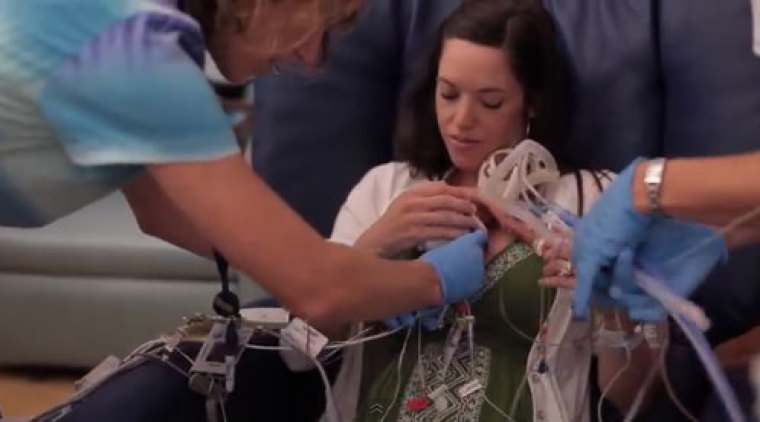 Benjamin Scot Miller filmed his son's first year, and this touching story has gone viral on YouTube. Born prematurely, Ward Miles was too small for his mother to hold, and even when she could hold him, he needed a complex medical apparatus to stay alive.
"He was born way too early, and the obstacles he had to overcome were really big, but not bigger than our God," Miller wrote about the video. He posted it last Friday, on his wife, Lyndsey's, birthday, "as a gift to her." The video has since found more than 4.7 million views, with nearly 37,000 "likes."
"This is a story of a mother's love for her baby," Miller wrote. The video opens on July 20, 2012, four days after Ward's birth, when Lyndsey finally got to hold him. Born over three months premature, Ward weighed just under 1.5 pounds four days after birth.
The child's mother picks him up gently, among a mass of tubes. He is barely larger than both of her hands, and must remain connected to multiple medical devices even as his mother holds him. Ward's face, taped up to remain intact, rests gently on her shoulder.
In one scene, the mother Lyndsey gazes lovingly upon her son through a plastic neonatal intensive care unit. Connected to a respiration tube on his nose, an IV on his arm, and a large cable on his stomach, Ward fidgets as if knowing that his mother is looking on. His eyes are covered to protect their development, and he wears a brace on his head to keep it intact.
Finally, Ward grows large enough to be disconnected from the medical devices, and he smiles on his mother's chest.
"After spending 107 days in the NICU…and as many nights without his mother…Ward finally got to come HOME," the video declared. Ward gazes wide-eyed up into his mother's face, with a huge smile on his face, as the short clip draws to an end.
This baby, who once seemed so fragile he would be hurt by a gentle touch, now sits up, vibrantly beating a toy drum. With no respirator, no IV, and no feeding tube, Ward plays with a stuffed monkey, and playfully yawns.
YouTube commenters lavished praise on the video. Zarry Kidrauhl deemed it the "cutest thing I have ever seen !!!" In a comment, which four other YouTube users liked, J Cc declared, "I used to think I'm a tough guy…I can't stop crying. God is love."
"Miracles DO exist," Gizem Tuncer commented, "if you are capable of keeping the faith !" Grace Le wrote, "his hand, very small but so lovely, so beautiful :)"
Two other people who claimed to have been born prematurely commented on the video. "I was born like that same as your son, at 3 ½ months, trust me he will be happy and so will you," commented juanawesome15. "You 3 have truly found happiness, god gave you this gift, protect it," he added. "HAPPY B-DAY WARD, from a fellow survivor."
Maria Sara Jijon Calderon also claimed to have been born prematurely. "Beatiful (sic)," she exclaimed. "I was also born way too early…but this happened in 1967, in a developing country (Ecuador)." Admitting the challenging circumstances of her own birth, Calderon declared, "I am sooo glad that I am alive." She also congratulated the Millers "for beautiful Ward."