President Obama Lied, Millions Will Lose Insurance Under Obamacare He Promised They Could Keep, Says Report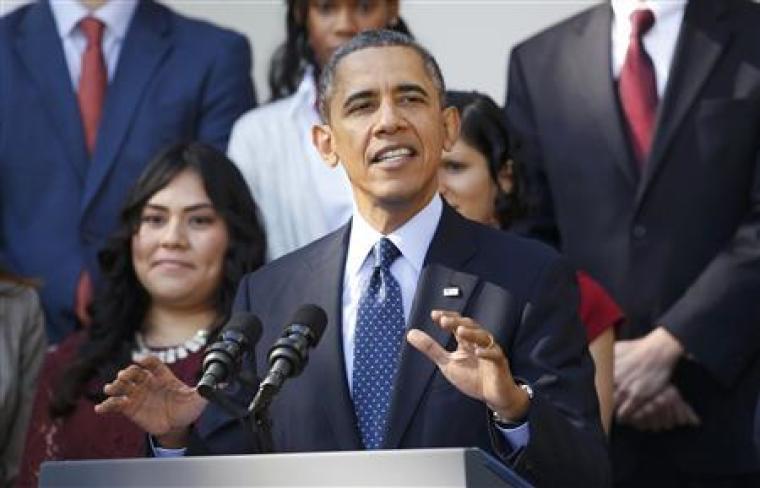 The Obama administration apparently has known for at least three years that millions of Americans would get cancellation letters for their health insurance as a result of Obamacare, even though President Obama has said repeatedly that they wouldn't.
Several sources closely involved with the Affordable Care Act revealed in an NBC News report Tuesday that 50 to 75 percent of the 19 million Americans who purchase individual health insurance should expect to get "cancellation" letters or similar communications because their policies don't meet the standards required under the new health law.
That number according to one expert in the report, could also go as high as 80 percent. It is predicted that these individuals will also experience "sticker shock" when they realize it will cost them more to comply with Obamacare's health insurance standards.
And according to the report all of this was deliberately orchestrated by the Obama administration. The law had initially stated that insurance policies effective as of March 23, 2010 would be "grandfathered", a provision that would have allowed consumers to keep their leaner, less expensive policies that don't meet the requirements of Obamacare.
The Department of Health and Human Services reportedly later added language to that provision which said if any part of policies set to be "grandfathered" change significantly in any way, such as changes in the co-pay, or benefits, those policies would no longer be exempt from the full demands of Obamacare.
An estimate found buried in Obamacare regulations from July 2010 however highlighted that due to the high turnover rate in the individual insurance market "the percentage of individual market policies losing grandfather status in a given year exceeds the 40 to 67 percent range."
This information indicates that the Obama administration knew that millions would effectively lose their insurance under Obamacare yet as recently as last year, President Obama was reportedly telling people they could keep their insurance plans if they liked it.
"This [regulation] says that when they made the promise, they knew half the people in this market outright couldn't keep what they had and then they wrote the rules so that others couldn't make it either," said Robert Laszewski, of Health Policy and Strategy Associates.
Government officials like White House spokesman Jay Carney have been publicly downplaying the bombshell that likely to hit many consumers hard.
"What the president said and what everybody said all along is that there are going to be changes brought about by the Affordable Care Act to create minimum standards of coverage, minimum services that every insurance plan has to provide," Carney said. "So it's true that there are existing healthcare plans on the individual market that don't meet those minimum standards and therefore do not qualify for the Affordable Care Act," he added.
Behind the scenes however, some Democrats are beginning to panic according to Ron Fournier in a National Journal op-ed.
"'Dem Party is F****d.' That was the subject line of an email sent to me Sunday by a senior Democratic consultant with strong ties to the White House and Capitol Hill. The body of the email contained a link to this Los Angeles Times story about Obamacare 'sticker shock,'" he wrote.
"These middle-class consumers are staring at hefty increases on their insurance bills as the overhaul remakes the healthcare market. Their rates are rising in large part to help offset the higher costs of covering sicker, poorer people who have been shut out of the system for years," he quoted from the article.
"Although recent criticism of the healthcare law has focused on website glitches and early enrollment snags, experts say sharp price increases for individual policies have the greatest potential to erode public support for President Obama's signature legislation."