Presidential Election: Voters Head to Polls to Decide Between Donald Trump, Hillary Clinton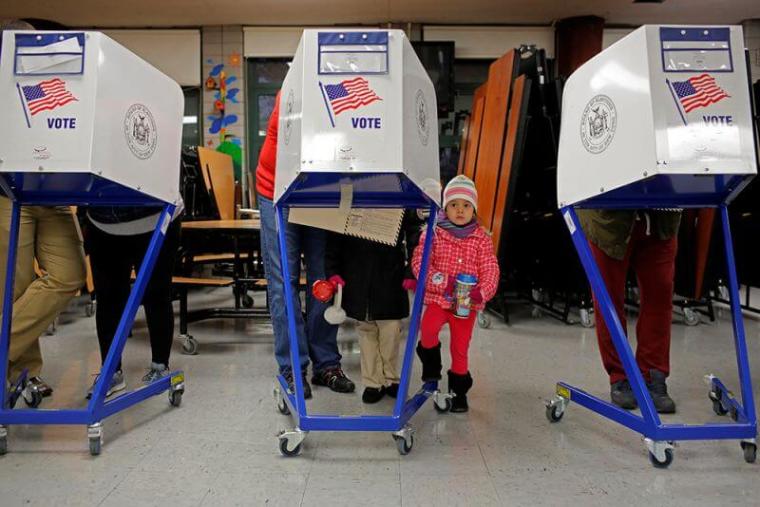 Democrat Hillary Clinton and Republican Donald Trump face voters on Tuesday as millions of Americans turn out on Election Day to pick the next U.S. president and end a bruising campaign that polls said favored Clinton.
In a battle centered largely on the character of the candidates, Clinton, 69, a former secretary of state and first lady, and Trump, 70, a New York businessman, made their final, fervent appeals to supporters late on Monday to turn out the vote.
A Reuters/Ipsos States of the Nation poll gave Clinton a 90 percent chance of defeating Trump and said she was on track to win 303 electoral college votes out of 270 needed, to Trump's 235.
World markets braced for the outcome of one of the most contentious U.S. presidential elections in history, with stocks up slightly on cautious expectations of a Clinton win. The dollar and bond yields slipped, while gold inched up.
Clinton arrived to cast her ballot at an elementary school in her hometown of Chappaqua, New York, on Tuesday morning.
Trump, who planned to vote later in Manhattan, began Election Day with a ritual call to the "Fox & Friends" morning news show. "I'm a little bit superstitious," he said. "I've won many primaries speaking to you first in the morning.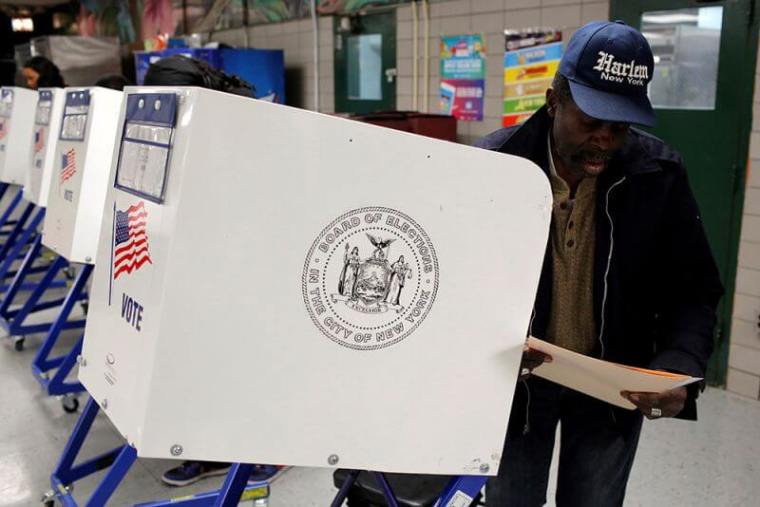 Each then hoped to hold an evening victory rally about a mile in New York City.
The final week of campaigning was a grinding series of get-out-the-vote rallies across battleground states where the election is likely to be decided.
"We choose to believe in a hopeful, inclusive, big-hearted America," Clinton said in Philadelphia before a crowd of 33,000 - the largest of her campaign.
She was joined by Democratic President Barack Obama; his wife, Michelle; and Clinton's husband, former President Bill Clinton, along with singers Jon Bon Jovi and Bruce Springsteen.
She later made another star-studded appeal in Raleigh, North Carolina, flanked again by Bon Jovi and by Lady Gaga in a midnight rally.
At an evening rally in Manchester, New Hampshire, Trump brought much of his family and running mate Mike Pence on stage. The raucous event in the state that gave Trump his first primary win featured a fog machine and red-white-and-blue lasers.
In a battle centered largely on the character of the candidates, Clinton, 69, a former secretary of state and first lady, and Trump, 70, a New York businessman, made their final, fervent appeals to supporters late on Monday to turn out the vote.
Later, Trump visited the traditionally Democratic state of Michigan, where he framed his candidacy as a historic choice for blue-collar voters he hopes will send him to the White House.
"Today is our Independence Day," Trump said in Grand Rapids. "Today the American working class is going to strike back, finally."
Hillary Clinton
Clinton went into Election Day as the favorite to become the first U.S. woman president after spending eight years in the White House as first lady from 1993 to 2001.
But Trump advisers said the level of his support was not apparent in the polling and that they believed the New York businessman was in position for an upset victory along the lines of the "Brexit" vote in June to pull Britain from the European Union.
"We have seen enormous momentum," said Trump deputy campaign manager Dave Bossie.
While opinion polls showed a close race but tilting toward Clinton, major bookmakers and online exchanges were more confident that she will win. PredictIt put her chances of capturing the White House at 81 percent.
Investors, who see Clinton as a known quantity, have also been buoyed by FBI Director James Comey announcement on Sunday that cleared her of a cloud of controversy involving her use of a private email server while President Barack Obama's secretary of state from 2009 to 2013.
Voters in tiny Dixville Notch, New Hampshire, cast the first ballots in the country at midnight, choosing Clinton over Trump 4-2, according to media reports.
Eyes on Florida, North Carolina
An early indicator of the strength of each candidate could come in North Carolina and Florida, two must-win states for Trump that have been the subject of frantic last-minute efforts by both the Republican and Democratic campaigns.
Races in both those states were shifting from favoring Clinton to being too close to call.
A strong vote for Clinton could jeopardize Republican control of the U.S. Senate, as voters choose 34 senators of the 100-member chamber. Democrats needed a net gain of five seats to win control. The 435-seat House of Representatives was expected, however, to remain in Republican hands.
Clinton has vowed to largely continue the policies of Democrat Obama, and Trump, who has never held public office and has positioned himself as a change agent. Majorities of voters have viewed both candidates unfavorably.
The long-running U.S. election campaign has been one of the most negative in American history, with each candidate accusing the other of lacking the character and judgment to be president.
Trump, a former reality TV star, reveled in the drama and seized the spotlight time and again with provocative comments about Muslims and women, attacks against the Republican establishment and bellicose appeals to build a wall along the U.S. southern border with Mexico to stem illegal immigration.
But the spotlight was not always kind to Trump. The release of a 2005 video in which he boasted about groping women damaged his campaign and left him on the defensive for critical weeks.
Clinton, a former U.S. senator with a penchant for secrecy, sustained damaging blows from her handling of classified information as the country's top diplomat. Comey shook up the race and slowed her momentum with an Oct. 28 announcement the agency was reviewing newly discovered emails that might pertain to her email practices.
On Sunday, Comey told Congress that investigators had found no reason to change their July finding that there was no criminal wrongdoing in Clinton's use of the server.
(Additional reporting by Emily Stephenson and Amanda Becker traveling with the candidates; Editing by Peter Cooney and Bill Tarrant)