Prince George Walks at Polo Match on Father's Day While William and Harry Play for Charity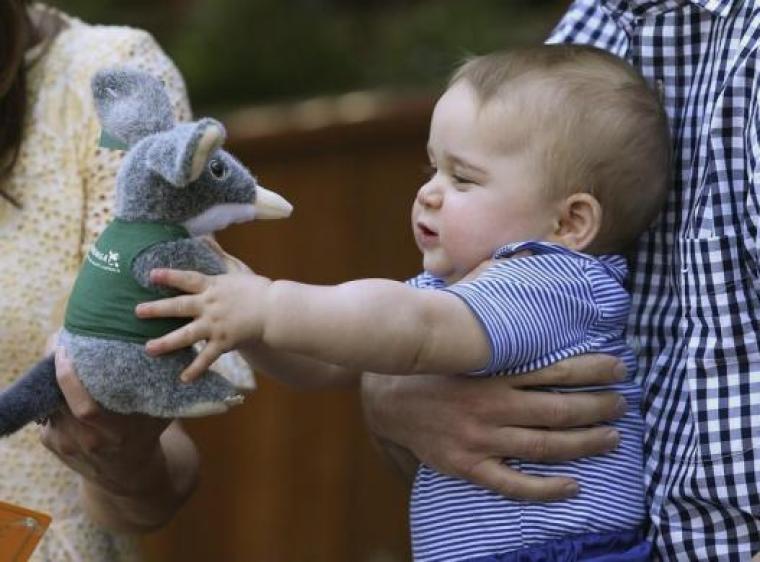 Prince George showed off his new ability to walk and play while his dad, Prince William, participated in a charity polo match. His mom, Duchess Kate, carefully watched over the tyke as he crawled and took some steps on the sidelines.
Prince William and Prince Harry played on opposing teams during the Jerudong Trophy match at the Cirencester Park Polo Club, raising money for their respective charities. But the real star of the match was Prince George – all eyes were on the youngest prince as he moved about on the sidelines, crawling and taking a few cautious steps with his mother's help. He also showed a possible interest in polo, picking up a mallet and kicking a quilted soccer ball.
During a break in the game, Prince William went over to his family and gave George a drink out of his water bottle. Kate had her hands full, though, with George making his own moves throughout the match. At one point she took him to the family tent, where he could be a little more free while his dad and uncle duked it out on the polo field.
For Prince William, the match is an annual event that he rarely misses. Last year, he participated even though his wife was heavily pregnant with baby George. Now, 11 months later, his son and wife were able to be by his side and cheered him on.
It was George's first public appearance since his tour of Australia and New Zealand, where he won the hearts of those he visited and those who watched from afar. The youngest prince will turn 1-year-old next month, and there will likely be plenty of celebrations surrounding the big day. He was born on July 22, just one month and after his dad and 21 days after his late grandmother, Princess Diana.
Speculation about when Kate and William will try for another child has already been brewing, with many eager to see the young couple welcome their second child.