Prince William and Prince Harry Rumored to Appear in 'Star Wars: Episode VIII' as Stormtroopers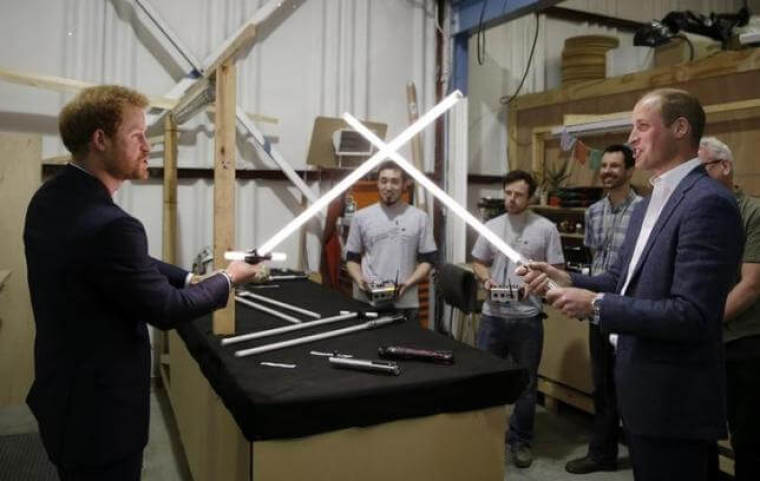 "Star Wars" fans would probably do anything just to get a tour around the film set or perhaps even at least play a cameo role as a Stormtrooper. It will most likely take a royal title to really make that happen though just like how it has been for Prince William and his brother Prince Harry. According to a report by Vanity Fair, the royalties visited the set of the upcoming "Star Wars: Episode VIII" in Pinewood studios outside London.
The Sydney Morning Herald noted that their visit was in line with the recognizing of the wealth of fantastic British creative talent involved in making the movies. It's also said to be part of a promotion for the British film industry and meeting actors, make-up artists, set and costume designers. As detailed in The Guardian, the two princes met up with director Rian Johnson and some of the crew members.
They also mingled with cast stars Mark Hamill, John Boyega and Daisy Ridley, as well as other characters like Chewbacca, BB-8 and C-3PO. Aside from that, Prince Harry and Prince William were photographed dueling with the famous lightsabers. It was no doubt a day of royal photo ops. But Daily Mail wrote in a report that aside from touring the set, they also did something that the fans will be most likely be surprised. The source claimed that the royalties secretly shot a cameo scene for the upcoming film wherein they will allegedly play as Stormtroopers.
The source also said, "The Princes dressed up in full Stormtrooper gear and filmed a scene in which Rey and Finn infiltrate a secret base. The rebel characters are in a lift with Benicia del Toro's character when a group of Stormtroopers enter – two of whom are William and Harry."
The news was not confirmed by the spokesman of the Princes and Disney though so it's best to take reports with a pinch of salt. However, the possibility of the two taking part in a cameo role is not entirely impossible as Daniel Craig, the "James Bond" star, was confirmed to have appeared as a Stormtrooper in "The Force Awakens."
"Star Wars: Episode VIII" is slated to hit theaters on December 2017.