Pro Golfer Bubba Watson Raps About God's Blessing in 'Bubbaclaus' Video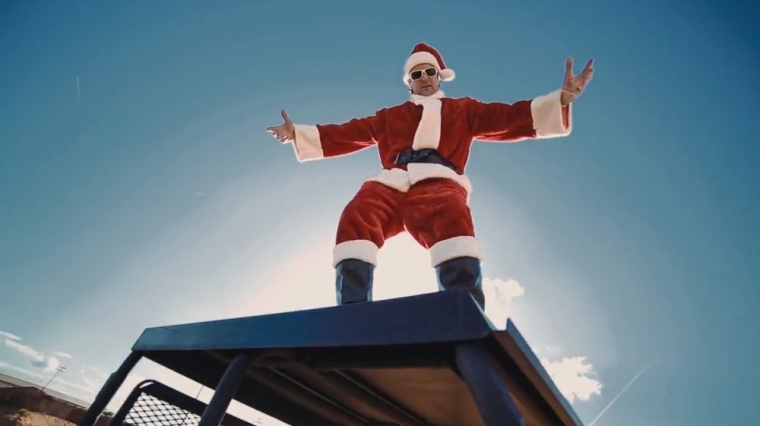 Christian professional golfer Bubba Watson reminisces about Christmas memories and thanks God for his family in the goofy YouTube rap video "Bubbaclaus."
In the video the PGA golfer is dressed like Santa Claus while riding around in a hovercraft golf cart with an elf. He raps over a remixed version of the "Halleluiah Chorus," "No sledge, no beard, no reindeer. I might come deliver gifts on a John Deere, Caleb asked me to bring him a new ball, but I'm checking my list; this Bubbaclaus."
Though Watson's video is filled with ridiculous antics and an equally silly chorus, there was heartwarming lines about his childhood Christmases in Bagdad, Florida and his first golf experiences.
"I remember Christmases growing up in Bagdad, chillin' (sic) in the living room with my dad. Momma in the kitchen got food in the stove; sister in the living playing on the floor. I used to hit the golf course, take me a swing. Got my first clubs since boy was a teen."
The number four golfer in the world also made sure to add a verse thanking God for his blessings.
Watson rapped, "I gotta (sic) thank God; He's the reason I made it. I thank Him every day for the moves that I make. Thank you baby Jesus; He was born in a manger cause He knew when I was born, I was gonna (sic) need a savior. Thank You for my clothes and the shoes on my feet. Thank you for my kids and the food that they eat. Thank you for my wife and the house where we sleep. I wake up every day and I put it on repeat."
Watson and his wife, Angie, are outspoken Christians who have forged a friendship with Washington State Pastor Judah Smith. During a 2012 speech for the Billy Graham Evangelistic Association, Watson said he and his wife both made the commitment to live for Christ after they began dating. He was baptized in 2004 as a student at the University of Georgia. Together they adopted son Caleb.
As a champion golfer, Watson lets his fun-loving attitude shine through making funny music videos with fellow PGA members Rickie Fowler, Ben Crane and Hunter Mahan. But he also uses his antics to give back.
His "Bubblaclaus" video is part of a 12-day series of giveaways that started last Saturday. So far, Watson has given away a "United We Stand" t-shirt, golf socks, an autographed Oakley hat and four Xbox games to a boy who wrote to the golfer about his brother stationed in Iraq.
He has also given away his Ryder Cup uniforms, an autographed airbed, Ping golf gloves and Oakley belts.