Pro-Life Leaders Express Anger Over Ted Cruz Attacks on Marco Rubio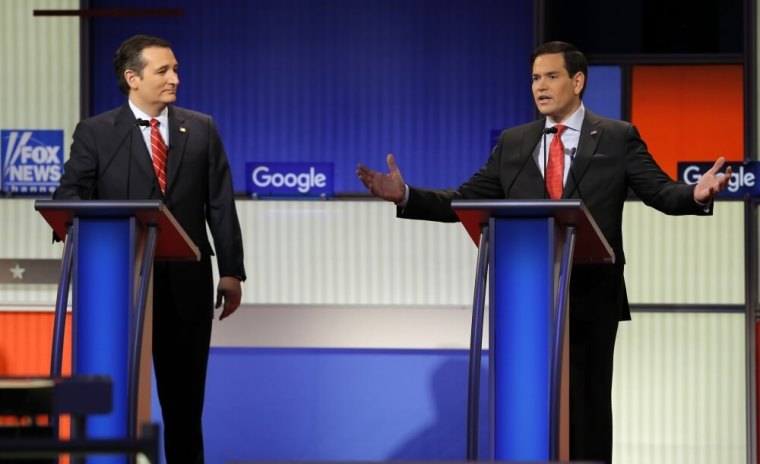 After Republican presidential candidate Ted Cruz attacked Marco Rubio's record on Planned Parenthood at the Faith and Family Presidential Forum, some pro-life leaders called the accusation "inaccurate and misleading," "a disservice" and "bitterly disappointing."
"Marco is passionately committed to the pro-life cause and has repeatedly voted to defund Planned Parenthood," Rep. Trey Gowdy, a Republican from South Carolina, said in a statement. "Marco's unwavering defense of life is one of the reasons I so enthusiastically support him. I am bitterly disappointed Ted Cruz would try to intentionally mislead my fellow South Carolinians," he added.
Texas senator Cruz claimed at the forum on Friday that his rival, Florida Senator Rubio, refused to use Congress's "constitutional authority to defund Planned Parenthood."
"Marco Rubio has spoken out about Planned Parenthood. But when these videos came out I stood with millions of Americans calling on Republican leadership to use the power of Congress to defund Planned Parenthood and to cut off the money. And Marco stood up and said: 'No, we shouldn't," Cruz was quoted as saying during the forum.
"There's no other way to describe that — it's a lie," said Rubio in an interview with CNN's Dana Bash on "State of the Union" on Sunday. "When you say something that's not true, it's called a lie. That's the definition of it. On this campaign, he is saying things that are not true, and he's saying it repeatedly, and he knows they're not true."
"We should be united in our fight to defund Planned Parenthood," former senator Rick Santorum said. "Trying to create divisions and pit passionate pro-life leaders against each other is a disservice to the innocent unborn babies relying on us for help."
"The sanctity of life is not a political issue to many of us," Gowdy added. "It is a moral, spiritual and human rights issue. I am not surprised when Democrats like Debbie Wasserman Schultz and Nancy Pelosi distort Marco's record. I am surprised and disappointed when Ted Cruz does it."
"This is jaw-droppingly dishonest," tweeted GOP strategist Ellen L. Carmichael.
"Marco Rubio voted to defund Planned Parenthood before Ted Cruz ever got to the U.S. Senate. Since Ted Cruz joined the U.S. Senate, both he and Sen. Rubio have voted the same on every roll call that National Right to Life regards as pertinent to defunding Planned Parenthood," said Carol Tobias, president of the National Right to Life Committee, in a statement.