Ted Cruz Pulls Ad With Softcore Porn Actress Amy Lindsay
Ted Cruz Pulls Ad With Softcore Porn Actress Amy Lindsay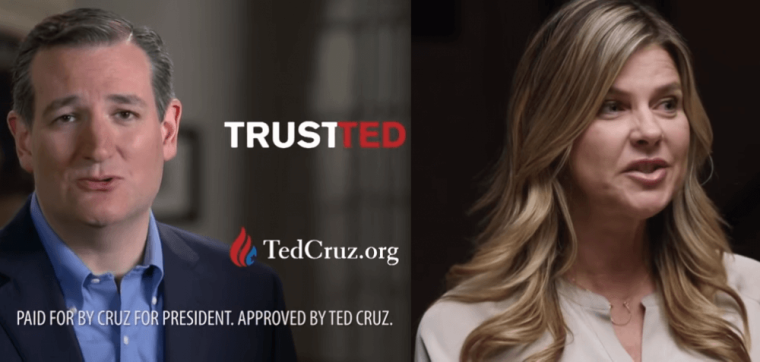 The campaign of Republican presidential candidate Sen. Ted Cruz pulled his most recent ad this week after learning that one of the actors in the production billed "Conservatives Anonymous" was also a softcore porn star.
A BuzzFeed News report identified the actress in the ad, which is now posted on YouTube, as Amy Lindsay. She has reportedly appeared in softcore porn films such as "Erotic Confessions," "Carnal Wishes," "Secrets of a Chambermaid," and "Insatiable Desires."
The ad features a mock group therapy session of conservative voters feeling betrayed by Cruz's rival Florida Sen. Marco Rubio. Lindsay played the role of a woman telling another group member, "Maybe you should vote for more than just a pretty face next time."
"The actress responded to an open casting call. She passed her audition and got the job. Unfortunately, she was not vetted by the production company. Had the campaign known of her full filmography, we obviously would not have let her appear in the ad," Cruz spokesman Rick Tyler told BuzzFeed News.
Before the ad was pulled however, Lindsay told BuzzFeed News Thursday that she happens to be a Christian conservative and Republican and thought it was "cool" to be appearing in an ad featuring the Texas senator.
"In a cool way, then hey, then it's not just some old, white Christian bigot that people want to say, 'It could be, maybe, a cool kind of open-minded woman like me,'" she said of people supporting Cruz.
She had no idea at the time that the Cruz campaign would not approve of her previous work. She initially thought they knew of her history but after the ad was pulled she realized that was not the case.
"I have clearly talked to the filmmakers and stuff and just to be clear, I assumed that they knew, but none of the filmmakers or the casting director knew about my complete filmography in the past that you're talking about, so I was wrong in that statement," said Lindsay who noted that she is now deciding whether to support Cruz or GOP presidential frontrunner Donald Trump.
A Washington Post report noted that besides her soft porn projects, Lindsay appeared in an episode of "Star Trek: Voyager" and will be traveling the world for the 50th anniversary of "Star Trek" later this year.
"I'm just an actress in Los Angeles doing what I'm doing," she told the publication. "Going up against 400 actresses to do a job … You guys have all painted me as this big porn star, which I am not."
She told the Post that she has never had sex on camera, and appeared only in R-rated films — not X-rated films. And although she was once known as "the poor man's Shannon Tweed" — perhaps the best-known softcore actress of the 20th century — it's been seven years since she did softcore porn.
"I didn't cross a certain line," she said. "Porn to me is penetration — having sex. It's something entering you on camera."