Pro-life activists assaulted on video outside Planned Parenthood say police won't press charges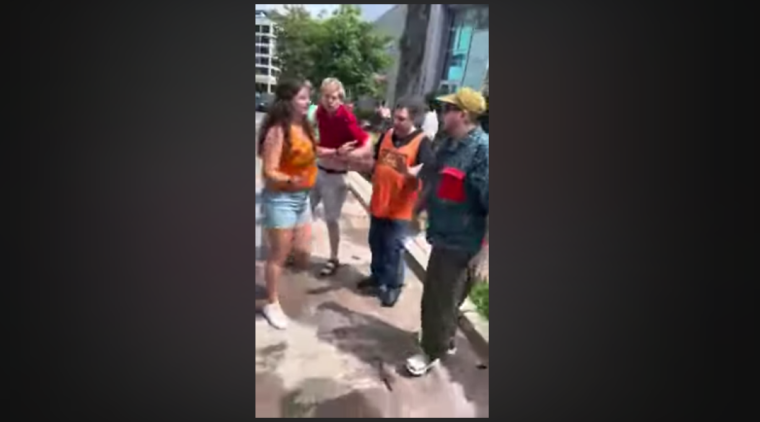 Pro-life activists who were assaulted outside a Planned Parenthood location in Washington, D.C., say police have so far refused to press any charges against their attackers.
Terrisa Bukovinac, founder and president of Progressive Anti-Abortion Uprising (PAAU), and activist Michael Gribbin were offering sidewalk counseling on the morning of July 21 outside the D.C. Carol Whitehall Moses Planned Parenthood location when the attack occurred, according to a PAAU statement.
Bukovinac tweeted the incident began when abortion activists "decided to assault me and another pro-life defender outside Planned Parenthood in Washington DC this morning simply for standing on the sidewalk offering resources to families in crisis."
Warning: This video contains offensive language 
????Two proaborts decided to assault me and another pro-life defender outside Planned Parenthood in Washington DC this morning simply for standing on the sidewalk offering resources to families in crisis

The police refused to press charges @PAAUNOWpic.twitter.com/CEUzH4az5Y

— Terrisa Bukovinac (@Terrisalin) July 22, 2023
According to Bukovinac, the incident began when a woman approached her and threw coffee in her face and hair. When Gribbin went to grab the coffee cup, her male partner in a jean jacket and hat assaulted him.
While the video appeared to have been shot after the altercation began, two men are seen wrestling in the middle of the street while another female appears to physically swipe at Bukovinac.
A man wearing a jean jacket is seen repeatedly punching Gribbin in the back and the head as he struggles to regain his footing. In the video, the man in the jacket then physically confronts the cameraperson.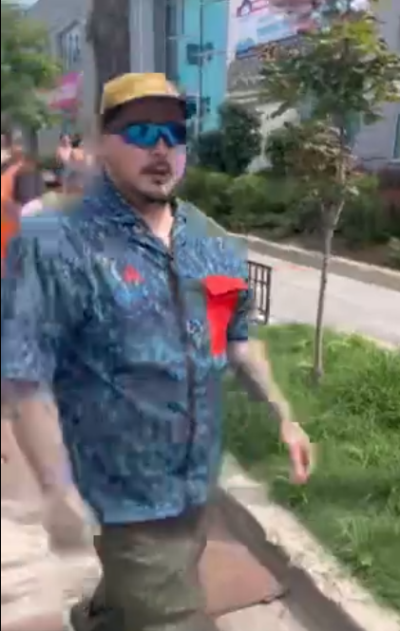 The video also shows Bukovinac getting slapped in the face by the woman who threw coffee at her.
"They approve of child-killing! They approve of assaulting people!" Bukovinac is heard saying in the video. "She just slapped me in the face and he just punched [Gribbin]."
The man in the jacket then appears to lunge unsuccessfully for Bukovinac's phone.
Despite reporting the assault, Bukovinac says police have refused to press charges against either assailant.
While pro-life activists typically hold Christian conservative views, PAAU is a self-described "progressive feminist" and "anti-capitalist" group which supports gay and transgender "pro-life voices," according to the group's website.
PAAU also maintains that life begins at conception, adding, "You do not have to be religious to value human life. You do not have to be religious to see the humanity of the fetus. And you do not have to be religious to be pro-life."
"Even as a progressive anti-abortion atheist I understand that the abortion industrial complex is responsible for a mass genocide which will require immense bravery to dismantle," she said in a statement. "Pro-lifers must be committed to total non-violence to effectively challenge the institution of legal child killing around the globe."
It's not clear whether police were called out to the scene.
The MPDC did not respond to a request for comment as of Tuesday afternoon. This story will be updated in the event a response is received.
According to PAAU, it's not the first time D.C. police have declined to pursue criminal charges in alleged violence against pro-life activists: the group says in August 2019, Gribbin was scribbling pro-life messaging on a sidewalk outside the Planned Parenthood location when a Google employee stole Gribbin's chalk. After Gribbin confronted him, the group says he was assaulted.
MPDC officers responded much more harshly in 2020, however, when they arrested a man and a woman in front of Planned Parenthood because they were writing "Black Preborn Lives Matter" in chalk outside the abortion facility.
Both were later released with citations.
In May, FBI agents showed up at the childhood home of another PAAU activist, Elise Ketch, after several of her colleagues were charged for allegedly violating the Freedom of Access to Clinic Entrances Act by participating in a blockade of an abortion clinic in the nation's capital.
Spokeswoman Caroline Taylor Smith told CP that PAAU has been targeted for challenging the demands of the Biden administration and the abortion industry. 
"PAAU is progressive, anti-capitalist, and believe that the unborn have a right to be rescued," Smith told CP. "This is in direct opposition to the agenda of the FBI and the Biden administration. Abortion is murder, and we are acting like it. The FBI doesn't like that."