Congressman Tim Murphy, Who Says He's Pro-Life, Asked Mistress to Have Abortion, Report Claims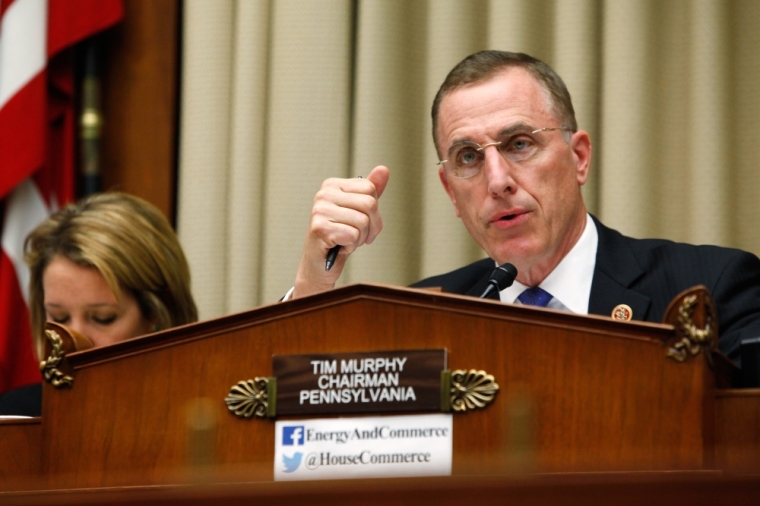 Pro-life Republican congressman Tim Murphy is facing heat after it was reported that he encouraged his married mistress to have an abortion when it was believed that she was pregnant.
Murphy, who has represented Pennsylvania's 18th district since 2003 and has a 100 rating on the pro-life advocacy group Family Research Council's legislative scorecard, has yet to respond to claims made in a Tuesday Pittsburgh Post-Gazette article that he urged his mistress, psychologist Shannon Edwards, to have an abortion during an unfounded extramarital pregnancy scare.
The newspaper reported that it obtained text messages the 64-year-old Murphy received from Edwards in January that blasted Murphy for posting in support of the March for Life after he asked her to have an abortion when he thought she was pregnant.
"And you have zero issue posting your pro-life stance all over the place when you had no issue asking me to abort our unborn child just last week when we thought that was one of the options," Edwards was quoted as stating in a text message to Murphy.
Murphy, who is a member of the the Pro-Life House Caucus and voted in favor of a 20-week abortion ban bill that passed the House on Tuesday, allegedly responded to the text message.
"I get what you say about my March for Life messages," the Pittsburgh Post-Gazette quoted the congressman as texting in response. "I've never written them. Staff does them. I read them and winced. I told staff don't write any more. I will."
Murphy admitted last month to having the affair with Edwards after the Pittsburgh Post-Gazette uncovered court documents pertaining to the divorce between Edwards and her husband, Jesse Sally. Murphy was subpoenaed in the case because Sally sought more details on his wife's marital misconduct.
Although the divorce case was opened in 2016, it wasn't until this summer that Sally's attorney asked to depose Murphy about his relationship with Edwards. Although Murphy's attorney tried to quash the subpoena, the motion was denied in September.
Although Murphy portrayed his relationship with Edwards as simply being an "affair with a personal friend" in a statement in September, the Post-Gazette reports that Edwards presented her affair with Murphy as being more of a long-term relationship in court documents.
When asked about the latest Post-Gazette report, a spokesperson for Murphy's office told CNN that "The office has no comment or response to the story."
Not many pro-life activists have yet publicly voiced their thoughts on the reports about Murphy, as the claim about him asking Edwards to have an abortion has not been substantiated outside of the Pittsburgh Post-Gazette report.
Mary Lou Gartner, the secretary of the anti-abortion group LifePac, told CNN that she believes Murphy is an "honorable" person.
"I'm not ready to cast a stone at him," Gartner was quoted as saying.
In addition to the claim that Murphy urged Edwards to have an abortion, the latest Pittsburgh Post-Gazette report also included a June 5 memo from his Chief of Staff Susan Mosychuk that states she and others have been exposed to "hostile, erratic, unstable, angry, aggressive and abusive behavior from the congressman."
Mosychuk also described the office moral as "abysmal" and laid out instances in which he berated office employees. Mosychuk's memo states that there has been 100 percent staff turnover in one year.
The memo demanded that the congressman change his behavior or else Mosychuk would be forced to "pursue further steps for recourse both for me and for office staff."