Pro-life organizations awarded $85,000 in grants at National Prayer Luncheon for Life
Pro-life organizations awarded $85,000 in grants at National Prayer Luncheon for Life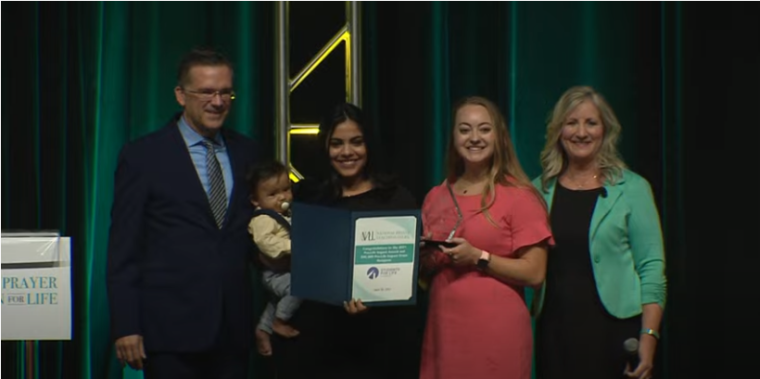 Three pro-life organizations, including Students for Life of America, were awarded $85,000 in grants at the sixth annual National Prayer Luncheon for Life on Friday, where several prominent pro-life activists gathered to recognize the efforts of those working to end abortion.
Attendees gathered online and in person at the Gaylord Texan National Resort & Convention Center in Grapevine, Texas, to "pray, unite, save lives" and honor pro-life organizations for their impact on the movement. 
"This event is designed to bring pro-lifers across America together to pray and to honor high-impact pro-life groups," said Karen Garnett, vice president of culture for Heroic Media who's also the executive director of National Prayer Luncheon for Life, in a statement ahead of the event.
She added, "The five nominees for the 2021 National Prayer Luncheon for Life Pro-Life Impact Award have been selected for their demonstrated significant, quantifiable impact and measurable successes in saving lives and winning battles against the abortion industry."
In addition to the Pro-Life Impact Award, which comes with a $50,000 National Prayer Luncheon for Life Pro-Life Impact Grant, a $20,000 Pro-Life Impact Grant, and a $15,000 Pro-Life Impact Grant were given to two other organizations.
At the luncheon, Garnett unveiled the "new vision for the National Prayer Luncheon for Life," where she said they will be "researching … and helping to educate and raise awareness of really impactful, effective pro-life organizations who are making a big difference moving the ball down the field."
"That is what we have done with this first year's National Prayer Luncheon for Life Pro-Life Impact Award nominees," she said. "Heroic Media produces and publishes Pro-Life Magazine four times a year and we're doing the work of reaching out and researching and learning about … doing in-depth interviews with pro-life organizations … to raise their profiles, and for people to be able to understand these are organizations that are returning measurable results. They're reporting measurable results and making a significant impact."
"For this first year, we chose five nominees who Pro-Life Magazine had already interviewed and published," Garnett added. "Next year, we're going to open up the nominations process to the country because there may be some amazingly effective pro-life organization demonstrating significant, measurable impact and they're in a small town and no one's heard of them. We're going to open up the nominations process next year."
While officials with the National Prayer Luncheon for Life picked the nominees this year, Garnett stressed, "We're not the ones making the decision about who gets the Pro-Life Impact Award and the three Pro-Life Impact Grants. We put that out to pro-life America, for you all to go on our website, read about each one of them, read about the statistics that they are returning, pray about it and let the Holy Spirit make the decision," she added.
Students for Life of America received the $50,000 National Prayer Luncheon for Life Pro-Life Impact Award.
As Garnett noted, Students for Life of America has "trained over 120,000 life advocates and has the most conversations online and in-person with those most targeted by the abortion industry" with "a 31% minds changed rate with our young people targeted."
Lauren Castillo, SFLA's director of mission advancement, accepted the award on behalf of the pro-life organization. She described it as "an absolute honor and privilege to have even been considered for this award, standing next to incredible organizations and their courageous teams."
Castillo added, "The Students for Life team across the country are excited to accept this award and we will make great use of it and train thousands of new young leaders in their goal to become not just the pro-life generation, but to [ensure] the future is anti-abortion."
"We know that we can abolish abortion in our lifetime," she continued. "We know that with our army of this pro-life generation, we're not just saving lives and changing culture, but we're standing bold and proclaiming the truth. We want to thank our Lord and Savior Jesus Christ who makes this mission possible." 
She urged pro-lifers "to not just stand with our team and to pray for our young people and for our team and our families, but every single pro-life organization out there because the spiritual battle in pro-life work is very real."
"We are standing firm against the enemy every single day, not just Planned Parenthood and not just all the abortionists across the country, but the culture of death," Castillo added, promising that SFLA will continue to "get out there and change hearts and minds of this next generation."
Accumulating the second-highest number of votes, Abby Johnson's organization called And Then There Were None, received the $20,000 Pro-Life Impact Grant. Johnson is a former Planned Parenthood clinic director turned pro-life activist.
Highlighting the pro-life organization's accomplishments, Garnett said: "And Then There Were None helped 574 workers and seven full-time abortion providers in 43 states escape from their jobs in the abortion industry and experience the peace and joy they were missing. These clients' work with state and federal agencies has helped close 26 abortion facilities."
The $15,000 Pro-Life Impact Grant, which was sponsored by Support After Abortion, went to Sidewalk Advocates for Life. Garnett credited "the compassionate outreach of Sidewalk Advocates for Life at 202 abortion facilities nationwide" for helping to save 12,709 babies in seven years and helping 72 abortion workers leave the industry and working to effectively close 25 abortion facilities.
The other nominees were Focus on the Family, whose "Option Ultrasound Program has resulted in almost 1 million ultrasounds, leading to 465,000 women choosing life for their preborn babies" and Susan B. Anthony List, which works to support pro-life candidates and legislation.