Pro-life activists 'unlawfully arrested' for protesting fetal organ harvesting outside San Francisco hospital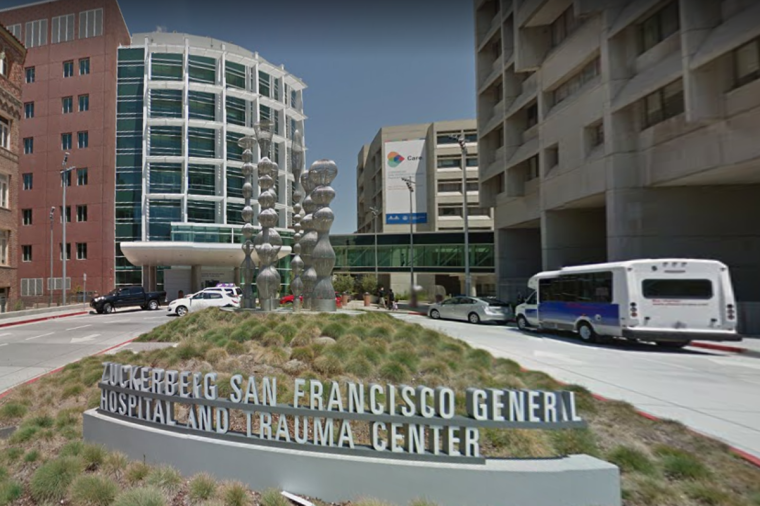 Pro-life activists say they were unlawfully arrested for handing out flyers outside a San Francisco hospital they believe is using aborted babies' remains in fetal tissue research. 
The group Pro-Life San Francisco announced on Twitter Friday that two of its pro-life activists were "unlawfully" arrested for "passing out flyers on public property" at an outdoor plaza outside Zuckerberg San Francisco General Hospital. 
BREAKING: #ProLife activists arrested for passing out flyers on public property. @UCSF@ZSFGCare is aborting children up to 6 months old and using their organs for HORRIFIC research projects. While handing out flyers about it today, 2 activists were unlawfully arrested. #activismpic.twitter.com/ahEk1nJRSD

— Pro-Life San Francisco (@prolifesf) February 24, 2023
The hospital's biomedical research is a frequent target of the pro-life advocacy organization's activism, with Pro-Life San Francisco asserting that the hospital is collaborating with the University of California at San Francisco in "aborting children up to 6 months old and using their organs for HORRIFIC research projects." 
"On Feb. 24, 2023, members of Pro-Life San Francisco and Survivors of the Abortion Holocaust arrived at an outdoor plaza of Zuckerberg San Francisco General at about 2:20 p.m. to hand out literature, display signs, make speeches, and engage in street theater to increase public awareness of unethical activity and the likelihood of crimes taking place on the sixth floor of the hospital," the group said in a statement shared with The Christian Post. 
"They were soon interrupted by uniformed sheriff's deputies who declared their gathering an unlawful assembly," the statement added. "According to video footage, two participants were arrested at 2:52 p.m.: Tim Clement, Outreach Director of Survivors and Anastasia Rogers, a San Francisco resident and animal rights activist. They were taken into the hospital and detained in a holding cell — their ability to exercise free expression denied."
Pro-Life San Francisco said the arrest of Clement and Rogers was based on "false charges," lamenting that "all other participants were forced to leave the plaza under threat of arrest." The group condemned the "blatant violation of activists' rights to speak freely in public."
In a statement following his arrest, Clement said, "We were arrested because of our pro-life message." 
He added, "UCSF and the administration at Zuckerberg don't like being exposed for their Frankenstein-ish plots targeting unborn babies before abortions take place and harvesting their organs afterward to use in unethical research. Unfortunately, the administrator here thinks he is above the law." 
"We were in a public area — not blocking customers from entering, walking past or leaving — and we did not enter or obstruct the facility. We did nothing to break the law. Sharing information with the public is not a crime."
Rogers cited the arrests of herself and Clement as "just two more on a long list of arrests used as an attempt to silence human rights activism and free speech on the UCSF campus." She vowed that "we will not be silenced by unlawful arrests and will continue to demand fetal organ harvesting to come to an end."
"UCSF continues to exploit human mothers, their preborn children, and non-human animals in order to perform senselessly cruel experiments that target unborn children before abortions, involve implanting their organs into rodents to create humanized immune systems, and risk crimes by their employees," she suggested. "Instead of addressing this injustice by implementing alternative research practices and opening an investigation, UCSF continues to send police after nonviolent activists who have tried everything to get this to end."
The arrest of Clement and Rogers is not the first time pro-life activists have been taken into custody outside Zuckerberg.
"UCSF employees filed an illegitimate restraining order against me last year to intimidate activists protesting their gruesome fetal organ harvesting," said Pro-Life San Francisco Executive Director Kristin Turner. "This order has not stopped other activists from standing up for the unborn and their families. We will not be intimidated." 
Turner was one of five pro-life activists arrested outside Zuckerberg in November 2021 on charges of trespassing for praying and handing out literature outside the hospital.
In a previous statement shared with CP, Zuckerberg General Hospital's Chief Communications Officer Brent Andrew pushed back on the claim that the protests were lawful because the hospital is public property.
"Zuckerberg San Francisco General Hospital is owned and operated in the public interest by the City & County of San Francisco, Department of Public Health," Andrew told CP in an email. "The hospital is, therefore, public property but it is not a public space. The campus is expressly intended for the provision of healthcare to our patients. Protest activities, in particular, can interfere with our ability to provide those services, the privacy rights of our patients, and the creation and maintenance of a therapeutic environment of care."
Andrew added, "In this particular instance, our staff offered this group an alternative protest site on our campus away from patient care areas, but the group declined."
When asked how far into a pregnancy the hospital performs abortions and for additional details about fetal tissue research at the hospital, Andrew responded, "We are dedicated to the welfare of our patients; we provide abortions when they are appropriate to meet the specific needs of our patients."
Ryan Foley is a reporter for The Christian Post. He can be reached at: ryan.foley@christianpost.com
it human mothers, their preborn children, and non-human animals in order to perform senselessly cruel expe