Pro MMA Fighter's Ministry Helped 710 Combat Vets With PTSD Live by God's 'Biblical Blueprint,' Escape High Suicide, Divorce Rates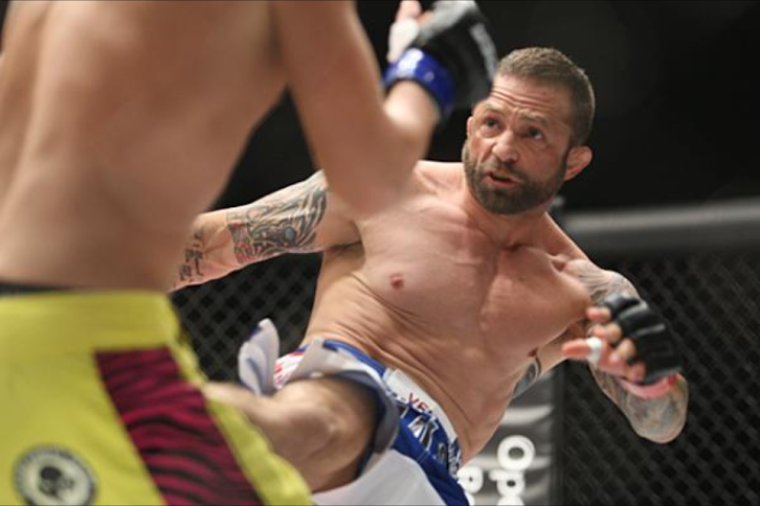 Hundreds of former Marine and military veterans have been spared from the growing suicide and divorce rates among combat veterans who suffer from Post Traumatic Stress Disorder because a professional MMA fighter's faith-based retreat taught them that their disorder is no match for God's "blueprint" for their life.
Former MMA fighter Chad Robichaux, who did eight tours of duty as a Marine in Afghanistan and has a career 19-2 record in professional matches, was on the verge of losing his wife and family due to his inability to cope with the struggles of PTSD upon his return home from combat.
Although he was back from war, the only thing he wanted to do was go back to Afghanistan and fight. That was until he started making money fighting in various professional and televised mixed martial arts circuits. Although Robichaux used MMA as physical outlet to "heal" the symptoms of PTSD, the sport was not "curing" the root cause of his issue.
It wasn't until he was on the brink of divorce with his wife, Kathy, that he realized how his behavior and falling out with God — not his disorder — had impacted the things that meant the most to him.
Fortunately for Robichaux, his wife connected him with a pastor from his church in Woodlands, Texas, who would mentor him for over a year until he finally understood that in order for him to overcome his battles with PTSD he needed to fully embrace the life that God had intended for him.
Although Robichaux had been through various PTSD support programs and had taken prescription drugs to deal with PTSD, it wasn't until he embraced God's plan that he realized he found the "cure" to his condition that he was looking for.
After reconciling with his family and God, whom Robichaux had fallen out of sync with during his eight tours of duty, Robichaux knew that he needed to share what he learned about curing PTSD with other veterans who are struggling to find the answer to the same issue.
With the backing of WoodsEdge Community Church, Chad and Kathy Robichaux started a ministry in 2011 to help other combat veterans discover the glory of God's plan for their lives.
In four years, the Robichaux's church ministry program has grown into a full-on donor funded foundation called the Mighty Oaks Warrior Programs, which has already helped "cure" 710 veterans from their PTSD struggles.
"Through the mentoring I found that all the programs I have been through, all the pills, all the counseling, nothing had worked liked it did when I let Christ in my life and aligned my life with the life he intended me to live," Robichaux told The Christian Post on Tuesday. "When something like this happens to you, you can't help but share it. Here we are four years later and 710 guys later who experienced the same story."
Mighty Oaks, which hosts 24/7 men's programs, women's programs, marriage programs and mentorship programs, helps veterans suffering from PTSD contrast how they are currently living their lives, with the life that the Bible has laid out for them.
"What we have found is that when men, regardless of all these other things that they are dealing with, when men align their life with the biblical blueprint, then the PTSD either goes away or becomes something controllable that the guys have control of in their life," Robichaux explained. "Guys accept that, even if they are not Christians. They say 'I can do that for the sake of this program because it worked for my buddy.' As the truth is revealed as compared to their own lives, it is very convincing to them."
Mighty Oaks, which offers retreat-like therapy sessions at the SkyRose Ranch in San Luis Obispo County, California, will host 13 six-day men's programs throughout 2015, while hosting four five-day women's programs and four, four-day marriage programs.
Robichaux explained that the men's program, which is the foundation's main focus, is based off of a discipleship model. Each mentor and instructor is someone who has overcome PTSD and able to share their own story, which is important since Robichaux said the program's curriculum is based solely on testimony from the the instructors.
Each men's program includes 35 veterans, with 20 of them being new to the program, four of them returning for a second time, four of them returning for a third time and the rest being alumni team leaders.
"Over 90 percent of the guys that come either re-commit or commit their lives to Christ for the first time in the program," Robichaux stated. "We are very comfortable to say that it is over 90 percent of those guys either re-commit or commit their lives to Christ during the program."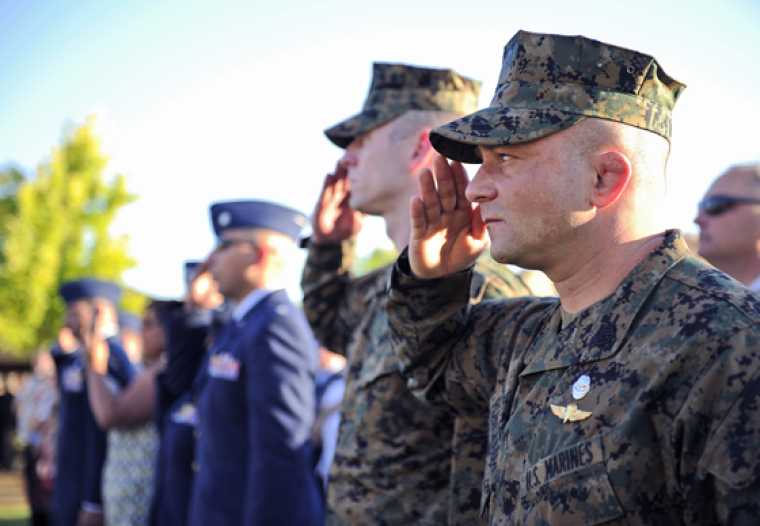 Although the Department of Veteran Affairs estimated in 2013 that about 22 military veterans die from suicide each day, Robichaux stated that none of the 710 graduates of the Mighty Oaks Program have committed suicide.
Increasing divorce rates among combat veterans is another trend that Mighty Oaks is trying to combat. The divorce rates for Camp Pendleton, the Marine Corps base that Mighty Oaks largely serves, is an astonishing 85 percent. Although the the overall military divorce rate is estimated around 3.1 percent, Robichaux argues that the divorce rate among combat veterans at other Marine bases is similar to that of Camp Pendleton's 85 percent.
Robichaux claims that of all the couples that have participated in Mighty Oak's marriage program, only one couple has gone through with a divorce.
"We help them, as a couple, contrast the choices they make everyday in their marriage now and realign those choices with the choices that God intended for them in the biblical blueprint of marriage," Robichaux said.
Robichaux emphatically stated that no veteran has ever paid to attend Mighty Oaks, nor has the military ever paid to send anyone to Mighty Oaks. Even though veterans fly from all across the country to attend, Mighty Oaks has a budget of $6,000 per session to fly veterans in free of charge. Robichaux added that it costs about $1,500 per veteran to run the camp, which is all supported by donations to the program.
Robichaux explained the foundation is fortunate enough to have the Serving California foundation be a matching donor, who matches dollar-per-dollar every donation that Mighty Oaks receives.
But as the Mighty Oaks program continues to succeed and more veterans are learning about what the program has done for their friends, Mighty Oaks's demand is beginning to exceed its financial ability.
Mighty Oaks currently has six outposts held at churches in Texas, New York, Virginia, California and Oklahoma that hold weekly outpost meetings for alumni still needing to be involved in a mentorship program.
Churches in Texas and Virginia will run and finance their own 6-day programs in October, which Mighty Oaks will send their own instructors to.
Moving forward, Robichaux said it will be more cost efficient with the increasing demand to send instructors to affiliate churches to run programs, rather than paying to fly in veterans from across the nation to California. That is why Robichaux would like to see more churches step up to take on his Christ-centered PTSD healing program.
"Demand is like a glass of water in the desert for the military," Robichaux asserted. "We realize that if we kept the solution of our program to ourselves, we would never impact the problem. We can take our program and say this is working and the military loves it to where it is changing guys' lives and they are coming to Christ. We are willing to give it to [churches] and show them how to use it and give them instructors."