Pro-Traditional Marriage Christian Promoted to UK's Education Secretary, Keeps Role as Equalities Minister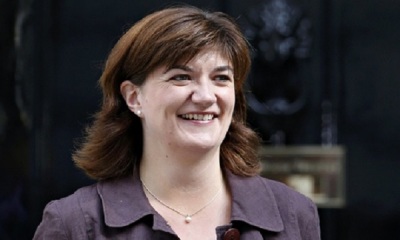 A prominent Church of England member and conservative politician who voted in support of traditional marriage has been promoted to the U.K.'s Education Secretary position, and has been kept in charge as minister for women and equalities.
"I am delighted to become education secretary and continue as minister for women and equalities," Nicky Morgan, a Conservative MP for Loughborough, said in a statement.
"I know that education can be the single greatest transformer of lives. It is also a crucial part of this government's long-term plan.
"I look forward immensely to working alongside parents, teachers and schools to ensure we have world-class schools and the skills that will get our young people great jobs."
Morgan was appointed as Minister for Women in April, before she was also given the Education Secretary position.
Several publications, including The Guardian, have pointed out that she has received the backing of Prime Minister David Cameron despite voting against same-sex marriage in the U.K., which was legalized earlier this year and which Cameron supported.
Morgan has explained that her position on marriage comes from her Christian faith.
"First, this is a very big social change. There have been plenty of little changes down the years but what's never been changed is that the fact that marriage is between a man and a woman," she explained her position in a Leicester Mercury article in 2013.
"I think that was one of the issues people, especially those who asked me to vote against, found hardest to accept and it also tied in with my own Christian faith too.
"I totally support civil partnerships and that same-sex relationships are recognized in law. But marriage, to me, is between a man and a woman.
The Independent noted that the announcement of Morgan's promotion to Education Secretary has been met with "mixed reactions," and listed a number of posts on Twitter expressing concerns that schools will now be "run by someone who doesn't believe in gay equality."
A spokesman for Cameron responded to a media question about whether Morgan's opposition to gay marriage would affect her handling of equalities issues, by stating:
"As you will remember, there was a free vote on this issue, but it is now the law of the land.
"What matters in terms of gay marriage, which the Prime Minister very much supported, is that as a result of this Prime Minister it is on the statute book."
A BBC News profile on Morgan on Tuesday added that she studied law at St Hugh's College, Oxford. She worked as a solicitor, specializing in corporate law, from 1994 until her election as MP in 2010.