'Prophecy for the Philippines by Cindy Jacobs' Video Goes Viral; Animation News Company Challenges 2009 'Predictions'
Viral Video by Self-Proclaimed Christian Prophet Being Linked to Philippines Typhoon Haiyan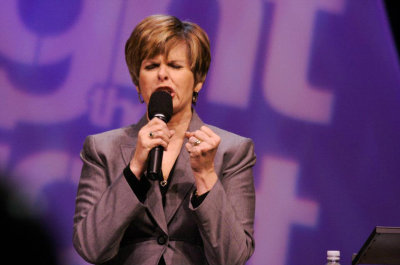 Christian minister Cindy Jacobs, described as a "respected prophet" in her online biography, made a prediction in 2009 that the Philippines would either experience a period of "greatness" or "some troubled times." While Jacobs' 2009 video prediction has gone viral amid the island nation's current calamity from Typhoon Haiyan, a Taiwanese animation news company that went mainstream due to its 2009 Tiger Woods coverage has challenged the self-declared prophet's "vague" predictions.
The latest death toll for Philippine victims of Typhoon Haiyan was placed at 3,621 on Friday, while the number of injured was reported at 12,165, according to CNN, which also noted that another 1,140 people had been reported missing.
"Sickness, hunger and thirst have settled in here with the sticky, humid heat and stench of rancid flesh hanging over the apocalyptic scene," reported CNN on what Typhoon Haiyan had done in the hardest-hit city of Tacloban.
The current devastation facing the Philippines has prompted Web users to revisit a 2009 video originally aired on "The 700 Club" of Jacobs delivering a purported prophecy for the Philippines.
In the edited video titled, "Prophecy for the Philippines by Cindy Jacobs," the so-called prophet of Generals International says: "I want you to pray. The next two years, the Lord is showing me, are going to be extremely significant for the Philippines. Either it's going to go on to greatness, it's going to be that transformed nation, or, I see that there's going to be some troubled times."
"So pray, pray, pray," Jacobs says in the video, which features a dramatic musical score playing in the background.
"This is a time that God is going to pull down the spirit of corruption, and God is going to release the spirit of truth and righteousness into this nation, because righteousness exalts a nation," Jacobs adds. "The Lord has given many promises for the Philippines. I mean, the Philippines is going to be one of the wealthiest nations on the earth."
Jacobs, who founded Generals International with her husband Mike Jacobs, has been linked to C. Peter Wagner's controversial New Apostolic Reformation (NAR) movement. The sect claims that Christians are called to take "dominion" over earthly institutions, such as politics and the media, which they claim will help usher in Jesus Christ's Second Coming. Jacobs and her husband also produce a program called "God Knows," described as "a unique prophetic program" meant to reach Christians globally "with the message that God knows all things."
Watch the "Prophecy for the Philippines by Cindy Jacobs" video below:
Copies of the video have gone viral on YouTube, with commenters debating whether Jacobs, who regularly claims prophecies for various nations, had actually predicted over four years ago the widespread devastation that Filipinos are experiencing today.
Next Media Animation (NMA), a Taiwanese news company known for its portrayal of Tiger Woods' public fallout with his wife in 2009, has taken issue with Jacobs' purported prophecy and suggestions among Filipinos that "The 700 Club" syndicated broadcast video should be taken seriously.
NMA writes in the "about" section for its YouTube that the "Prophecy for the Philippines by Cindy Jacobs" video has "has garnered attention from devout Filipino netizens, some of whom have gone as far as to call Jacob's apparent revelations goosebump-inducing."
"Granted, the tragic events surrounding the devastation caused by Typhoon Haiyan, which has left more than 2200 people dead, have understandably prompted some serious soul-searching, but folks should be turning to more trustworthy outlets than a false prophet like Cindy Jacobs," writes NMA.
Accusing Jacobs of using "the most vague language imaginable," and points out that in the 2009 video, Jacobs suggested the message she claimed to have received from God were for a two-year period, presumably ending in 2011.
Watch Next Media Animation's (NMA) portrayal of the claims surrounding the Jacobs video online or below.
Haiyan, referred to locally as Yolanda, was the second most powerful typhoon to strike the Philippines. The storm had reached winds of up to 195 mph and was estimated to have caused more than $425 million in damage.
The death toll was expected to climb as officials make their way through the devastation, and United Nations officials suspect that about 600,000 people have been displaced from their homes and 9.5 million people overall have been affected by Typhoon Haiyan. International aid organization Save the Children reportedly has estimated that nearly 4 million children were included among those affected.
Learn how to help the Philippines in the wake of Typhoon Haiyan: Save the Children, Care.org, Samaritan's Purse, OXFAM America, World Vision, and Unicef.