Prophetesses Explain Why They Signed on to Lifetime Reality TV Series 'Preach' and Why You Should Watch (Exclusive)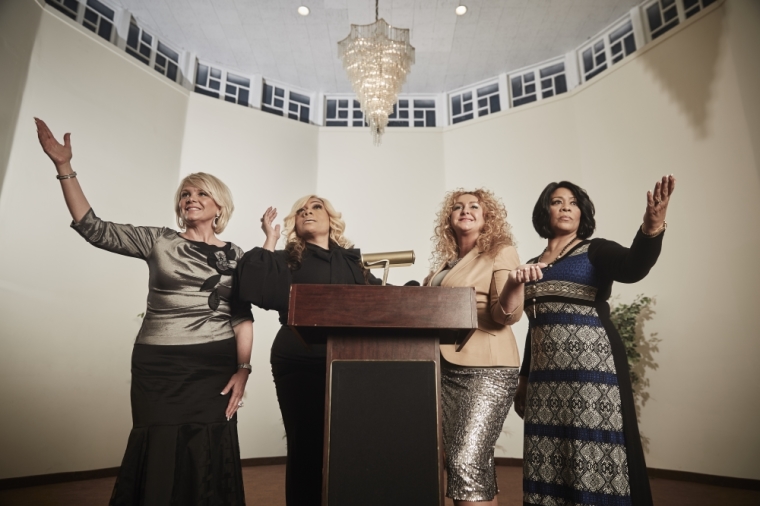 It seems reality television cameras are leaving no stone unturned now that they're delving into the world of prophecy with Lifetime network's latest docu-series "Preach," which is filled with gun shooting, chest bumping, chair hopping prophetesses who believe God is being glorified through their gifts on the small screen.
Belinda Scott, a Cleveland Heights based prophetess, has received some hateful messages for her participation in the Lifetime network docu-series, but she and the three other women who will help others develop their own gifts of healing and prophesying on national television believe that God called them to the show for a divine purpose.
Scott has advised politicians and celebrities while blessing the wombs of barren women. Now that she has signed on to bring her gifts to the world on national television, the woman who refers to herself as a "master prophetess" says she has encountered some backlash.
"We received hateful messages, hateful letters and hateful things from people who don't think women should be doing it and they don't think we should be doing it as Christians. Are we confined just to the church to deliver prophetic words," Scott asked in an interview with The Christian Post. "No we are not. In the Bible John the Baptist was not in the temples."
The prophetess believes her appearance on the Lifetime show is a part of what Jesus has commissioned his people to do in Matthew 28:19 where he states, "Go ye therefore, and teach all nations, baptizing them in the name of the Father, and of the Son, and of the Holy Ghost:" (KJV)
"Some are commissioned to go into countries, some are commissioned to go into gangs and some are commissioned to even go into where whores are and things of that nature," Scott told CP. "We cannot limit ourselves as Christians and we cannot worry about what the few may feel that is wrong with it, especially even if they haven't even viewed a full episode."
In the series Lifetime, in conjunction with A&E Networks, will give the world a glimpse of the four Ohio-based female church leaders who serve others by foretelling the future according to God's will and healing people from a multitude of ailments. Instead of just showcasing their own spiritual gifts for television cameras, the four women will take protégés under their wings to teach them how to hone their own God given gifts in the show produced by CORE Media Group.
The women featured on the show insist they're only appearing to glorify God without any expectation of personal gain, and Lifetime told CP that "the prophetesses are paid a modest fee for their time and expenses so that they will not be out of pocket from participating in the series."
Kelly Crews, the only single prophetess of the group who was once Belinda's protégé, wants to make it clear that she's not on the show to pursue fame.
"I got involved because I do know a couple of the women that are on the show, and I know personally that they are great women of God. I just wanted to be able to display God on the Earth and be His instrument," said Crews. "If you talk to anybody that knows me, nobody ever heard me say, 'oh this is going to make me famous.' I really do live to glorify God."
When Trenton, Ohio-based prophetess Linda Roark's ministry was contacted by Lifetime, she thought it was a scam. Instead of just signing on to participate, Roark intensively sought the Lord for direction in the matter and fasted for 14 days to ensure that God wanted her to be a part of "Preach."
"I asked God about it and He really began to speak to my heart and told me to take the Gospel out into the marketplace," Roark, who calls herself the the "Blue-Eyed Soul Sister," told CP. "We are living in a very crucial time right now and I believe we should go outside of the four walls of the church to spread the Gospel. Even if it's going out into the marketplaces, into Hollywood or however God decides to do it, and use me as a tool to do it, I'm honored and honestly quite humbled as well."
Even before Lifetime contacted her, Roark believes she was given a sign about the show.
"I remember something that the Lord said to me before I even got any calls from Lifetime. He said He was going to open up a large platform, a door that would forever change my life," said Roark. " I was thinking a mega ministry, or going to Africa. I was thinking multiple things, this was never in the back of my mind."
Taketa Williams, the Columbus based prophetess who refers to herself as the "Beyonce of the Preaching World," was also given a revelation about appearing on the show prior to her signing on.
"About 20 years ago, my now husband gave me a prophecy that my prophetic voice would reach into Hollywood and I would begin to inspire people beyond the church. When I was approached by CORE Media Group, initially I was a little hesitant because of the concept and the stigma that is sometimes associated with reality shows," Williams admitted. "But, I remembered the prophecy my husband gave me and I said, 'this is a part of my prophecy being filled.' With that in mind, it was definitely one of my determining factors that heavily weighed on my decision to be a part of it."
Now that Williams is a part of the show, she is encouraging people to give it a chance.
"I would say judge nothing before its time. I've heard there are many who have been presumptuous regarding the show and they really don't know what the show is about," said Williams. "I would encourage people to watch and see because it's really not what most think."
Viewers can tune into "Preach" at 10 p.m ET on Friday, June 5.