'Prophetesses' Who Claim They Can Predict the Future and Heal the Sick Are the Focus of New Lifetime Reality Show Titled 'Preach'
Lifetime network has announced the premiere date for a new reality show, or "docuseries" featuring four Christian women who believe God has given them powers "to heal the sick, see the future and rid people of their addictions."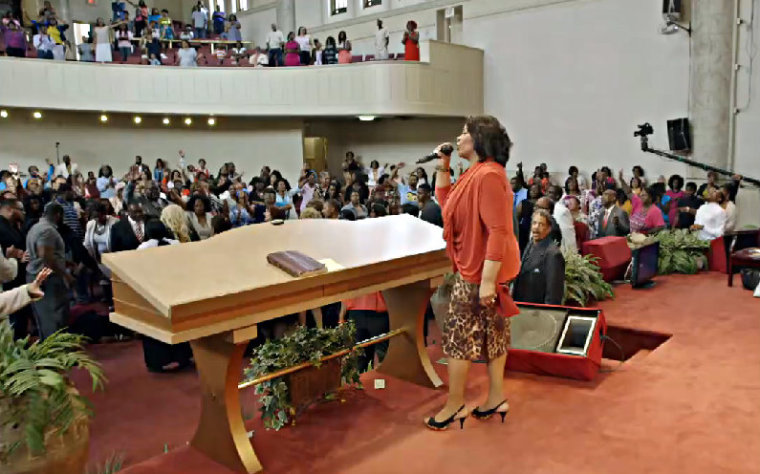 "Known as 'Prophetesses,' these women speak as interpreters through whom the will of God is expressed. In order for their legacy to continue, they must enlist protégés and teach them how to carry on their gift. These 'Queens of the Church' each have different styles and their own special way of delivering God's message, but all are united in their love of the Lord," Lifetime states in a press release.
The four Ohio women at the center of the new six-episode series are: Belinda Scott, described as a "Major Prophetess" and who co-pastors the New Spirit Revival Center Ministries; Taketa Williams, dubbed the "Beyonce of the Preaching World," leads along with her husband, Apostle Roderick A. Williams, Impact Christian Center; Linda Roark, referred to as the "Blue-Eyed Soul Sister," is said to have a "passion is to see people saved, healed, and delivered;" and Kelly Crews, who was described by the network as just developing her own ministry.
Watch a 30-second highlight of the "Preach" series in the video player below:
As the video indicates, the four women are Charismatic Christians who believe the Holy Spirit is still working today like He did in the early days of the church, when Jesus' followers performed miraculous healings and spoke in tongues. Some prominent modern-day Charismatics include evangelist Benny Hinn and preacher Kenneth Copeland.
Not all Christians believe that the Holy Spirit empowers Christians today in the same way He did first century Christians, who the Bible describes as having spiritual gifts to prophesy, raise people from the dead, and speak in tongues (glossolalia).
Reactions to the 30-second teaser for "Preach" shared beneath Lifetime's post of the video on Facebook were diverse.
"Wow. What a way to make fun of the Gospel, but we ARE in the end times and the Word DOES say in the end false prophets will rise (I take that to mean any and every one that makes light of God's word)," wrote Lorena Baracchi, who had nearly 2,000 other viewers give a "thumbs up" to her comment.
Leslie Sierra wrote, "OK, this is a (bit) much. This makes religion look like it's all a show. Non-religious people don't understand speaking in tongues or having the Holy Ghost. It's a special gift and this makes lightly (sic) of it. Stop looking for reality shows to air and go to church if you want to spread the Gospel." Nearly 1,500 people indicated that they agreed with her comment.
Some lesser-agreed-with responses came from two men, one calling himself a prophet.
"I take my assignment as a prophet very seriously; I'm not looking to broadcast nothing GOD is doing through me! They really need to stop playing! Lifetime you've gone to (sic) far this time!" Reginald Walton wrote.
Another man, Brent Foster, suggested that viewers who responded negatively to the "Preach" teaser video were betraying their embarrassment over long-practiced Christian traditions.
"So, the church has been doing this for years, but now that TV cameras are in the picture, and it's being shown to the masses, all of a sudden, people are having a problem with it?" Foster wrote. "Are church folks now embarrassed by their traditions?"
"Preach" premieres at 10 p.m. ET Friday, June 5 on Lifetime, which also airs other religion-based series such as "Preachers' Daughters" and "The Sisterhood: Becoming Nuns."
The "Preach" docuseries is produced by CORE Media Group with Jennifer O'Connell, Jenny Ramirez and Rasheed J. Daniel serving as executive producers, along with Eli Lehrer, Mary Donahue and Mariana Flynn executive producing for Lifetime.