Criminal prostitution case against Pastor John Blanchard is 'sound,' special prosecutor finds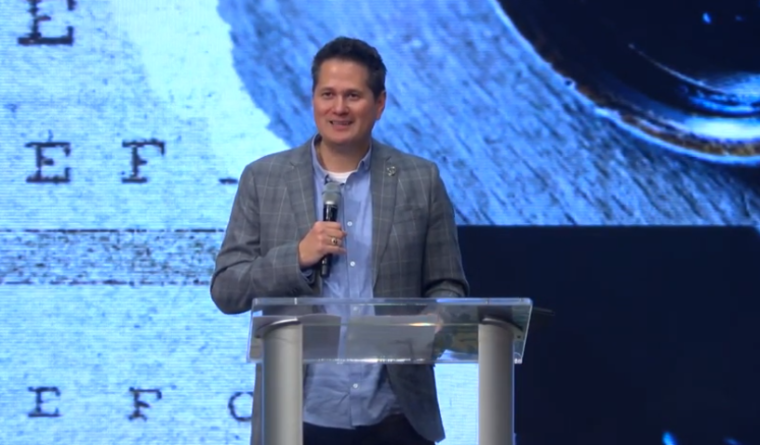 William Blaine, a special prosecutor appointed to review whether a prostitution-related case against Rock Church International Senior Pastor John Blanchard in Virginia Beach should be reopened, has concluded that the criminal charges against the pastor are "sound" but has decided not to refile the case.
The decision comes after what outspoken members of the public saw as Blanchard receiving special treatment from Chesterfield County Commonwealth's Attorney Stacey Davenport.
Blaine, who is Brunswick County Commonwealth's Attorney, wrote in a June 2 letter to two Chesterfield judges cited by The Virginian-Pilot that it wouldn't be appropriate for him to re-file the case because Blanchard is currently abiding by the terms of a deal he struck with the Chesterfield County Commonwealth's Attorney's Office even though the criminal charge was "sound."
"Again without going into detail about what the new evidence is, the new evidence — in my respected opinion — does not affect the prosecution of what happened on that [offense] date in October of 2021," Blaine wrote. "The evidence, if admissible, might be found to bolster the government's case against Defendant."
Blanchard was among 17 men accused of solicitation of prostitution after an online sting operation by police on Oct. 29, 2021. The married father of two was charged with solicitation of prostitution of a minor and use of a vehicle to promote prostitution, which are felonies. He was arrested at a hotel where he was supposed to meet a detective posing as a 17-year-old girl.
After almost a year of legal maneuvering, however, the charges against Blanchard were withdrawn or nolle prossed ahead of a criminal trial last October. A case that is nolle prossed means prosecutors could bring those charges again.
A report from the Chesterfield County Police Department said Davenport cited a "lack of evidence" in not moving forward with the case against Blanchard.
Attorney and Republican state Delegate Tim Anderson, who represents the Virginia Beach area, showed in information released on Facebook that the case against the megachurch pastor was dismissed only after a discussion between Davenport and the pastor's defense attorney.
The two agreed that Blanchard would do a psychosexual evaluation and sex offender-related counseling in exchange for tabling the matter.
Blaine argued that if people still aren't satisfied with Davenport's actions, they should speak loudly at the polls. Davenport was first elected in 2019 and is up for re-election this year against Republican challenger Thomas McKenna in the county's June 20 primary.
"If enough people are not satisfied with a particular outcome, there are political remedies to change members of the executive, legislative and judicial branches. Indeed, in every decision I make, for example, on plea agreements in Brunswick, I have to consider whether that decision can be defended as fairly representing justice especially if it might not be the politically popular decision with the voters," Blaine noted. "Such is the nature of elected prosecutors."
Chesterfield County Police Chief Jeffrey Katz, who previously criticized Davenport's decision in Blanchard's case, told the publication said he felt validated by the special prosecutor's findings and defended the work done by his department to present sufficient evidence.
"The Brunswick Commonwealth's Attorney validated what I've publicly said all along — the Chesterfield County Police Department conducted a competent and compelling investigation," he noted. "This was never about politics — it was about standing up for men and women doing high-quality work on behalf of others."