Prosecutors Allege Kong Hee's City Harvest Church Controlled Production Company That Managed Sun Ho's Music Career
Kong Hee Trial Resumes in Singapore; Megachurch Leader, Fiver Senior Members Accused of Criminal Breach of Trust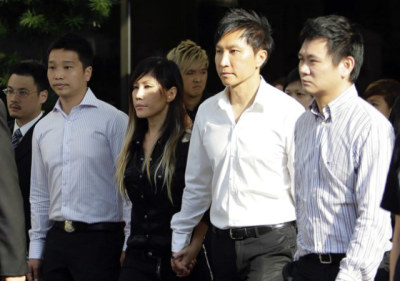 City Harvest Church founder and Senior Pastor Kong Hee and five other megachurch members accused of criminal breach of trust were back in court Monday. Prosecutors laid out more evidence suggesting that the defendants used a music production company to funnel money from a church building fund to support the music career of Sun Ho, Pastor Kong's wife.
Choong Kar Weng, the director of Xtron Productions, the firm that managed Sun Ho's music career, took the stand as the prosecution's fourth witness, and revealed that he was unaware of much of the day-to-day activities of the company.
Choong joined City Harvest Church in 1995 and served on its board of directors from 1999 to 2004. He claimed in court that he was brought in as director of Xtron by Kong, although the pastor had no management ties to the firm.
Paperwork and emails presented to the court showed that City Harvest Church senior members were closely involved in making decisions involving Xtron Productions, although none of them were on the company's payroll.
In one example, Choong was asked to explain why a City Harvest Church member named Mr. Suraj had signed off on bonuses for Xtron staff when he was not even employed by the production company.
"He represents me," Choong reportedly said. "I don't know why he is approving (the bonuses), maybe it is his opinion."
The Xtron Productions director insisted that since Suraj had been working with the Singaporean megachurch for a long time and he knew him well, he trusted him more than his staff at the music production company.
Choong was also asked why City Harvest Church Pastor Tan Ye Peng, described as Pastor Kong's deputy in one news report, had also been asked to sign off on meeting minutes before he himself approved them. Choong reportedly replied that he did not know.
Pastor Kong and five senior members of the megachurch's board are accused of siphoning SGD$24 million ($17.9 million) from a church building fund to support the pop music career of Pastor Kong's wife, reportedly in her 40s. There was also a second allegation of board members using an additional SGD$26 million to help hide the initial alleged embezzlement through what prosecutors described as "sham bond investments" in Xtron, Firna and Ultimate Assets. The later two companies are reportedly owned by Wahju Hanafi, who allegedly has deep ties to City Harvest Church.
City Harvest Church officials have insisted that Sun Ho's music career is a part of its "cultural mandate" to influence the wider culture through a global initiative called the Crossover Project. The project has resulted in the release of several top dance hits the U.S., with the megachurch crediting Sun's success to God's grace.
While Pastor Kong has maintained his innocence and claims he has been comforted by God through the ordeal (read: Kong Hee's 'Apology' From God Taken Out of Context, Says City Harvest Church), supporters of his ministry and members of City Harvest Church have remained by his side.
One City Harvest Church member, Eric Tan, was among dozens of people who had lined up hours before the 9 a.m. trial Monday to show his support for his pastor.
"We need to stand for the church, and for the pastor. And pray for them during the trial," Tan told The Straits Times.
Another supporter who declined to give a name told Yahoo! Singapore he was there for similar reasons.
"We are concerned about the pastor. We came to the hearing to hear what is being presented in court, so that we do not give the wrong information to the public," said the supporter. "The media can speak what they want. All of us are here as a family. If something were to happen, whether it is right or wrong, we will be concerned, naturally."
City Harvest Church was founded by Pastor Kong, 48, and Sun Ho in 1989 as a non-denominational Protestant ministry that is "Pentecostal and Evangelical in both doctrine and practice." It has been cited as one of Singapore's fastest-growing megachurches, and is home to nearly 20,000 members.