Kong Hee's Co-Defendant Quits City Harvest Church Due to 'Spiritual and Moral' Issues
Megachurch Denies Claims of Dishonesty Among Leadership Amid Financial Fraud Case
A member of Singapore's City Harvest Church, led by founder Pastor Kong Hee, announced his resignation from the Pentecostal megachurch as its leadership battles charges of financial fraud in court.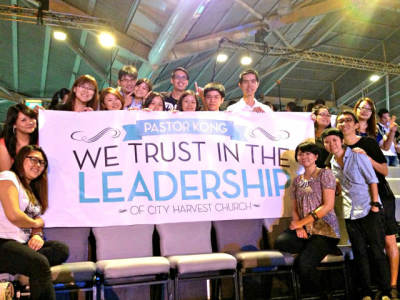 Chew Eng Han, 52, shared in a personal statement published online that after 17 years of serving City Harvest Church in various capacities it was now time for him to go.
"The time has come for me to make a major shift in direction for my life. I've thought and prayed through this for many months, and on balancing the pros and cons of it, I now have a deep conviction that that (sic) the right thing to do is to depart from City Harvest Church (CHC)," Chew wrote in his statement.
"CHC is my first and only church and in the 17 years there, I have been fed the Word of God and learnt (sic) to grow in spiritual strength and faith. For that, I am deeply grateful. Many members of the church have qualities which are not easily found elsewhere – tenacity, faith, love for people, generosity, perseverance and loyalty. If certain events had not overtaken this wonderful experience, CHC would undoubtedly continue to be my one and only church."
Chew insisted, however, that all was not as it seemed at City Harvest Church, a charge the megachurch has denied.
"For those who do not know me well and have not heard me out, I hope you will not jump to conclusions about me and the appropriateness of such a move. Those who know me better will understand what I've been seeing and tolerating – wrongful labelling (sic), quick to take credit and to pass the buck, betrayal, slander, ingratitude, denial and lies, manipulation and control, greed, pride, hypocrisy, abuse of authority, practice of favoritism and different standards," Chew added. "It is exacerbated when it is perpetrated by top leaders, including those who taught us that the Word is supreme and that obedience to the Word equals loving God. Leadership cannot be measured by words but by action. Nobody qualifies to lead, or to preach what he cannot practise (sic) in real life. More than anything, these are foremost issues of spiritual and moral significance."
While City Harvest Church has acknowledge Chew's departure, the board claimed in a public statement that his remarks amount to nothing more than "personal views" and insisted that the megachurch was operating with integrity.
"The Board has been working with the senior leadership for many years and knows and believes that the senior leadership has always walked in integrity, adhering to Biblical principles through the leading of the Holy Spirit. We maintain our full confidence in the leadership. Over the last 24 years, they have worked hard to maintain and protect the interests of the church and the members, and we trust they will continue to do so," read the statement attributed to City Harvest Church management board secretary Lee Kiam Hiong.
"The fear of the Lord is the beginning of wisdom, and the Board and the church leadership have always leaned on God for all decisions of the past, and will continue leaning on Him even in this time of difficulty," Hiong added.
"It is our hope and prayer as the Board that CHC will be even more united in such a time as this, that as a church, every member will put his and her trust in the Lord and remain steadfast in prayer."
The apparent fallout between Chew and City Harvest Church comes as six of the Singaporean church's board members stand trial for allegedly embezzling S$24 million ($18.9) from a building fund to support the pop music career of Pastor Kong's wife, Sun Ho. There was also a second allegation of board members taking another S$26 million ($20.5 million) to help cover up the initial embezzled amount. In addition to Pastor Kong and Chew, who once served as fund manager for City Harvest Church, John Lam, Tan Ye Peng, Serina Wee and Sharon Tan are also defendants in the high-profile criminal case. All served in some capacity on the City Harvest Church board.
Chew issued a further response to CHC's denial of his claims, revealing that he and his wife had met personally and at length with Pastor Kong and Sun Ho to discuss his departure. He also suggested that current members of the church board were not fully aware of the fraud allegations brought by Singapore's Commissioner of Charities and the Commercial Affairs Department regarding church funds.
"The board is probably unaware of many other issues, especially those on the pastoral angle, in terms of the manner of conduct of some of their pastors and senior leaders. Without such information, it is not equipped to issue a board statement of confidence," Chew wrote in his follow-up statement. "The church statement is a mere attempt to unite the church with a spiritual tone, but lacks substance in dealing with the real issues of truth and integrity."
City Harvest Church has attempted to put an end to the public back-and-forth, issuing "a message from the board" to church members Monday that read in part: "We do not wish to discuss, engage or argue with these allegations at this present time as these matters are before the Court. We would like to advise our members to do likewise. There are two sides to every story and all the evidence will be brought up in due time, and the truth will be revealed." Concerned congregants were encouraged to contact their pastors personally if any issues remained. According to a previous City Harvest Church news notice, there were 24 pastors and assistant pastors on staff.
Pastor Kong has denied charges of misappropriating church funds and expressed confidence that he and the other defendants will be exonerated. Congregants have stood by CHC's leadership and enacted prayer campaigns to support them spiritually.
City Harvest Church, founded by Kong Hee and Sun Ho in 1989 as a nonprofit nondenominational evangelical church, is one of Singapore's largest megachurches. According to its 2011-2012 progress report, City Harvest Church's congregation size numbered more than 19,000 last year.
Here is a related videos:
$13m used to promote Sun Ho's music career "completely honest" - 23May2013