Public Decries Christian Men's Conference for Featuring Speakers Accused of Rape, Sexual Abuse Cover-Up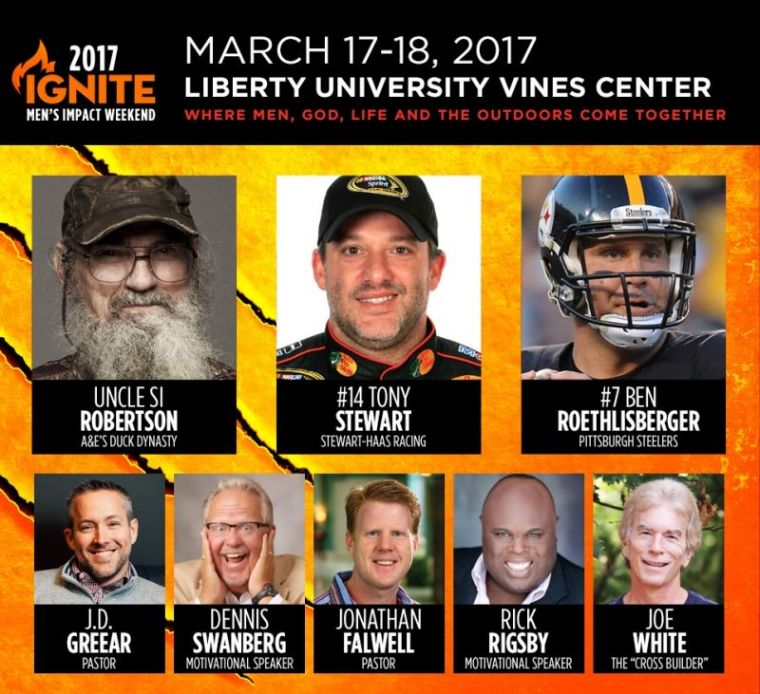 Ignite, a weekend Christian conference that expects to attract some 10,000 men to Liberty University next month, is now drawing criticism for including on their speakers list accused rapist and NFL quarterback Ben Roethlisberger and Dr. Joe White, president of Kanakuk Kamps, who is being sued for covering up sexual abuse of boys.
Roethlisberger, a celebrated but controversial quarterback for the Pittsburgh Steelers, has in the past fended off multiple rape allegations, including one which ended in a settlement in 2012. The Steeler quarterback settled a civil complaint in which he was accused of raping a casino host at Harrah's resort in Lake Tahoe. He allegedly lured the woman to his hotel room by claiming that his television needed to be fixed.
Dr. White, meanwhile, was sued in 2015 for being aware of sexual abuse taking place at his camp and doing nothing to stop or prevent it. A 50-page petition filed on behalf of the plaintiff, identified only as John Doe IX, shares details of a case involving a previous camp director's guilty plea to statutory sodomy and enticement of a child.
"In February 2010, Peter Newman pleaded guilty in Taney County to several counts of statutory sodomy and child enticement involving child abuse of a boy on Kanakuk property between approximately 2005 and 2008," court records said. "In 2003, defendants White and Kanakuk had actual knowledge that defendant Newman continued to engage in activities with children at Kanakuk camps that involved defendant Newman and the children becoming naked together."
Despite that knowledge, documents state, Kanakuk and White continued to employ Newman.
"Defendants Kanakuk Ministries and Kanakuk Heritage chose to protect the sexual predator rather than the children," the petition states. Newman was even promoted, court records showed, because "his reputation among kampers was such that it engendered return visits to kamp and more money for" the defendants.
Newman is now serving two life sentences, plus 30 years, after pleading guilty to sex crimes involving teenage boys.
Roethlisberger and White are expected to join other speakers at Ignite, including Si Robertson of "Duck Dynasty" fame; former professional stock car racing driver and NASCAR team owner Tony Stewart; and Tim Clinton, president and founder of Ignite.
Clinton is an internationally recognized leader in the Christian counseling movement. He is also executive director of the Center for Counseling and Family Studies and professor of Counseling and Pastoral Care at Liberty University and Liberty Theological Seminary.
The weekend Ignite conference, scheduled for March 17-18, 2017, at the Liberty University Vines Center in Lynchburg, Virginia, aims to help "men align their everyday passions with God's eternal purpose."
"Imagine joining 10,000 men — fathers, sons, brothers, seekers and Christ-followers — coming together to worship God and learn more about the life of true adventure He intends for us," explains the Ignite website that promises "a two-day event packed full of workshops, exhibits, and fun around the stuff that men love: hunting, fishing, football, motorcycles, racing, extreme sports, and other outdoor activities — featuring some of the leading experts in the world."
"After years of perfecting our men's impact weekend, we have landed on a unique format that helps men align their everyday passions with God's eternal purpose. We are here to take on the everyday challenges that men face — a godless culture, fatherlessness, broken relationships, and the lack of male leadership in the Church," it adds.
The comments section of a report on the event by The Wartburg Watch, however, was rife with criticism about the speakers list, Liberty University and the discussion about a lack of male leadership in the church.
"This doesn't really surprise me, unfortunately. Conservative evangelicalism is so overwhelmingly defined by its reactionary opposition to feminism that being a 'man's man' qualifies you as a moral leader, regardless of your actual character. I wonder if they'll be heading down to the rifle range in between sessions...More specific to this event, Liberty University seems absolutely hell-bent on convincing the world that they hate women and view them as worthless," wrote one critic identified as Edward.
"I wondered why LU would host, much less promote, a conference on authentic manhood which featured the likes of Roethlisberger, Tony Stewart, Joe White, etc. (unlike Max) and then I remembered that Falwell the Younger prominently tweeted a picture of himself with Trump in front of an adult magazine cover featuring Trump (Worst. Centerfold. Ever.) and I thought...maybe Falwell the Minor is looking for his own famous names to put alongside his glamour shot," wrote another critic noted as Burwell.
They were also no kinder in their reactions to the event on social media.
"How can a Christian university choose these kind of people as speakers?" complained Robert Simpson.
"A sexual predator, a murderer, and a mentally challenged man. Sounds legit!" quipped Chris Stanley on Facebook touching on an incident in 2014 in which Stewart struck and killed another driver who was walking on the dirt track as they were racing.
The Christian Post reached out to Liberty University about the event Thursday and an official, who asked not to be named, said: "We are just the site of the event. Ignite determined the speakers, so we'll have to refer you to them to address any concerns."
When asked to comment on the controversy over the speakers, an Ignite spokesperson, who also asked not to be named, told CP: "We are excited that Ben Roethlisberger has chosen Ignite and this type of setting to share his life and personal testimony of grace, redemption and transformation in Christ."