Pumped Up Texas Teenage Football Player Takes Postgame Interview to Church
Pumped Up Texas Teenage Football Player Takes Postgame Interview to Church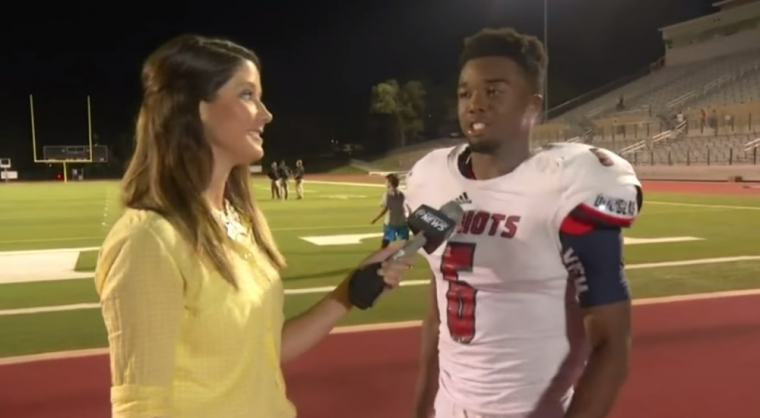 Teenage football standout Apollos Hester shocked the public when he turned a postgame interview about his team's 42-41 win into a praise session.
Last Friday, the East View High School Patriots came back from 14 points behind at halftime to gain the one-point victory. After the game, TWC News Austin reporter Lauren Mickler pulled Patriots player Number 6, Apollos, to discuss the team's performance. He then turned the interview into an inspirational sermon about coming back from adversity.
He said of the team's initial performance, "Yeah they had us the first half, I'm not going to lie. They had us but we weren't defeated but they had us and it took guts, it took an attitude. That's all it takes. That's all it takes to be successful, an attitude and that what our coach told us. He said to us hey it's going to be tough, it's going to be hard. You're going to go out there, you're going to battle, you're going to fight, you're going to do it for one another, you're going to do it for each other and you're going to do it for us and you're going to come out with this win and we believed that. We truly did."
Apollos described the win saying, "It's an awesome feeling when you truly believe that you're going to be successful regardless of the situation, regardless of the scoreboard. You're going to be successful because you put in all the time, all the effort, all the hard work and you know that it's going to pay off."
The teen said even if his team did not win, he would still be thankful.
"If it doesn't pay off, you continue to give God the glory. You continue to get each other's back and that's what we realized. Win or lose, we realized that we were going to be alright. It's going to be OK. We're going to keep smiling," said Apollos.
He then began to motivate others to believe in their dreams.
"You can do anything you put your mind to. Never give up on your dreams. Keep smiling no matter what you're going through. If you fall down, just get up. If you can't get up, your friends are there to help you up. Your mom's there, your dad's there, God's there, I'm there. I'll help you up. You're there. It's going to be alright," proclaimed Apollos.
Hester's interview went viral on YouTube with over 3 million views and an account popped up on Twitter proclaiming Apollos "number 6 on the field but number one [in] their hearts."
Apollos, who has a picture of his team praying on the field posted on his Twitter account, tweeted in response to all the attention, "favoriting every tweet about me and my speech #SoBlessed."