Putin Thanks Trump for Tip That Thwarted ISIS Bombing Plot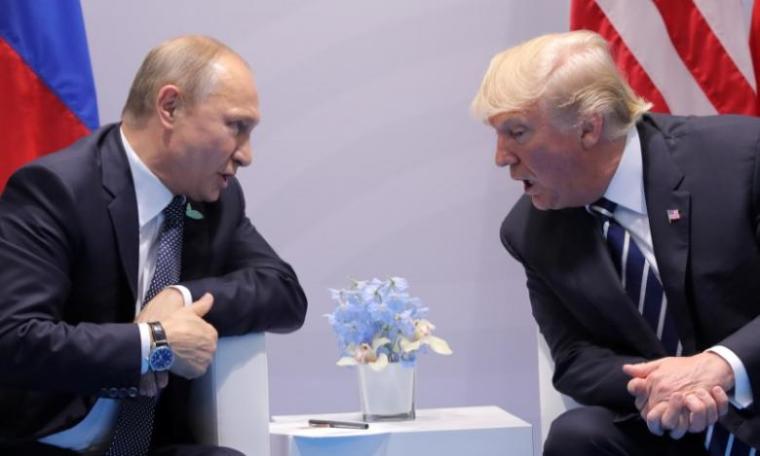 Russian President Vladimir Putin called U.S. President Donald Trump to thank him for a CIA tip that helped Russian authorities prevent a terrorist attack in St. Petersburg, the White House said Sunday.
"Based on the information the United States provided, Russian authorities were able to capture the terrorists just prior to an attack that could have killed large numbers of people," a White House readout said Sunday.
Trump and Putin have spoken on the phone twice since Thursday.
"No Russian lives were lost and the terrorist attackers were caught and are now incarcerated. President Trump appreciated the call and told President Putin that he and the entire United States intelligence community were pleased to have helped save so many lives," it added. "President Trump stressed the importance of intelligence cooperation to defeat terrorists wherever they may be."
Russian authorities arrested seven people who claimed to be members of the Islamic State terror group and were plotting a suicide bombing in a church and a series of other explosions in the St. Petersburg's busiest areas during the weekend, according to The Associated Press.
Russian authorities found explosives, automatic weapons and extremist literature from an apartment in St. Petersburg.
"My job was to make explosives, put it in bottles and attach pieces of shrapnel," a suspect, identified by Russian media as 18-year old Yevgeny Yefimov, said in footage released by the FSB, the AP reported. Many other suspects came from mostly Muslim regions in Russia's volatile North Caucasus, and one man was from the ex-Soviet nation of Tajikistan that borders Afghanistan.
"Both leaders agreed that this serves as an example of the positive things that can occur when our countries work together," the White House readout said. "President Putin extended his thanks and congratulations to Central Intelligence Agency (CIA) Director Mike Pompeo and the CIA. President Trump then called Director Pompeo to congratulate him, his very talented people, and the entire intelligence community on a job well done!"
Russia's Interfax news agency also reported on the phone conversation between the two leaders, according to Reuters. "The Russian President thanked his American colleague for the information passed on by the Central Intelligence Agency, which helped detain a group of terrorists preparing explosions in St Petersburg's Kazansky Cathedral and other busy sites in the city."
In April, a suicide bombing in the city's subway killed 16 people and wounded more than 50 others.
On Thursday, Putin had praised Trump's achievements at a news conference.
The Russian president reportedly said global markets have shown investors' confidence in Trump's economic policies, and that he hopes Trump would be able to follow through on his campaign promises to improve ties with Russia.