Randy Lewis: How a Father's Love Changed a Company and Sparked a Movement
Randy Lewis, a former senior vice president of Walgreens, is the author of the highly inspirational book, No Greatness Without Goodness: How a Father's Love Changed a Company and Sparked a Movement. The book isn't only exceptional reading for business leaders who want their companies to become more efficient and profitable, but it also provides nuggets of wisdom and real life lessons for people who have the desire to build stronger and more meaningful relationships with those around them: friends, neighbors and coworkers.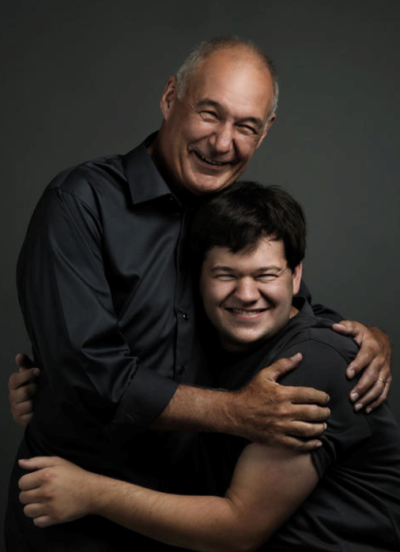 Lewis and his wife, Kay, have three children. Their middle child, a son named Austin, has autism. During a speech in front of 5,000 Walgreens store managers at a conference in Las Vegas, he shared that "nearly 70 percent of individuals with disabilities and 95 percent of people with severe cognitive disabilities, like Austin, would never hold down a job."
This is not because people with disabilities cannot do the work, it's because many employers fail to realize that hiring people with disabilities will actually increase the overall performance among all of their employees.
In the book, Lewis details how, with the inspiration from Austin, and the encouragement of his wife and strong support from the team at Walgreens, the company's distribution centers not only met their first hiring goal of having 10 percent of its workforce being people with disabilities by 2011 — with some centers having 40 to 50 percent of their employees being those with disabilities — but they also witnessed increased productivity at the distribution centers that had hired people with disabilities.
While there are several audiences Lewis reaches in his book: students in business school, employers and employees, people living with disabilities, and parents of children living with disabilities, the overall message Lewis emphasizes is the power that ordinary people have to accomplish the extraordinary.
"Overall, one person can read a straightforward message – here's a father who saw the world through his son's eyes and did something about it at work and launched this [initiative]. But the bigger thing I was trying to get across is that we're much more powerful than we ever give ourselves credit for," Lewis shared with The Christian Post.
"And the next message I'm trying to get across is to remind everybody that our true connectedness, our true happiness, comes through that connectedness in serving others, not just ourselves. It was a high bar," he added, "but it was proven out, and certainly everybody's got one story and that just happens to be my story. What I hoped to be true turned out to be true."
"Having been through this, I wonder: if work is what sustains us and love that fulfills us, how do we keep forgetting that? So if the book helps to remind somebody that, oh by the way, I'm infinitely important in this universe. And, by the way, so is everybody else. Then my job was done," Lewis said.
Use every opportunity to help others see meaning in their work. They will be transformed from brick layers to cathedral builders.
Among the most significant lessons Lewis' son, Austin, has taught him is to be patient, and learn to laugh — a lot.
"There are big lessons and little lessons, " he said. "The little lessons are being able to laugh, being able to not plan, and patience. But the biggest one [for employers] is TLC. Here's what I tell people about dual leadership: C is for challenge, T is for teach, because leaders teach and they challenge; and L is for love. Tender love and care. But if you only remember one of the three, remember love."
"Leaders need to love. If they don't love, then they'll never gain the trust. Here's the deal: worthiness. Worthiness — that's what Austin taught me; that everyone is worthy," Lewis emphasized.
He continued, "Even as adults we go around asking, "Am I worthy?" Or we test others' worthiness. Are they worthy of my trust? And we do it at church. Is their faith strong enough? Does it agree with mine or is their politics worth me being their friend? It's judgementalism."
"Austin burned right through that. He is completely worthy as a human being, even with how different he is. That was the biggest lesson he taught me. He taught me that when I see somebody and I start putting on those glasses of judgment, I have no idea what battle they're fighting or where they came from. And it is just that nanosecond of withholding judgment that has opened my eyes to a ton of things I would never see — that's the big lesson."
Lewis also adamantly believes that there's a longing inside people to make a difference in the world, because everyone has value.
"That's the good news of faith, isn't it? Being worthy. That was the great news about it — I'm part of something bigger and I'm loved and I'm worthy," he explained. "I'm one person and everybody's an infinitely important and worthy person too."
Recognizing that people have intrinsic value to God and his Christian faith are two things that Lewis is not afraid to share, because it has provided strength for his family, and enabled him to impact the world by helping employers see that people with disabilities, once given the opportunity, can become valuable employees.
"My faith has grown since the Sunday school days of putting lambs on the flannel board. God was a tough enforcer, but He's also the comforter," Lewis said. "God has gotten a lot bigger as I've gotten older. And I've come to my personal theology of trying to work the experiences of life versus the tradition of beliefs in the faith I've been taught, and consolidating both and finding no inconsistencies."
Fear has kept me quiet in the past when I should have spoken up. It has kept me still when I should have acted.
"There were times when I was afraid, and that's when faith came in, and knowing that I was not alone," he said. "Throughout this process, I was not alone."
Lewis noted that some people believe that what's been achieved at Walgreens was a monumental and difficult task, but he said that not taking action, when he could have, bothered him much more than any potential failure.
"People say, boy, it must've be difficult. No, how would I ever, ever face myself or my Maker [if I didn't act]. What if you could've done something and you didn't? When you look back on your career and you say, why didn't you? How would we answer that question? That became a much, much bigger burden than failure," he explained.
Lewis also highlights in his book that there any many types of disabilities, especially in regard to employment, but what people need to keep in mind, be it at work or in public, is that people are people, regardless of whether their disability is visible to the world or not.
"When hiring people with disabilities people ask me: what kind of disabilities can you hire? Or what kind of disabilities can you not employ? That's always a common question."
Lewis said that what he and others discovered is that every disability is a spectrum.
"We haven't found a disability we can't employ, we just can't employ everybody on the entire spectrum. Just like with people 'without disabilities,' we can't employ everybody on the spectrum of the typically able," he noted.
"I think the biggest thing that people overlook is that they're people. They see their disability, they're afraid about making a mistake; they're afraid about using the right words. They feel uncomfortable and they fail to see the person," he shared. "I have probably made more mistakes around people with disabilities by saying 'wheelchair-bound,' which you don't say; or saying, 'disabled,' which some people prefer using [the term] people with disabilities. I had to learn that."
"By the way, if you make a mistake with the right intent, with love, it doesn't matter, people see that. They see the intent."
Lewis also explained that when people see someone in a wheelchair, they're naturally curious about the person's story and how and why they need to use the chair. He emphasized that just as in many other social situations, it's impolite to ask.
"How would you like to be asked? That golden rule works in just about all situations," he said. "Love overcomes everything, it's the honest truth, it's simple. And it's so simple just to see them as people."
Speaking about his life, Lewis said he sees it as a "wonderful gift."
"I hope I used it well, let me continue in this dance."
All of the proceeds from Lewis' book will go to selected charities based on readers' preferences. By voting on the book's website, readers can help their favorite charity receive at least $1,000.