Randy Travis Miraculously Sings 'Amazing Grace' 3 Years After Massive Stroke Leaves Him Speechless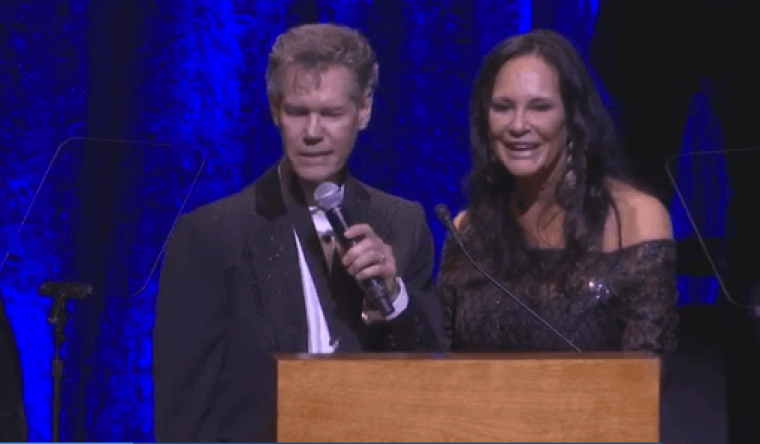 Three years after suffering a massive stroke and not being able to speak, country legend Randy Travis shocked the crowd at the Country Music Hall of Fame by singing "Amazing Grace."
Along with Travis, fellow North Carolina natives Charlie Daniels and Fred Foster were also inducted into the prestigious Country Music Hall of Fame on Sunday evening in a ceremony held at the Hall of Fame's CMA Theater. The annual event had almost a thousand people in attendance and no one knew what they were in for when Travis – the first Country artist to break the multi-platinum sales barrier – took the stage.
Before hitting the podium, Garth Brooks, another Country pioneer, sang "Three Wooden Crosses" and then officially welcomed Travis as a member. With help from his wife, Mary Davis-Travis and Country singer Brad Paisley, Travis climbed the stairs and Brooks hung the medallion around his neck.
Mary spoke on behalf of her husband since Travis struggles to formulate words due to the stroke.
"Today is the greatest day of Randy's celebrated music career," she said, in a video posted by Taste of Country. "Randy wants to thank you for listening and loving him. Randy stared death in the face, but death blinked. Today, God's proof of a miracle stands before you."
She spoke in further detail of the darker days in 2013 when Travis had to overcome more than five months of hospitalization after suffering from double pneumonia, collapsed lungs, comas, brain surgeries, transfusions, tracheostomies.
In her moving speech, Mary revealed that she and her husband still sing to each other every day.
"It's a special thing to hear Randy Travis sing, I think – don't you agree?" she questioned as everyone greeted her with bittersweet applause. She then said something that made everyone in attendance let out a big audible gasp.
"Ladies and gentlemen, heroes and friends, today I want to give back to you the voice of Randy Travis."
Some of the words were not crisp and the melody a bit shaky but with a smile on his face he filled the room with the unmistakable sound of Randy Travis singing "Amazing Grace." Brooks, standing beside him on stage, tipped back his head closed his eyes, as emotion noticeably welled up inside of him. When Travis finished the final note, the audience erupted with an ovation for one of country music's greatest voices.
See a clip of his performance below:
Performers for the memorable night included Kris Kristofferson, Dolly Parton, Brooks, Trisha Yearwood, Brad Paisley and Alan Jackson. They each sang songs pivotal to the career of the three inductees that night, before they were officially inducted as members.
In July of 2013, Travis nearly died when he suffered a life-threatening stroke as the result of a viral infection in his heart. Given little hope of survival from doctors, Travis defied the odds and is able to walk today and is working to improve his speech. He may not be able to speak full sentences yet, but has proved to the world that he can still sing God's praises.