Reach Records artist GAWVI talks new album, legalism he experienced in youth group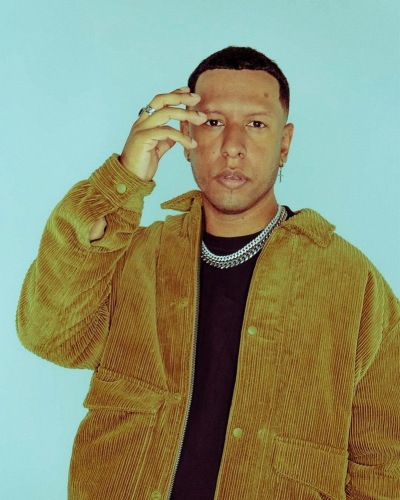 Reach Records artist GAWVI has released his debut Spanish album, Noche Juvenil, and hopes it reaches youth in the Latino community who might be feeling like an outcast in their church. 
The young artist told The Christian Post that he created Noche Juvenil, which translates as Youth Night, to capture the Christian experience he and his friends wish they'd had in their youth group.
"I grew up in a Pentecostal house, which church Pentecostal is a little bit stricter on some occasions," said GAWVI, explaining that growing up, he was taught that "hip-hop was of the devil."
As he got older and reached high school, his parents decided to explore why he was passionate about that genre of music. After listening to some Christian hip-hop, they "started realizing ... this is legalistic, thinking that this music is of the devil, which it's not."
Legalism is contrary to the biblical teaching that the believer is saved by grace and not by works. 
The late Reformed theologian R.C. Sproul illustrated three forms of legalism in an article published at Ligonier Ministries. 
Sproul described legalism as: Focusing on God's laws more than having a relationship with God; keeping external laws without a truly submitted heart; and adding man-made rules to divine laws and treating them as divine.
"That background was basically the culture I grew up in," GAWVI said. "In church, reggaeton and all of that was looked down upon. It was 'other world.'"
Many churches were once opposed to listening to rock 'n' roll, "but now rock is the main thing of worship," he added, naming Hillsong as one example.  
While he initially planned for Noche Juvenil to be an EP, because of the downtime he had during the COVID-19 pandemic, GAWVI was able to release what he calls his "passion project." He said this was the music he wishes he had growing up.
The event, Noche Juvenil, is well-known in the United States as a big church gathering in the Hispanic community. It's an occasion where Hispanic churches all gather together for youth night, he explained. 
Although the events were impactful, he said many young people often felt preached at. GAWVI told CP that he wants his music to create a space where youth can ask questions and not feel condemned.
"Most of the time, what me and my friends laugh about is, it was kind of corny," he said of the youth events he attended growing up. "We did get to experience God — that's without a doubt. God definitely was moving in all of them. But there's a lot of moments, as I'm creating the album, me and my friends, we were just talking about the nostalgia ... those announcements were so long. Service went to like, three o'clock at night. Funny thing is, we were like, 'Man, if we could have done youth night, we would have done it like this.'"
As the conversations with his friends continued, he began to realize what the album needed "to feel like," he explained, describing the messages he wanted to have when he and his friends were in high school. His new music aims to close the gap that makes the younger generation feel unrepresented and without a voice in their ministry. 
"This is not all churches, but the churches that I got to grow up in, and I think a majority of a lot of Hispanic churches were like this back then," he told CP.
Noche Juvenil features a number of skits where a pastor can be heard saying, "We don't want colored hair, no earrings, no necklace. Women — no makeup, [wear] long dresses all the way to the floor.
"We wanted to capture that nostalgia and be like, 'OK, [now] we're gonna come as we are,'" he quipped back.
Latin music is one of the top genres in the music industry worldwide and GAWVI wanted his album to reflect what's currently popular, but with a Gospel message. The entertainer commented that he piggybacked off some of the iconic legends in Latin Christian music such as Redimi2 and Funky. 
"They're like the Lecraes in the Latin market," GAWVI remarked. "I'm not making anything new, I'm just piggybacking off what they have started for guys like me."
"We're like, 'How do we bring the Gospel and Jesus into that world and be relevant?' Where if someone was in Youth Night tonight, they'd be like, 'Man, I connected with this. I feel like you're speaking my language,'" he continued. 
"I've been on a great journey recently, where I call this season of my life permission," GAWVI continued. "The reason why I call it permission is through the album process. I've been able to talk to my parents a lot more than usual, asking them, 'What was it like when you were growing up in youth?' They would tell me, 'It was actually hard too.'"
He explained that his parents fell into the same legalistic patterns on certain issues, despite them also experiencing the sting of living by the law and not grace.
"My mom, I remember her telling me that she wore jeans one time, and the pastor was like, 'you're a sinner,'" he shared.  
"I call this season permission because a lot of times we grew up in church thinking we don't have permission to ask questions about 'Why is church culture like this?' or 'Why am I worshiping God with my hands up right now?' Basic things that are good, or 'Is this traditional, is this religious, is this actually something biblically solid?'" GAWVI added. "That's been something that I just really enjoy about this album process for me."
The South Florida resident went on to say that creating the album has been "personally therapeutic" for him where he has been able to dive "deeper into where does Christianity comes from? Western Christianity, Eastern Christianity, overseas," he told CP. 
"I'm not just going on YouTube anymore and looking up sermons. I'm actually just diving deeper, into the Greek and all that," GAWVI said.  
GAWVI's Noche Juvenil draws inspiration from topics within Christianity that he's learning to embrace.
"I have this one song called '1822,' which is Proverbs 18 verse 22, which [says], for those who find a good thing in a wife. The song is basically a Christian sex song," he admitted.
From his upbringing in youth group, GAWVI always recalled ministers preach that "Sex is bad, don't have sex before marriage, the lust of the eye." Although he maintained that all those teachings were "great foundations," he also said that those one-dimensional teachings created a "ceiling where when you get married,  how do I view sex now, is this OK?" 
"I wanted to make a song like that for people that are in youth, where it's like, I'm going to describe how this could be a loving, romantic thing when you get married," GAWVI asserted. 
Like that song, the popular producer hopes all his new tracks will grant his listeners the "permission" to start asking their pastors and parents the hard questions.
Noche Juvenil is filled with dance songs the can easily be mistaken for music played in secular clubs today. To those who might criticize his sound, however, the young artist said he has "the utmost respect for them because they know what's convicting to them."
"A close friend of mine can't watch movies that are with blood and gruesome things because it gives them a lot of scary dreams and makes your mind start getting fearful and fear is not of God. So I understand certain people that have conviction," he said. "But then, there's other people that are just saying, 'It's not of God,' because of traditional things [but] you don't even know why you're saying it's not of God. And for me, that's where I extend grace, I understand." 
"As I was studying church culture, in Latin America, it's really sad how colonialism just really took over, it was forced for you to be a Catholic. Basically, in all these countries, a lot of slaughter happened, a lot of rape happened where you're forced to believe this, and that's what it's gonna be," GAWVI detailed. "I think years and years of trauma and years and years of trying to break that mold, some countries still feel that weight of, 'Well, we have to be Catholic, we have to be Christian. And I don't know why I'm a Christian, I don't know why I'm Catholic. That's just the way it is. And I'm just gonna say this is not of Jesus.'"
According to a Pew study, Latin America is home to more than 425 million Catholics, nearly "40% of the world's Catholic population."
The father of two said he extends "grace" for some who are extra critical because of the history.
GAWVI continued by saying he's inspired by the younger generation because they "push back against things that we know are not really of God." 
"This whole generation is very vocal and how they feel, what they believe," he added. "I think it's great that people are having conversations and it's fine that people are being more bold. The more we can step away from fear and be bold is amazing."
This Spanish language album follows GAWVI's last release, Heathen, an English dance record also filled with a strong Christian message meant to ruffle some religious feathers. When asked if he purposely fights the religious norms in today's society he said he didn't even realize he was following that pattern until recently. 
"It wasn't until recently, I've noticed [the] pattern that I'm having with my albums. I don't feel called to do that," he assured. "But it is interesting that I always feel God plants certain emotions and ideas in my mind, a message that I want to give. I don't think I'm called to do that, but I think God has planted me in a position to speak on certain things."
The 32-year-old ended the interview by sharing his wish for his passion project.
"I hope there's a lot of freedom that could be broken in the Latin community, where people don't have to feel the weight of trying to put on a show," GAWVI said.
"Many years I went through life having to hold my Bible real close and prove how Christian I am, and that's a sad life to have. You feel like you're dying inside. I pray that this album, specifically for the Latin community, that it will be like a breath of fresh air," he added.

Noche Juvenil is now available.