Religious freedom in crisis under Biden admin.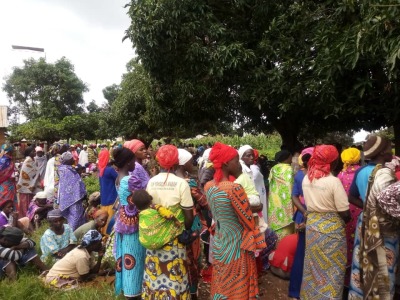 In November, Secretary Bilken traveled to Nigeria, and within weeks of returning home, Nigeria was no longer designated a "Country of Particular Concern" for its gross violation of religious freedom, namely the massacre of thousands of Christians every year.
Genocide Watch refers to Nigeria as "a killing field of defenseless Christians" because the ethnic Fulani militants, consideredthe world's deadliest terrorist group, wipe out whole Christian villages but leave Muslim villages unharmed.
Though the Secretary reprimanded Nigeria for its lack of free press and dismal human rights record, he ultimately removed Nigeria from the list of egregious offenders. Some analysts defend the move by claiming it was a balance of interdependent and co-equal US foreign policy interests. In contrast, others were appalled at the decision and felt it was a severe blow to religious freedom in the region.
In an unrelated conflict, Turkey and Azerbaijan renewed their aggression against their Christian neighbor, Armenia, timing the assault to coincide with the 100th anniversary of the Armenian genocide. They attacked its churches and cultural heritage, sending a strong message that the war was not just about land but about faith. Though Biden is the first US President who formally acknowledged the genocide, within days, Blinken approved millions of dollars in new military aid to Azerbaijan without an assurance they would stop the assault on Armenia. Emboldened by that signaling of tacit support, Azeri President Aliyev sent troops and invaded Armenia proper, killing more than a dozen Christians. 
Still worse, the US government is allegedly preventing the rescue of thousands of endangered Christians stuck in Afghanistan after the recent withdrawal. Despite the eyewitness accounts of Christians being executed on public transport for owning a Bible app, the White House remains the biggest hindrance to their evacuation.  Glenn Beck of the Nazarene Fund had this to say about it:
Everyone else has been working together, putting aside differences and trying to get these people to safety.  The State Department and the White House have blocked us every single step of the way.  
More than 340 million Christians cope with persecution regularly. Fifty countries, primarily in the Middle East, Africa, or Asia, have very high levels of persecution, which means 1 out of every 8 Christians faces severe consequences based solely on their faith.
Back in March of this year, I opined that the plight of Christians worldwide would worsen under the Biden Administration, and sadly, it has. It is not just the outcome of partisan politics; it represents a principle with far-reaching consequences.
This administration believes in the interdependence of human rights, where religious freedom is one of many democratic rights balanced with competing interests. However, Trump's Administration placed religious liberty as the first right from which all others flow. Secretary Pompeo made sure religious persecution of Christians was at the forefront of his foreign policy, and world leaders knew it would be a central part of the diplomatic negotiations. As the head of the International Religious Freedom office said recently about the current policy, "Secretary Pompeo did express his view that there was perhaps a hierarchy of rights concept and that's a view that this administration does depart from."
Yet as American Christians, we should know the "God first" policy did not originate with the Trump Administration. The Lord says the greatest of all commandments is "'Love the Lord your God with all your heart…soul….strength and with all your mind' and, 'Love your neighbor as yourself.'" When we love God with everything we got, it is the well from which we draw love for everyone around us. It is the essence of justice because there is no discrimination based on race or religion, no judgment of right or wrong, simply the love for humanity, which emanates from our love of God. It is not meant to be exclusionary or intolerant; it is how we manifest the fruit of the Spirit — kindness, goodness, forbearance, and self-control.   
By no accident, the free exercise of religion is the first right bestowed in our Constitution. The founding fathers knew a government centered on the supremacy of God and man's obedience to His commandments, as opposed to the political aspirations and self-interests of men in power, would make America exceptional.  As Benjamin Franklin put it, "Freedom is not a gift bestowed upon us by other men, but a right that belongs to us by the laws of God." 
Therefore, we should protect and defend religious liberty as a guiding principle of American foreign policy, not because it is a campaign slogan for one side of the political divide. We do it because it is the morally right thing to do.
Hedieh Mirahmadi was a devout Muslim for two decades working in the field of national security before she experienced the redemptive power of Jesus Christ and has a new passion for sharing the Gospel.  She dedicates herself full-time to Resurrect Ministry, an online resource that harnesses the power of the Internet to make salvation through Christ available to people of all nations, and her daily podcast LivingFearlessDevotional.com.