Bodies of 21 Coptic Christians Beheaded by ISIS in Libya Found in Mass Grave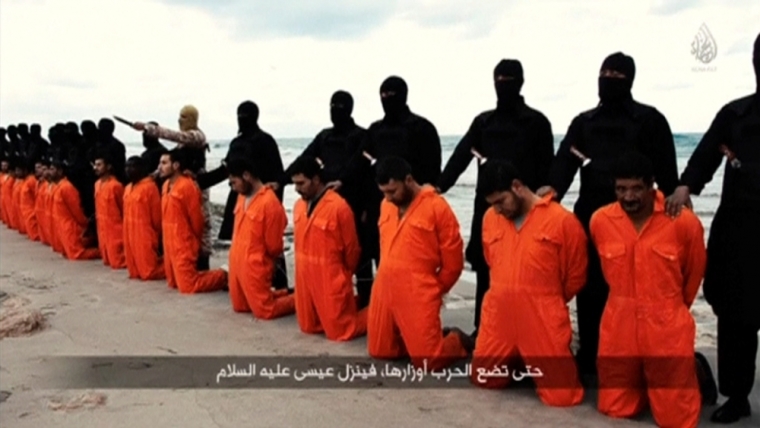 Libya's interior ministry has said they have found a mass grave with the bodies of the 21 Coptic Christians who were beheaded by the Islamic State two years ago. The remains have been sent for forensic examination.
"The heads are separated from the bodies clad in orange jumpsuits, hands bound behind the back with plastic wire," said the ministry's unit for fighting organized crime in the city of Misurata, according to Agence France Presse.
The authorities came to know about the mass grave, which had the bodies of 20 Egyptians and a man of unknown African nationality, near the one-time Islamic State bastion of Sirte, 280 miles east of Tripoli, after an IS prisoner made a confession.
Egypt's foreign ministry is in talks with Libya's U.N.-backed Government of National Accord in Tripoli to bring the remains back to the family members of the victims.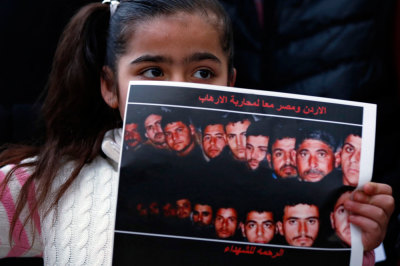 The remains have been transferred to a forensics lab in Misrata city for DNA testing, according to Al-Masry Al-Youm.
Islamic State, also known as IS, ISIS, ISIL or Daesh, kidnapped the Copts in separate incidents in Libya throughout December 2014 and January 2015. IS then released the video of their execution on Feb. 15, 2015, showing the Christian men in orange jumpsuits kneeling on the sand as IS terrorists stood behind them, ready to carry out the executions at a beach near Tripoli.
Last month, a court in Egypt sentenced to death seven people over links to IS in northwest Egypt and over the beheading of the 21 Egyptian Christians.
Numerous Coptic Christians cross over to Libya in search of work despite knowing that they will face severe persecution, including death.
The Sunday Times recently quoted a Coptic Christian as saying, "We know it is more likely we will die than live in Libya but we don't have a choice. … More and more people are going to Libya because of the economic crisis here. You can't get work, you can't make money in Egypt. We are aware of the dangers, particularly as Christians."
Earlier this year, Washington, D.C.-based International Christian Concern reported that family members of the victims took pride in how their loved ones stood up to the Islamic radicals, and refused to deny their faith despite the imminent threat of death.
One wife said that her husband "kept the faith, and was martyred in the name of Christ. His faith was very strong. I'm proud of him. He has lifted our heads up and honored us and all the Christians."
Another family member said: "I'm very happy that my brother is in Heaven with Jesus now. I loved my brother when he was alive on the Earth, but now I love him more than before. He was martyred in the name of Jesus Christ."
Bishop Amba Angaelos, general bishop of the Coptic Orthodox Church, said at a service last year that one "profound gift" of the tragedy is that it brought people together.
"These men paid the ultimate price, but gave us a cause to advocate for all those persecuted; they also showed us that there was a level of evil that we must all stand in solidarity against, and a level of courage, faithfulness and defiance that we must all aspire to," Angelos said about the Copts.