Remembering Billy Graham: 5 Christian Singers Share Their Memories of the World-Renowned Evangelist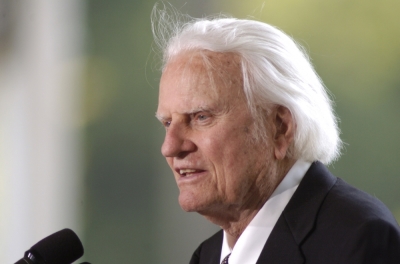 Several well-known Christian singers have issued statements remembering the late Rev. Billy Graham, who died Wednesday at the age of 99. The memories they share give us more insight into the greatness of the world-renowned evangelist.
Graham, a Southern Baptist, died peacefully at his home in Montreat, North Carolina, after struggling with various health problems linked to his advanced age. The Billy Graham Evangelistic Association estimates that he has preached live to nearly 215 million people in more than 185 countries and territories, and hundreds of millions of more people through television, video, film and webcasts.
Here's what Christian singers Matthew West, TobyMac, Bart Millard, Mallary Hope and Amy Grant have shared about the inspiring moments they spent with Graham and what he told them.