Remembering Rachel Held Evans: #BecauseOfRHE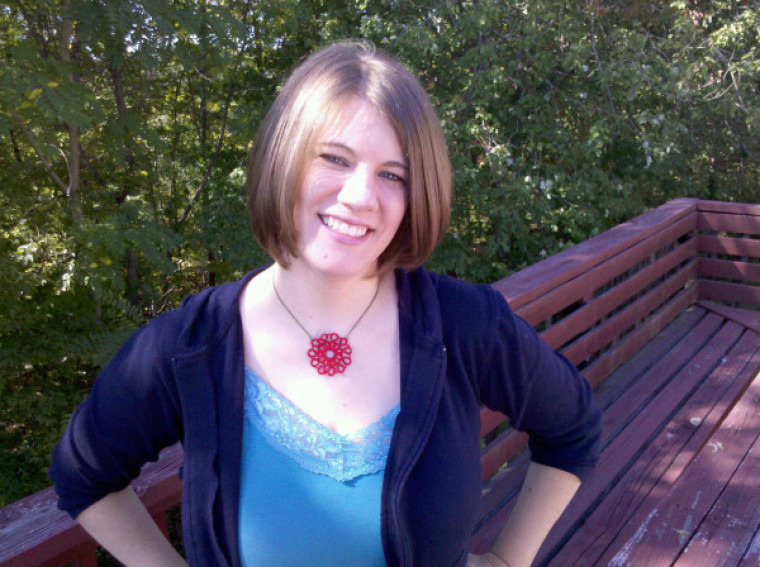 Rachel Held Evans was remembered for her encouragement and honesty by friends and acquaintances after she passed away on Saturday morning.
Matthew Paul Turner, a fellow author and friend of Evans, shared Saturday on Facebook, "My dear friend @Rachelheldevans has crossed over into the great mystery. Last night, I whispered in her ear: 'Thank you, Rachel. Thank you for breaking down walls and parting dead seas and fighting for those who Christianity often silences. We will share your story, friend. We will fight for the things you fought for and we'll stand against the things you challenged. Now go rest. Well done.'"
Evans, a Christian author and public speaker, was raised in a conservative evangelical home but later became an Episcopalian and advocate of liberal Christianity.
Michael Curry, presiding bishop of the Episcopal Church, wrote in part, "She was a fearless seeker of truth and servant of Jesus, and her witness will inspire and heal generations to come."
John Dickerson, co-anchor of "CBS This Morning," shared on Twitter, "You may not know of @rachelheldevans, you may not believe, or you may believe & disagree with her, but there is a heaving river of testimony & love rolling today that is a marvel. May grace, or its pursuit, rush through the doors her light opened & her memory is opening still."
The hashtag #BecauseOfRHE was trending on Twitter among her fans and friends. Many shared how Evans had touched their lives.
Evans was known for sending encouraging private messages to people she knew.
Jack Jenkins, a reporter for Religion News Service, noted that Evans "was a religion writer, and would periodically reach out to many of us reporters — unsolicited — with random words of encouragement. Just because. Even if she disagreed. People don't do that. It's hard to overstate how beloved she was."
Freelance writer Laura Turner shared a message she once received from Evans and suggested that others do the same. "Notes like this from Rachel — the first note I got from her — were part of the package deal of being her friend. Or even her acquaintance. She was encouraging when she had to reason to be, to people who offered her no benefit or status. She loved beautifully," Turner wrote.
The message Evans sent her read: "Just saw you were getting some flack for that great article on feminism. Just wanna say I'm cheering you on and I've got your back! Great piece. Keep speakin' the truth, lady. You're a woman of valor!"
At Turner's prompting, Slate writer Ruth Graham posted a "favorite" email message she got from Evans in 2014 with the subject line, "The Internet Is Mean." Evans noted she said a prayer for Graham and encouraged her to "hang in there" after apparently watching mean-spirited critics. "I'm sorry people can be so cruel," she added. "Disagreeing with your opinion is one thing; making judgements about your character is quite another."
Evans was also remembered for sharing her thoughts honestly and straightforwardly.
"I will really miss how @rachelheldevans could just get right to the heart of it, without superfluous poetry or fanfare. She had a black belt in truth telling, unsullied by ego or self consciousness or branding or platform. Just unadorned truth," singer and songwriter Nichole Nordeman wrote.
Many of the remembrances came from allies of her theology and politics. But fond memories of their engagements were also shared by conservatives.
Evangelical author and speaker Beth Moore described Evans as "alarmingly honest."
"Thinking what it was about @rachelheldevans that could cause many on other sides of issues to take their hats off to her in her death. People are run rife with grief for her babies, yes. But also I think part of it is that, in an era of gross hypocrisy, she was alarmingly honest," she wrote.
Trillia Newbell, director of community outreach at the Southern Baptist Convention's Ethics and Religious Liberty Commission, responded to Moore's tweet, noting that her last exchange with Evans was a private conversation over a theological disagreement. Evans urged her to "pushback" publicly, Newbell recalled, "because if she was wrong it could be helpful for others."
"So I did. It was a wonderfully encouraging and civil exchange," Newbell wrote.
Beth Moore replied that what tied Evans and her together "was being the two most despised women in the Christian sector of social media and usually for opposite reasons. Talk about a peculiar bond. But it caused us to check on each other. The world feels bleaker today."
ERLC President Russell Moore encouraged people to give to the GoFundMe page for the Evans family to help with the medical bills.
Pete Enns, Abram S. Clemens Professor of Biblical Studies at Eastern University, shared a modified version of a prayer found in the Book of Common Prayer.
Depart, O woman of valor, out of this world;
In the Name of God the Father Almighty who created you;
In the Name of Jesus Christ who redeemed you;
In the Name of the Holy Spirit who sanctifies you.
Evans is survived by her husband, Dan, and two children, a 3-year-old and a less than 1-year-old baby. She authored four books, including New York Times best-seller A Year of Biblical Womanhood.