Renowned Atheist Christopher Hitchens Dies at 62
World famous atheist Christopher Hitchens died Thursday from pneumonia, a complication resulting from his stage IV esophageal cancer.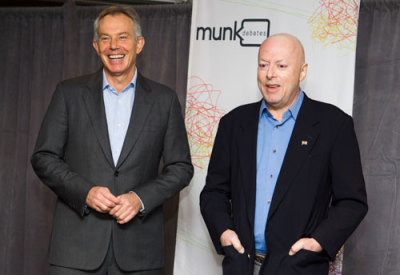 The 62-year-old essayist passed away at the MD Anderson Cancer Center in Houston in the presence of friends, according to a statement released by Vanity Fair.
"There will never be another like Christopher," Graydon Carter, Vanity Fair editor said in a statement, according to ABC. "A man of ferocious intellect who was as vibrant on the page as he was at the bar. Those who read him felt they knew him, and those who knew him were profoundly fortunate souls."
Hitchens was a regular contributor to the magazine as well as other magazines like The Atlantic and Slate. He became a contributing editor at Vanity Fair in November 1992, writing monthly columns for the publication as well.
"Christopher was a master of the stunning line and the biting quip, and he had few equals in the sphere of commentary, let alone social life," Vanity Fair shared.
The British-American author was diagnosed with esophageal cancer last year, undergoing several treatments from radiation therapy to a specially designed treatment created in part by outspoken evangelical scientist Francis Collins, which mapped out Hitchens' entire genetic make-up to target damaged DNA.
Despite the advanced treatments however, his health continued to downslide, battling several illnesses throughout the year.
The God Is Not Great author recently detailed his condition in Vanity Fair, honestly sharing with readers how he felt about cancer.
"One thing that grave illness does is to make you examine familiar principles and seemingly reliable sayings," Hitchens penned. "And there's one that I find I am not saying with quite the same conviction as I once used to: In particular, I have slightly stopped issuing the announcement that 'Whatever doesn't kill me makes me stronger.'"
"In the brute physical world, and the one encompassed by medicine, there are all too many things that could kill you, don't kill you, and then leave you considerably weaker."
Atheist Christopher Hitchens has Died
Until the very end, he was willing to fight with whatever he had left in him, stating, "So far, I have decided to take whatever my disease can throw at me, and to stay combative even while taking the measure of my inevitable decline."
Many believed that the famed atheist would eventually turn to Christ on his deathbed, which he denied several times. Hitchens previously told Anderson Cooper on CNN that he would not do "such a pathetic thing" while he was lucid.
Hitchens' continued beliefs in reason and science throughout his illness led Richard Dawkins to comment that there were in fact atheists in foxholes.
At his last public appearance in Texas, where he was given the Richard Dawkins Freethinker of the Year award, Hitchens stated, "We have the same job we always had. To say that there are on final solutions; there is no absolute truth; there is no supreme leader; there is no totalitarian solution that says if you would just give up your freedom of inquiry, if you would just give up, if you would simply abandon your critical faculties, the world of idiotic bliss can be yours."
Responding to his death, novelist Ian McEwan told BBC, "Right at the very end, when he was his most feeble as this cancer began to overwhelm him, he insisted on a desk by the window away from his bed at the ICU. It took myself and his son to get him into that chair with a pole and eight lines going into his body, and there he was, a man with only a few days to live, turning out 3,000 words to meet a deadline. And then finishing it and thinking, well maybe I've got an hour or two, I'll write something on Memorial Day in English poetry."
Author Salman Rushdie tweeted, "Goodbye, my beloved friend. A great voice falls silent. A great heart stops. Christopher Hitchens, April 13, 1949-December 15, 2011."
Piers Morgan shared, "RIP Christopher Hitchens- greatest literary provocateur of my lifetime. Huge talent, huge loss."