Republican Glenn Youngkin wins Virginia governor's race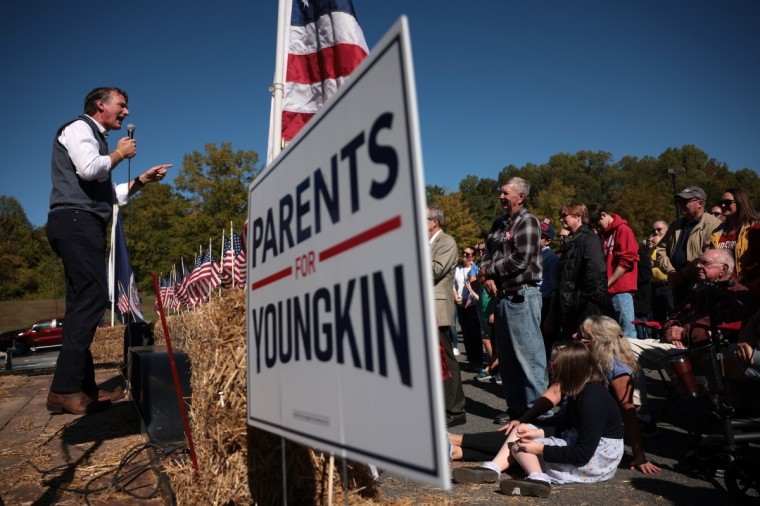 Republican Glenn Youngkin has defeated Democrat Terry McAuliffe in the governor's race in Virginia that received a great deal of national attention, with some viewing it as a foreshadowing of a Republican high tide against the Biden administration.
According to the unofficial results posted by the Virginia Department of Elections, with 2,723 precincts of 2,855 precincts reporting, Youngkin won with 50.68% of the vote, while McAuliffe had 48.55% of the vote, with the remainder going to third party candidate Princess Blanding and write-ins.
The Associated Press also called the race for Youngkin, noting that President Joe Biden had won Virginia by 10 points against former president Donald Trump in 2020. 
Additionally, Republican Winsome Sears won the election for lieutenant governor of Virginia against Democrat challenger Hala Ayala, becoming the first African American female to be elected to the office.
As of Wednesday morning, Republican challenger Jason S. Miyares holds a slight lead over incumbent Democrat Mark Herring for the office of attorney general of Virginia.
In advance of the election results, Rep. Elise Stefanik, R-N.Y., released a statement via email congratulating Youngkin on winning the race.
"Hardworking Americans are fed up with failed, Far-Left politicians who are destroying our economy with Socialist tax-and-spend policies and infiltrating our classrooms with their radical agenda," stated Stefanik in her emailed statement.
"Glenn Youngkin kicked off the 2022 Red Wave early, and Republicans are now more energized than ever to take back the House and fire Lame Duck Speaker Nancy Pelosi once and for all."
The Virginia gubernatorial race garnered nationwide attention, with former President Donald Trump endorsing Youngkin, while Vice President Kamala Harris and former President Barack Obama campaigned on behalf of McAuliffe.
Democrats attempted to portray Youngkin as an extremist, citing his ties to Trump and also claiming that, if elected governor, Youngkin would ban abortion.
For his part, McAuliffe garnered much controversy when he said during a gubernatorial debate that "I don't think parents should be telling schools what they should teach."
His comments came amid a national debate over how much influence parents can have on public school curriculum and whether vociferous protests against progressive school boards should be dealt with by federal officials.
One school district where this debate was especially intense was Loudon County, Virginia, namely its debate over whether to adopt measures compelling school faculty and staff to use the preferred pronouns of trans-identified students.
Months ago, McAuliffe had a strong lead against Youngkin in the polls, however, the Republican gradually caught up to his Democrat opponent, reducing his lead to a virtual tie.
On Monday morning, for example, the polling website FiveThirtyEight reported that Youngkin had a slight lead over McAuliffe, averaging 47.7% over his Democrat opponent's 46.7%.
Additionally, an average of polls aggregated by RealClearPolitics on Monday also showed Youngkin in the lead, giving the Republican 48.4%, compared to McAuliffe's 46.8%.
The GOP wins in Virginia were seen by many as a repudiation of the Biden administration, as the state went Democrat during the 2020 presidential election.