House Republicans demand uncovering of Jesus painting at Merchant Marine Academy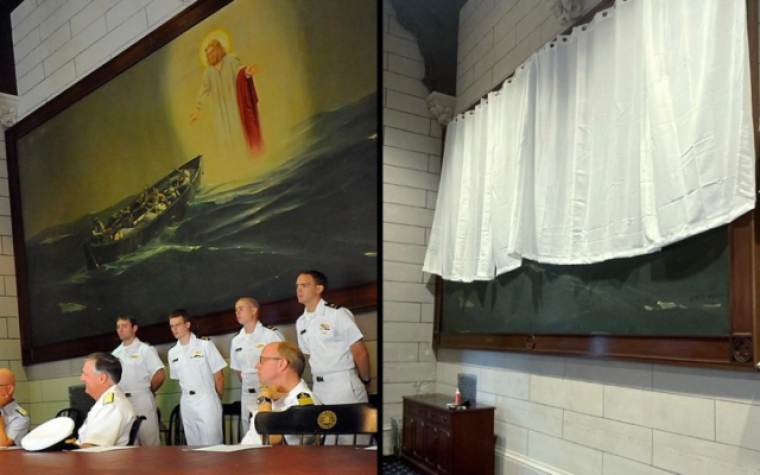 An Indiana congressman called on U.S. Secretary of Transportation Pete Buttigieg to "act immediately to correct" a decision by the U.S. Merchant Marine Academy to cover a painting of Jesus. Four of his colleagues issued a plea to the academy superintendent last week. 
In a letter Monday, Rep. Jim Banks, R-Ind., called on Buttigieg to reverse a decision to cover the "Christ on the Water" painting in the Elliot M. See Room inside Wiley Hall, an administrative building at the USMMA in King's Point, New York.
The 10-foot by 19-foot painting depicts an image of Jesus and merchant seamen adrift in a lifeboat "presumably after being torpedoed in the Indian Ocean during World War II," according to a USMMA spokesperson.
Also known as "Jesus and Lifeboat," the piece was painted in 1944 by U.S. Maritime Service Lt. Hunter Wood to hang in the chapel built at the USMMA Basic School in San Mateo, California.
But after secular advocacy group Military Religious Freedom Foundation (MRFF) sent a Jan. 10 letter on behalf of alumni, staff, faculty and midshipmen calling on USSMA Superintendent Vice Admiral Joanna Nunan to "expeditiously remove" the "massive, sectarian painting illustrating the supremacy of Jesus Christ," the painting was covered by white curtain pending a final decision on its placement.
Banks is supporting a petition signed by more than 4,000 USMMA midshipmen, alumni and community members calling for the removal of the curtain.
"The painting depicts an image of Jesus and merchant seamen adrift in a lifeboat during World War II. Between 1939 and 1945, 9,521 merchant mariners lost their lives — a higher proportion than those killed in any military branch, according to the National World War II Museum," wrote Banks. 
"This painting has conveyed hope and inspiration to nearly every class of midshipmen to come through the Academy."
The congressman supports a proposal to remove the curtain to allow the original artwork to be viewed and create a plaque describing the historic significance of the painting be placed alongside it.
He cited a 2019 U.S. Supreme Court ruling that a 40-foot tall cross erected on public property in Maryland does not violate the Establishment Clause of the U.S. Constitution.
That ruling, Banks said, meant historic displays with religious symbolism are not a violation of the constitution. 
"In this case, the justices defended the preservation of a large cross monument because it was erected nearly a century ago as a memorial to soldiers lost in World War I — very similar to Wood's painting," he wrote.
Last week, Breitbart reported that four House Republicans who attended U.S. military academies wrote a letter to Vice Admiral Joanna M. Nunan voicing concerns with the decision to cover the painting. The signatories are Reps. Mike Garcia of California, Mark Green of Tennessee, August Pfluger of Texas and Warren Davidson of Ohio.
Their letter cited the 2005 Supreme Court ruling in Van Orden v. Perry, which involved the display of the Ten Commandments on a government-owned monument.
"We want to clarify that the Supreme Court has repeatedly ruled that this [does not violate religious freedom concerns]," the representatives wrote. "The Court ruled that 'retaining established, religiously expressive monuments, symbols, and practices is quite different from erecting new ones.'"
Banks also took aim at the MRFF, adding he believes "there is ample evidence that previously established legal precedent negates the 'constitutional concerns' of an anti-Christian activist who is so extreme that he has described the Wreaths Across America program as 'the Annual Government-Sanctioned Desecration of Non-Christian Veterans.'"
The MRFF condemned the Wreaths Across America program in a video statement released Dec. 2022.
In response to the letters, MRFF Senior Research Director Chris Rodda called Banks and the four others "MAGA congressmen," citing endorsements from former President Donald Trump. 
Rodda also took exception to Banks' description of the painting's history and stated that its original purpose was "to be hung in a chapel" and that "the intent of the artist was to paint a religious painting."
"While it is true that this painting has hung in the Elliot M. See room in Wiley Hall for seventy-six years, when it was initially hung there the Elliot M. See room was a CHAPEL," Rodda wrote. "The painting was painted in 1944 to be hung in the chapel at the U.S. Merchant Marine Basic School in San Mateo, California, and when that school was closed in 1947, it was moved to its present location — in another chapel. 
"But the Elliot M. See room is no longer a chapel, and hasn't been since 1961."
Last month, a USMMA spokesperson said "immediate steps" were taken in response to the "constitutional concerns" related to the painting.
In a statement released Jan. 26, a spokesperson said the USMMA covered the painting with white curtains and plans to install a plaque describing its history at a later date. The curtains will remain closed when official academy meetings and events are conducted.
"Our priority is to ensure the Academy is a welcoming environment for all and that it respects all religions without endorsing one over any others. … This solution balances legal requirements with the concerns of those who have an interest in the painting," the statement added. 
"We value the opinions of all in our community, and we are committed to making the Academy a better place."