Republican Senators Condemn Violence, Killing Against Egypt Coptic Christians; Call on US to Respond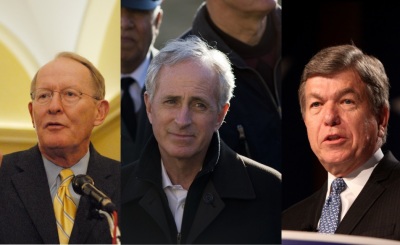 Three Republican Senators have urged Secretary of State, John Kerry, and the U.S. State Department to help "stop sectarian violence and end the persecution of Coptic Christians in Egypt."
Lamar Alexander (R-TN), Bob Corker (R-TN), and Roy Blunt (R-MO) argued that the "deteriorating situation of Egypt's Christian minority is a matter of great concern" and that the recent wave of violence directed at Coptic Christians "warrants a clear U.S. response."
The letter was released a day after gunmen stormed a Coptic wedding in Cairo, fired into the crowd and killed four people, including two girls who were eight and 12.
The shooting, which occurred in Egypt's capital, displayed an antagonism against Christians that in recent months had been reserved to Muslim Brotherhood strongholds in southern Egypt. In July, just days after Egyptian President Mohammed Morsi was overthrown, Islamists overtook the city of Dalga, later forcing the thousands of Christians in the city to either flee or lay low in their homes in seeming house arrest.
In August, pro-Morsi protests turned into anti-Christian riots when crowds burned over 70 churches and Coptic institutions and killed four people.
The senators mentioned the recent attacks, but also spoke to incidents that had occurred during the course and aftermath of the Arab Spring, including "large-scale attacks against Christians in Maspero in October 2011, Imbaba in May 2011, and Alexandria in January 2011," which caused "dozens of deaths and hundreds of injuries."
The letter also addressed the apparent complacence of Egyptian authorities in failing to halt the attacks against Copts, citing an 18-hour attack on Christians in Dab'iya where police "were present at the scene but failed to take any action to stop the violence and prevent casualties."
"The local security officer in charge reportedly told an international investigator that 'it's not [the police's] job to stop killings. We just investigate afterward,'" stated the letter.
The senators also called the State Department to put more pressure on the interim government to protect Egyptian religious minorities and to urge the administration to nominate another ambassador-at-large for religious freedom to replace Suzanne Johnson Cook, who resigned last week.
They also expressed their fears that "Egypt is part of a broader trend: religious freedoms throughout the Middle East and South Central Asia, particularly for Christians, are under assault," and said it was imperative that the U.S. respond and "continue to be a forceful defender of religious freedom throughout the world."