Resurrection of Christ is Culmination of the Gospel, Pope Francis Says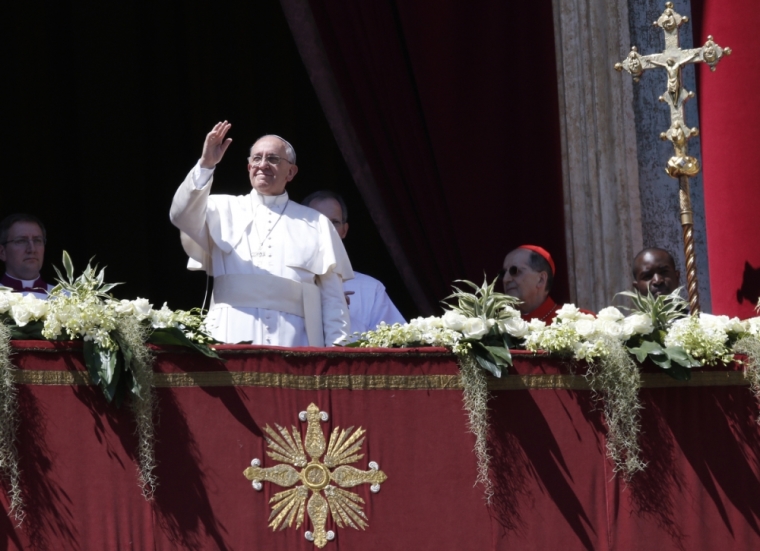 Pope Francis celebrated Easter with more than 150,000 people in the Vatican on Sunday, and said in his message that the Resurrection of Christ is "the culmination of the Gospel." The pontiff also prayed for peace in Ukraine and Syria.
Pope Francis began the Easter massage, known as Urbi et Orbi, by reading Matthew 28:5-6, "Do not be afraid! I know that you are looking for Jesus who was crucified. He is not here; for he has been raised. Come, see the place where he lay."
Francis said this is the culmination of the Gospel," according to the Vatican's official English-language translation.
"Jesus, who was crucified, is risen! This event is the basis of our faith and our hope. If Christ were not raised, Christianity would lose its very meaning; the whole mission of the Church would lose its impulse, for this is the point from which it first set out and continues to set out ever anew," the pope told the crowd.
He added that the message that Christians bring to the world is, "Jesus, Love incarnate, died on the cross for our sins, but God the Father raised him and made him the Lord of life and death. In Jesus, love has triumphed over hatred, mercy over sinfulness, goodness over evil, truth over falsehood, life over death."
In every human situation, marked by frailty, sin and death, "the Good News is no mere matter of words, but a testimony to unconditional and faithful love: it is about leaving ourselves behind and encountering others, being close to those crushed by life's troubles, sharing with the needy, standing at the side of the sick, elderly and the outcast," the pope said.
Francis also prayed for Syria and Ukraine.
"We ask you, Lord Jesus, to put an end to all war and every conflict, whether great or small, ancient or recent," he said in his prayer. "We pray in a particular way for Syria, that all those suffering the effects of the conflict can receive needed humanitarian aid and that neither side will again use deadly force, especially against the defenseless civil population, but instead boldly negotiate the peace long awaited and long overdue!"
More than 150,000 people have been killed in the conflict between Syrian President Bashar Assad regime and rebels trying to overthrow him since March 2011.
"By your resurrection, which this year we celebrate together with the Churches that follow the Julian calendar, we ask you to enlighten and inspire the initiatives that promote peace in Ukraine so that all those involved, with the support of the international community, will make every effort to prevent violence and, in a spirit of unity and dialogue, chart a path for the country's future," the pope continued to pray.
Ukraine has been in turmoil since protests began against former President Viktor Yanukovych after his administration's suspension of preparations for signing an Association Agreement and a Free Trade Agreement with the European Union, in favor of closer economic relations with Russia. After Yanukovych's removal on Feb. 22, Russia annexed Crimea, an autonomous republic in the south-eastern region of Ukraine that was part of Russia until 1954. Pro-Russian forces are now occupying government offices in eastern Ukraine.
Pope Francis concluded his prayer by saying, "Lord, we pray to you for all the peoples of the earth: You who have conquered death, grant us your life, grant us your peace!"