Reza Aslan's Fox News Interview Video on New Book 'Zealot' Goes Viral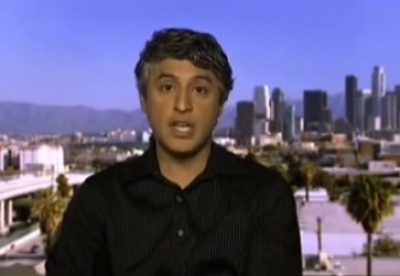 Reza Aslan, author of the highly-controversial, newly released book Zealot, recently partook in a tense online interview with Fox News' Lauren Green in which he was questioned about his Muslim faith and his reasons for writing a book about Jesus' life.
The interview consisted primarily of a back-and-forth between Green and Aslan in which Green sought to clarify why Aslan chose to write a book about Jesus - the man 2.18 billion Christians around the world herald as the messiah - when he himself is a Muslim.
In the interview clip, Aslan seeks to argue that it is his Ph.D. in religious history that prompted him to write Zealot: The Life and Times of Jesus of Nazareth, a book describing Jesus' life on earth.
"I want to clarify. You're a Muslim, so why did you write a book about the founder of Christianity?" Green asked Aslan.
"Well, to be clear, I am a scholar of religions with four degrees, including one in the New Testament, and fluency in biblical Greek, who has been studying the origins of Christianity for two decades, who also just happens to be a Muslim," Aslan responded. "It's not as if I'm just some Muslim writing about Jesus. I am an expert with a Ph.D. in the history of religions."
Aslan then claimed that his book was "not an attack on Christianity," and suggested that critics who have said the book is an assault on Christianity have not read it yet. Aslan also asserted that he was only attempting to tell the story of Jesus as a historical man, rather than the Son of God and the cornerstone of Christianity.
Green then proceeded to read a series of criticisms of Aslan's book, mostly pertaining to its alleged bias towards Islamic beliefs. Aslan again responded by defending his work as simply a historical view of Jesus' life in Nazareth.
The Fox News interview, which was an online interview for Fox News' "Spirited Debate," has since gone viral on the Internet, gaining over 1 million views on YouTube since it was uploaded on Saturday.
Many have criticized Fox News for the interview, arguing that Green's handling of the situation, especially in focusing on Aslan's faith rather than the contents of the book, was "embarrassing."
The New Yorker's Emily Nussbaum called the interview "demented," although she heralded Aslan for remaining calm during the nine-minute segment, while writer and comedian Chris Addison described the interview as containing a level of "stupidity and ignorance."
Although the Fox News online interview has received widespread criticism, various scholars and readers alike have continued to question Aslan's intent in writing about the origins of Christianity when he is a practicing Muslim, especially because many of the claims made in Zealot contradict the teachings of Christianity.
The book, described by Aslan as a "biography," seeks to describe Jesus' life in Nazareth, before he is resurrected as the Son of God. The book paints Jesus as a violent revolutionary leading an uprising against Rome, as opposed to the compassionate and merciful messiah as revealed in the bible.
One of Aslan's main skeptics has been Fox News' John S. Dickerson, who describes Aslan's book as not being a historical report on Jesus, but rather "an educated Muslim's opinion about Jesus -- yet the book is being peddled as objective history on national TV and radio."
"Zealot is a fast-paced demolition of the core beliefs that Christianity has taught about Jesus for 2,000 years. Its conclusions are long-held Islamic claims-namely, that Jesus was a zealous prophet type who didn't claim to be God, that Christians have misunderstood him, and that the Christian Gospels are not the actual words or life of Jesus but 'myth'," Dickerson added.
Dickerson is joined by several critics on Amazon.com who have left reviews on the book arguing that Aslan's book is clearly biased and skewed towards Islam.
Regardless of Aslan's religious influence on his new book and its historical validity, the book has skyrocketed to the second spot on The New York Times' Best Seller list, as well as number two on the Amazon bestseller list.
REZA ASLAN stuns foxnews presenter about his bookTHE LIFE&TIMES OF JESUS OF NIARETH