Rick Santorum Thanks God, Wife After Success in Iowa (VIDEO)
Republican candidate Rick Santorum thanked God as well as his wife after a strong showing in the Iowa caucus on Tuesday.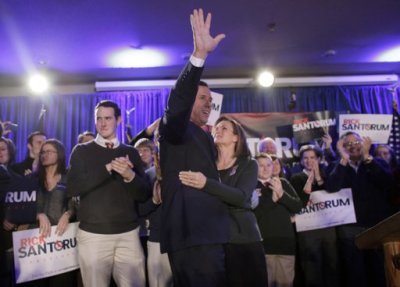 "People have asked me how I've done this … without getting a whole lot of attention," Santorum explained, after he thanked his wife, Karen.
He noted that he has conducted 381 town hall meetings and speeches. "I've survived the challenges so far by the daily grace that comes from God," he said.
"I offer a public thanks to God," Santorum said. "Thank you so much Iowa, by standing up and leading with the responsibility you have in being first. You have taken back this country."
He added, "What wins in America are bold ideas, sharp contrasts and a plan that includes everyone … A plan that says we will work together to get America to work."
The former Pennsylvania senator told supporters gathered in Johnston, Iowa, "Game on," after the results were in.
The candidate was defeated by Mitt Romney by only eight votes in the contest for the Republican presidential nomination.
Santorum, a devout Catholic, won the support of 30,007 caucus-goers, giving his 25 percent support, while Romney won 30,015 votes – also 25 percent.
Romney Beats Santorum in Iowa
In his speech ahead of the results, Santorum said, "With your help and God's grace, we will have another fun night a week from now," speaking to Romney, who is widely expected to win in New Hampshire.
Ron Paul finished in third place Tuesday, with 21 percent.
Additionally, former House Speaker Newt Gingrich earned 13 percent support in Iowa Tuesday, while Texas Gov. Rick Perry was at 10 percent. Rep. Michele Bachmann of Minnesota claimed five percent support, and former Utah Gov. Jon Huntsman had one percent.