Rick Trotter, Fired Memphis Grizzlies Announcer, Arrested for 'Making Upskirt Videos of Church Members'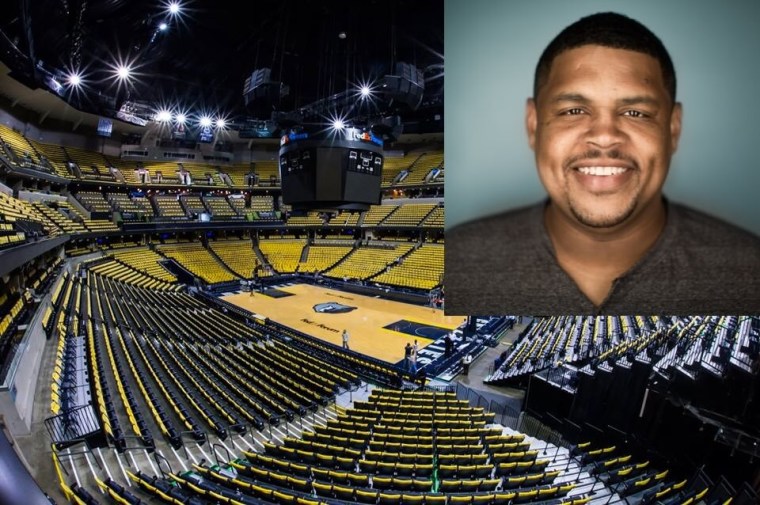 Rick Trotter, the man behind the voice of the Memphis Grizzlies who also served as an employee of Downtown Church in Memphis, Tennessee, was arrested Tuesday for "making upskirt videos of church members," reportedly "while services were going on."
A WMC Action News 5 report says a warrant was issued for Trotter's arrest Tuesday and he was booked into the Shelby County Jail at about 6:15 p.m.
Trotter, 40, who is married with children, is now facing eight charges of photographing people without consent and was released on a $70,000 bond, according to The Commercial Appeal.
Court documents cited by WMC says police found videos on Trotter's church-issued laptop showing him kneeling behind at least four women during worship service and recording under the women's skirt or dress with his cell phone.
The Grizzlies told The Commercial Appeal that the organization fired Trotter last month, but didn't announce that until Tuesday, when news of his arrest was made public.
"Rick Trotter is no longer affiliated with the Grizzlies organization. We have no further comment on the matter," the team said in a statement.
The Appeal noted that the Grizzlies chose Trotter as their announcer in 2006. He had no previous experience in the field and was managing a Chick-fil-A in Atlanta before moving to Memphis to work with his church.
Downtown Church said in a statement after the arrest that they had terminated Trotter effective May 27 for "deception and moral failures of a sexual nature."
"As you can imagine, this revelation has been deeply devastating to all of us. We, as elders, have come around his wife and children offering spiritual, emotional, and financial support. We will continue to support and encourage them, and we know the Downtown Church family will follow suit," said the statement.
A subsequent joint statement issued by Downtown Church and Fellowship Memphis reveals that Trotter has been struggling with voyeurism for a long time and was previously caught recording unsuspecting victims at church.
"Trotter was employed as a worship director by Fellowship from August 2005 to February 2010. In February 2010, it was reported that Trotter was engaged in inappropriate conduct of a sexual nature at the corporate headquarters of Fellowship. Specifically, a single incident of Trotter recording people in a bathroom was reported. This was immediately reported to Fellowship's lead pastor at the time. When confronted, Trotter did not deny the charges and was thereby terminated," said the statement signed by John Bryson, lead pastor of Fellowship Memphis and Richard Rieves, lead pastor of Downtown Church.
According to the statement, while none of Trotter's victims at the time chose to press charges against him, they were offered independent professional counseling paid for by the church and the church body was informed about the incident.
In addition, "Fellowship Memphis decided to financially support Trotter's wife and children along with paying for his three month in-treatment intensive counseling for sex addiction." Trotter was also barred from rehire by the church.
The statement added that after leaving Fellowship Memphis, Trotter sought employment with Downtown Church which contact Fellowship Memphis and details of his misconduct were discussed.
"Downtown Church also spoke with several counselors, including two that worked closely with Trotter during his time in counseling, to determine the effectiveness of the treatment as well as his readiness to re-enter the ministry. Downtown Church also met with Trotter and his wife to assess his readiness to re-enter the ministry as well as overall health," the statement explained.
Trotter was hired as a part-time subcontractor at Downtown Church in 2011 with an accountability plan. He was offered full-time employment in 2014 but was required to disclose his past to the church.
"In Trotter's disclosure, he admitted to the sexual misconduct and issues with voyeurism," the statement said.
Regarding the current charges against Trotter, the church explained that they would not discuss the details publicly because it is an ongoing criminal investigation.
"To ensure we do not disrupt any ongoing investigation or jeopardize the rights of anyone involved, especially the victims, we will refrain from discussing the details of the incident which caused his termination from Downtown Church," the statement said.
In celebration of his 33rd birthday in May 2009, Trotter publicly celebrated his family, friends and God's forgiveness in a post on his now inactive blog about how he had recommitted his life to God.
"While my joints feel the effects of 33 years of too much stress my spirit has never felt more alive. I have a core of friends and family that love me for who I am, I have two incredible jobs, two precious children to love and develop, and I have the most wonderful marriage a person could hope for. I think back to mid-February of 1996 when I effectively alienated everyone that meant anything to me and I was forced to evaluate the abysmal choices I'd made to that point and purpose to do something different going forward," he wrote.
"At 18 years old my life was marked by deceit, selfishness and foolish pursuits. To shorten this epic, I recommitted my life and decision making to pursuing Jesus Christ and the will of God. I didn't get it perfect but I sensed more of the Holy Spirit's presence in my heart and the things I thought were important before that time didn't seem as urgent or relevant any longer," he said.
"At my lowest, I never felt God could forgive me for my transgressions or use me to do anything for Him or anyone else. I thought I was eternally sidelined. That turned out to be a lie from the pit of Hell. I realize now that the brokenness I experienced in my youth was fertile ground for God to begin His work of restoration in my life," he wrote.
He also warned internet users in another post: "When it comes to the internet, I post as if God is standing over my shoulder. If you don't acknowledge God, post as if your boss is standing over your shoulder."
Trotter reportedly posted some of his upskirt recordings online.