Rick Warren Easter Sermon 2017 Recap
Saddleback Church celebrated Easter with a two-part sermon called "He Did It All For You" delivered by founder Rick Warren in the church's California center.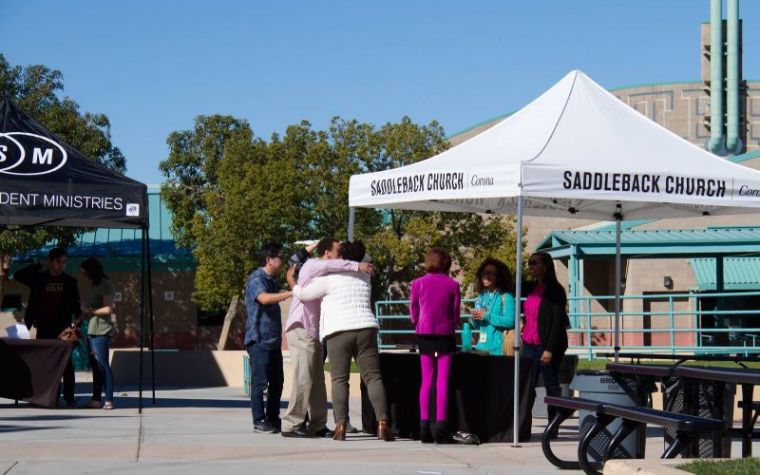 The pastor's Easter message revolved around the theme of hope that Jesus' death and resurrection brought.
It is "a hope that gives you power for today and a confidence for tomorrow," stated the Easter sermon primer on Saddleback Church's official website.
Warren's first message, "The Hope of The Cross," was delivered on Good Friday in front of an estimated 14,000 attendees in Lake Forest, California.
In his first sermon, the 63-year old pastor highlighted the three main benefits believers of Jesus Christ can reap from His death.
While it's a known truth to adherents of the faith that Jesus died on the cross for everyone, Warren made it clear that what Christ did is just one of the numerous advantages available to Christians.
According to him, when Jesus died on the cross, it provided believers "total forgiveness" for every sin they have committed. That forgiveness is merited through grace, and not because of anyone's effort or own good works, he said.
Christ's death also provided a second benefit Christians can enjoy. It gave believers "the healing power of Jesus" in their lives, Warren said.
Many equate healing with physical restoration, but Saddleback's senior pastor made it clear that Jesus' death administered healing powers to the body, soul and spirit of every believer. That power transcended the body's needs and can restore hurt relationships, bring hope to the hopeless, and even restore any kind of "damage" inflicted, he said.
Warren also detailed the third benefit of Christ's crucifixion and that is "true freedom."
He explained that things, relationships, and even blessings can control people, causing them to lose sight of themselves and becoming slaves to the things that control them, even the blessings from God.
"Anything God gives us to be used can be abused and misused," the pastor said.
The second part of his Easter message was delivered on Sunday. Called, "The Hope of the Resurrection." It detailed the three benefits Christians gained following Jesus' resurrection.
The pastor said Jesus rising from the dead assured Christians that God has "a good purpose" for them, and that purpose can only be found in a relationship with Christ.
Jesus' resurrection also gave Christians the advantage of a "great power" that can only come from Him. God showed His power when He enabled Jesus to resurrect and defeat death. The same power will be given to believers at the end of days, Warren said.
Those who put their trust on what Jesus accomplished on the cross will also rise from the dead and experience eternal life with the Christ, according to the pastor.
Warren said the power of Jesus can manifest in every aspect of a believer's life, even in relationships.
He ended his sermon with an encouragement to people who have experienced loss, pain and grief.
"The way you live with hope in the middle of pain, is to enlarge your perspective, to change your viewpoint to get your eyes off on what's happening in the here and now, to change your focus and begin to live your life in light of eternity," he said.
The author of "The Purpose Driven Life" battled grief and loss when his youngest son, Matthew, took his own life four years ago a week after Easter. The 27-year old struggled with depression and mental illness his whole life.
Attendance in the evangelical megachurch continues to rise. Saddleback Church posted an update on Facebook after the Good Friday service that 296 people surrendered their lives to Jesus after the sermon.