Rick Warren Says Foreign Gov'ts 'Not Nearly as Afraid of the Church as' US; Testifies With Elton John to Urge Congress Not to Cut AIDS Funding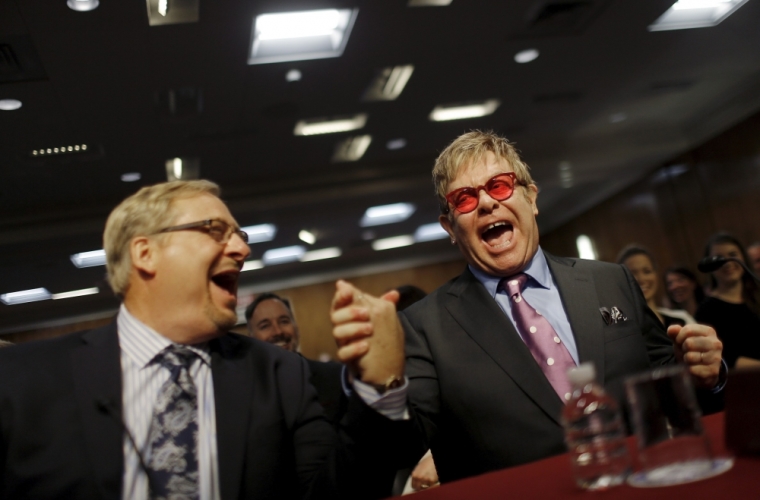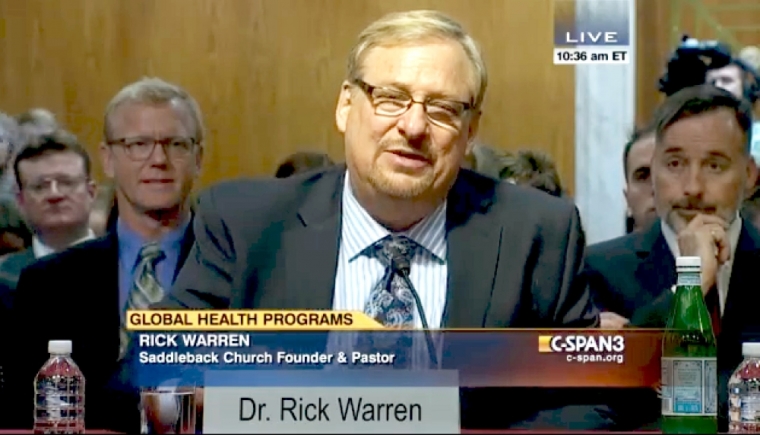 View Photos
Pastor Rick Warren spoke to Congress about global health programs Wednesday, saying foreign governments he's worked with are "not nearly as afraid of the Church as" the U.S. government. Along with gay singer Elton John, the megachurch pastor urged lawmakers not to cut AIDS funding.
"The actual number of people without faith is quite small outside of Manhattan and parts of Europe," Warren, the founding pastor of California's Saddleback Church, said at a Senate hearing Wednesday on funding global health programs.
"And if you want to talk about distribution you have to use faith communities," he told a Senate Appropriations panel.
Warren, whose church's Global P.E.A.C.E. plan has sent teams to serve in 197 countries, added, "I've actually found it quite easy to work with other governments. They're not nearly as afraid of the church as the American government is."
The pastor said he's found foreign governments to be "very friendly."
"They realize we're not trying to do their work. Everybody has a different role to play and the church's role is not government," he said. "And the government's role is not church, but on health issues, and on education issues and on development issues, you can team tackle. As I said, I found it easier to work with governments overseas."
Warren told the panel that in Africa, "they say the pastor sleeps in the same blankets as the community."
"You know, when — I keep going back to Rwanda, because I've had 1,200 people in Rwanda. When the genocide hit in 1994, every single NGO left the country. It was unsafe. Who stayed? The church. Because the church is the country. It is the country," Pastor Warren said. "And in most of the world you can't talk about community development without talking about the church. It's there. So I actually think [the church] would step up to the plate instantly if there was a little love on this side."
Sen. James Lankford, a Republican from Oklahoma, agreed.
"It is ironic we have distributed around the world this concept of freedom of religion and disconnect between government and faith and to say that government that doesn't oppose faith" Lankford said. "But now we become like we're afraid of faith and being able to partner. And it seems like it's an obvious area of partnering."
Both Pastor Warren and gay activist and musician Elton John, sitting next to each other at the witness table, asked the panel not to cut AIDS funding to the President's Emergency Plan For AIDS Relief, or PEPFAR, launched by President George W. Bush.
Warren and John laughed as they held hands, and as Warren told him jokingly if they kissed it would be "the kiss heard 'round the world."
John, the founder of the Elton John AIDS Foundation, said gay members were marginalized in some African nations, which hinders distribution of much-needed drugs for HIV/AIDS.
"They go underground, and the disease is spread even further," he said.
"A reduction in funding for PEPFAR would be a huge blow ... complete disaster," John added. "Combined with efforts funded by the United States—we've contributed to the 48 percent global reduction in mother-to-child transmission of HIV."
He acknowledged that "the actions of this Congress" had altered the course of the epidemic for all of humanity. "Because the American people had the optimism, the ingenuity, and the will to make a difference, the lives of millions of people half way around the world have been saved."
The AIDS epidemic is not over, he said. "And America's continued leadership is critical."
The subcommittee chair, Sen. Lindsey Graham, a South Carolina Republican who is likely to run for president, appeared to be moved by the testimony. "After this, how would you like to vote against this account?" he said. "What would you say? The terrorists want you to vote no, I guess that's the only thing I could think about."