Rick Warren: Forgiveness Is a Lifestyle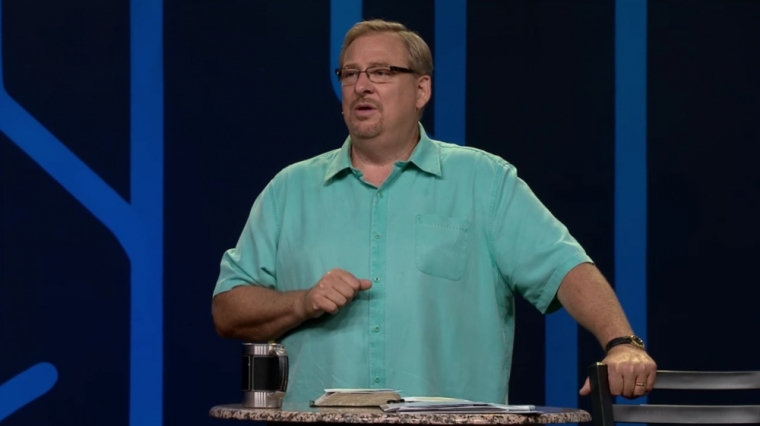 Forgiveness is a lifestyle we need to practice every day, Pastor Rick Warren says.
Warren, who heads Saddleback Church in Orange County, California, said in his Daily Hope devotional that there are three main reasons why we as Christians need to forgive: because God forgives us, because forgiveness benefits our personal health, and because we need forgiveness every day.
The first reason to practice forgiveness is because God forgave us of our sins when he sent his only son to die on the cross and be resurrected.
Just as the king forgives his servant of his debt in Matthew 18, so "God sent Jesus Christ to pay for your debt," Warren explains.
"Everything you've ever done wrong in your life has already been paid for. Jesus took your rap. He paid your jail time. He took your offense and paid the wages of sin. Jesus Christ died for all of your sins," Warren explains.
Additionally, forgiveness is good for our personal health, as holding resentment against someone can feel like self-torture.
Warren describes holding on to resentment as "a self-inflicted wound."
"Whenever you're resentful, it always hurts you more than the person you're bitter against. In fact, while you're still worrying about something that happened years ago, the other person has forgotten about it! Your past is past, and it can't hurt you any more unless you hold on to it," the pastor explains.
Lastly, it is important to forgive because in order to receive the daily gift of forgiveness, we have to practice it.
"We cannot receive what we are unwilling to give. Do you want to be forgiven? The Bible says you need to be forgiving," Warren writes.
The megachurch pastor concludes his message by encouraging all Christians to make forgiveness a lifestyle, explaining that the act of forgiveness is "not just something you do one time. You need it every day of your life. You've got to ask for forgiveness. You've got to accept forgiveness from God and from others. And you've got to offer forgiveness."
"Forgiveness must be continual. It must be enjoyed, and it must be employed," Warren adds.
Warren has spoken on the topic of forgiveness numerous times in the past, explaining in a devotional from earlier this year that although God does ask us to forgive those who have wronged us, it does not necessarily mean that we need to forget.
Instead of asking God to wash away all the pain caused by a wrongdoing, we should focus on how God will take the situation and bring something good out of it.
"Instead, [God] wants you to trust him and see how he can bring good out of it. That's more important than forgetting, because then you can thank God for the good that he brought out of it. You can't thank God for things you forget," Warren explains.
The megachurch pastor points to Romans 8:28, which shows that God will help those who trust him to find the good in all situations.
"God says he will work good out of the bad things in life if you will trust him," Warren explains.