Kay Warren Shares What Legacy She and Her Husband Want to Leave Behind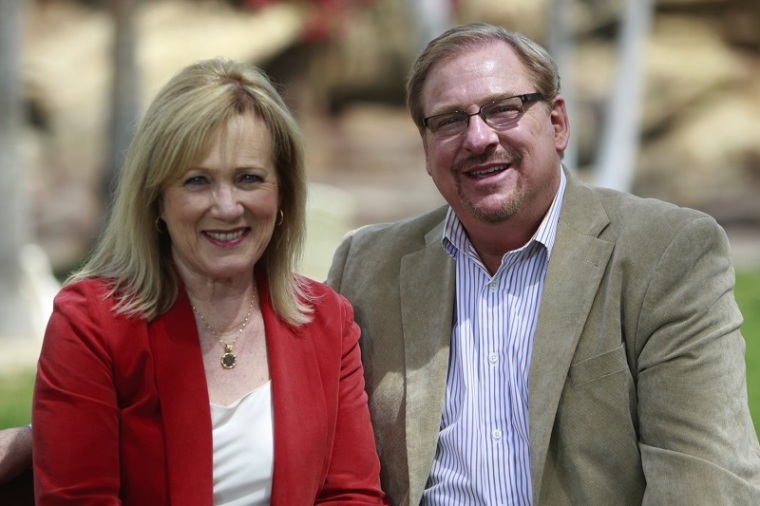 In a candid media interview, Kay Warren, the wife of Saddleback Church Pastor Rick Warren, discusses the legacy she and her husband would like to leave behind and the challenges they have faced after the death of their youngest son, Matthew.
In a series of interviews conducted over the past two years by TheBlaze, Warren, co-founder of the Southern California megachurch, said her and her husband's priority is to "serve God's purposes" in their generation. "The focus of my life will be to testify to His goodness and the gospel of His grace," she said.
"I would like our legacy to be that because of us the faith community, the church of Jesus Christ recognized the worth and the value of people living with mental illness and became willing to incorporate them fully into the body of Christ," she continued. "Not as people in the margins, not people who were projects, [but] recognized the humanity and the beauty of each person's life to extend the radical friendship of God to those living with mental illness."
Warrens' 27-year-old son Matthew, who suffered from a mental illness, took his life by a self-inflicted gunshot wound in April 2013.
"He (Matthew) had a brilliant intellect and a gift for sensing who was most in pain or most uncomfortable in a room. He'd then make a bee-line to that person to engage and encourage them," Rick Warren wrote to his church staff after he learned of Matthew's death. "But only those closest knew that he struggled from birth with mental illness, dark holes of depression, and even suicidal thoughts. In spite of America's best doctors, meds, counselors, and prayers for healing, the torture of mental illness never subsided. Today, after a fun evening together with Kay and me, in a momentary wave of despair at his home, he took his life."
"For me, I'm learning how to live again, to pick up the pieces of my life and create a new life without Matthew," Kay Warren told TheBlaze in the interview. "It's extremely difficult, extremely challenging — not something I'd want anyone else to face or go through."
After Matthew's death, the Warrens started a new mental health ministry, Hope for Mental Health. They sold their son's home to help fund its launch. It is based on five life-transforming Scriptural truths: you are loved, you have a purpose, you belong, you have a choice, and you are needed.
"In the midst of the devastating loss of Matthew, Pastor Rick and Kay along with the Saddleback community, have united together to journey alongside people living with mental illness and their families in a holistic way," the website of the ministry says.
In the interview, Warren recalled how the family was attacked after Matthew's death, referring to some negative messages they received. "I choose not to read it, because it's too painful, it's negative and you can start to think it's reflective of the way that everyone feels and it's not and so just [made a] conscious choice not to read it," she said.
The ministry's website carries the story of David Mandani, who awoke to find himself tied down to a small bed in a hospital psychiatric unit a few years ago. Suffering from Schizophrenia, he was planning to commit suicide when friends on his college wrestling team intervened.
"People often ask, 'How did God help you through recovery?'" he writes. "While I still take medication and have used medical therapies, I am absolutely convinced that God gave me the 'resilience' or 'bounce-back power' to get through my recovery. My church was helpful in so many ways — even though I felt misunderstood at times. And the Bible brought me great comfort. When I was sick, I regularly recalled Hebrews 13:5, a verse my mom gave me on a 3x5 card. It was a simple promise from God where he says, 'I will never leave you and I will never forsake you.' When I felt I had no one to turn to, that promise reminded me that God was with me, and that gave me great comfort, love, and strength to keep going. He never abandoned me — even in my deepest pain."