Rick Warren: Here Is the First Step to a Clear Conscience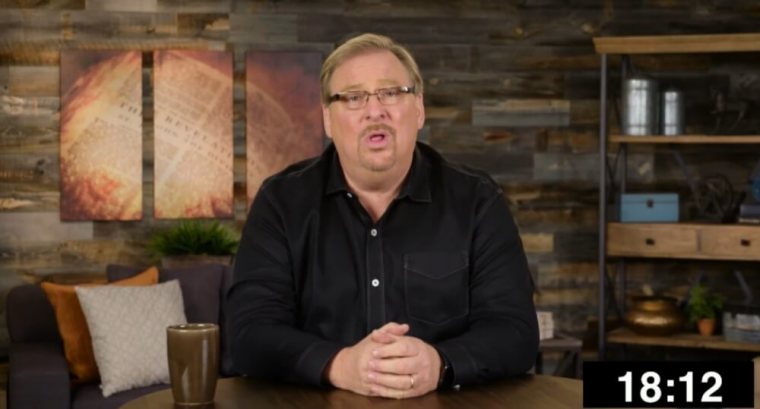 The first step to a clear conscience is to look inward and take a "personal spiritual assessment," Pastor Rick Warren says.
In a recent devotional, the senior pastor of Saddleback Church in Orange County, California, discussed how Christians can achieve a clear conscience, pointing to Psalm 139:23-24 NLT, second edition which stresses the importance of looking to God for such matters: "Search me, O God, and know my heart; test me and know my anxious thoughts. Point out anything in me that offends you, and lead me along the path of everlasting life."
To have a clear conscience, Christians need to have quiet time with God that allows them to look inward and take a moral inventory, or personal spiritual assessment, of themselves.
"You need to sit down with God in a quiet space by yourself when you're unhurried and say, 'God, I'm going to do business with you. I'm going to make a list of anything that's between you and me that's wrong in my life. Help me to see the things that I know are wrong and the things that I don't know are wrong.' Ask God to clear your mind and reveal your sins," Warren encourages, suggesting that in order to facilitate this, Christians pray the previously mentioned Psalm 139:23-24.
By praying this Psalm, you as a Christian are telling God to "turn [his] spotlight on my inner self. Find the stuff in me that's entangled me and that's holding me back."
For introspective moments such as these, patience is of the utmost importance. Warren also encourages Christians to write down their thoughts on paper for better organization and reflection.
This assessment can be life-changing, as it has the potential to liberate us from damaging habits and bring us closer to God.
Therefore, we as Christians must approach this evaluation with the utmost dedication and seriousness in order for it to be effective.
"How serious are you about wanting God's blessing on your life? Enough that you're willing to be gut-level honest? Are you willing to be honest with God? Are you willing to be honest with yourself? Are you willing to be honest with other people? Or are you just going to live in denial? Denial and God's blessing do not go hand-in-hand," Warren writes.
The megachurch pastor concludes his message by encouraging Christians to avoid procrastination.
"There is nothing more important in your life than to have the blessing of God. Take time today, get alone by yourself, and do a personal spiritual assessment. It will change your life!" the pastor writes.
Warren has spoken on the importance of spiritual maturation before, writing in a devotional that the first step in growing spiritually is establishing good habits for personal development.
The megachurch pastor writes that there are five measurements of spiritual growth, including "knowledge, perspective, conviction, skills, and character."
These measurements allow you to understand the "what, why, when" of your spirituality, and from there "you can take the next practical steps to starting and maintain habits that will lead to spiritual maturity."