Rick Warren Reacts to Pat Roberton Alzheimer's Comments by Highlighting Marriage Vows
Saddleback pastor Rick Warren took to his Twitter account Thursday to comment on Pat Robertson, host of "The 700 Club" on the Christian Broadcasting Network (CBN), who suggested that Alzheimer's made divorce justifiable.
In a Tweet directed at "@mgpatrobertson," Warren wrote, "What part of 'IN SICKNESS & heath, till DEATH do us part' did you not understand?"
The Saddleback pastor, who has attracted more than 418,000 followers on his Twitter account, was referring to the wedding vows couples usually make when tying the knot.
Warren is just the latest among a long list of evangelical leaders who have expressed shock and dismay with Robertson advising a married man dating another woman to "divorce and start all over."
On Tuesday's airing of "The 700 Club," Robertson, a former televangelist and owner of CBN, reacted to a viewer's concern that a male friend was dating another woman because his wife's Alzheimer's was adversely affecting their marriage.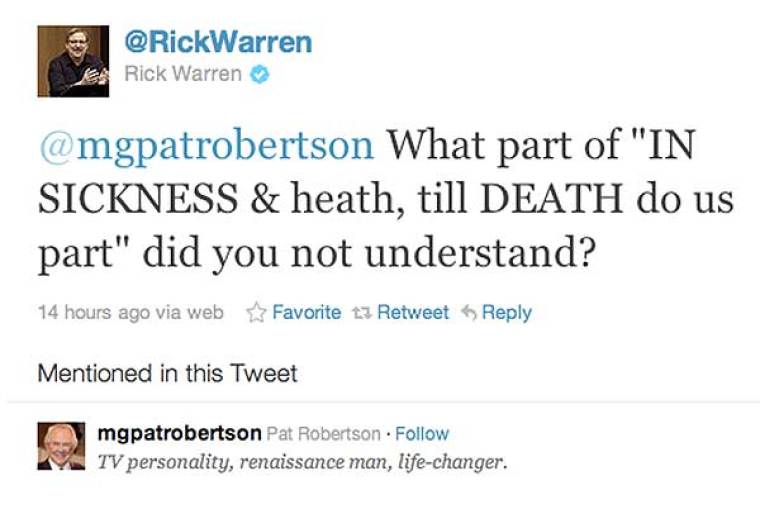 Robertson said, "I know it sounds cruel, but if he's going to do something he should divorce her and start all over again."
Co-host Terry Meeuwsen appeared alarmed by Robertson's comments. She interjected, noting, as Warren does in his tweet, that couples vow to remain together "for better or for worse, for richer, for poorer."
Robertson responded that if people respect those vows they will also keep in mind the part that says "until death do us part," adding that Alzheimer's "is a kind of death."
"I hate Alzheimer's. It is one of the most awful things because, here is a loved one, this is the woman or man that you have loved for 20, 30, 40 years, and suddenly, that person is gone. They're gone. They are gone. So, what he says, basically, is correct," Robertson added.
The controversial "700 Club" host also said he would not put a "guilt trip" on someone who divorced for such a reason.
However, before deserting your spouse with a debilitating disease, make sure they have "custodial care" and someone to look after them, Robertson advised.
The former televangelist did suggest that the viewer who submitted the question "get some ethicist besides me to give you the answer."
Warren's Twitter comment, meanwhile, was actually directed to a spoof account, and not a legitimate account belonging to Robertson.
The Christian Post was unable to verify if Robertson did indeed have an official Twitter account.