Rick Warren Recovering After Emergency Surgery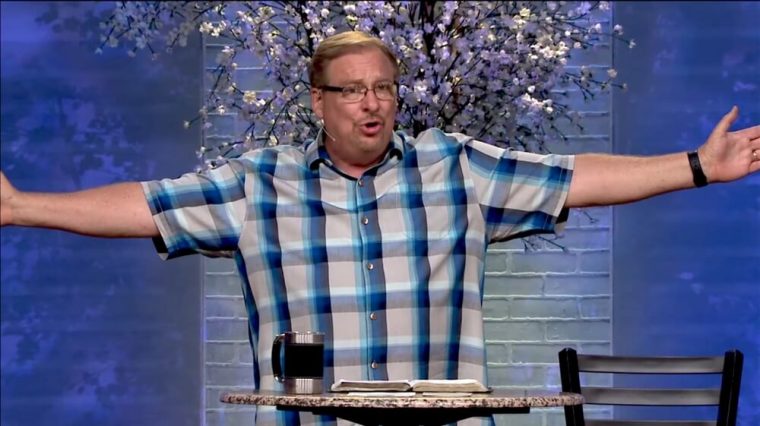 Pastor Rick Warren is recovering after an emergency surgery.
Warren, best-selling author and pastor of Saddleback Church, Lake Forest, California, was rushed to a hospital Thursday morning and immediate surgery was required for a perforated intestine.
Rick's wife, Kay Warren was mid-flight to Northern Ireland when she heard the news and immediately flew back to be with her husband, according to an update posted to the Causeway Coast Vineyard Church Facebook page. CCV was hosting Kay Warren for the Illuminate Women's Conference.
Sunday, Rick Warren notified church members of his condition via email.
"Fortunately, my son, Josh, called me at the same moment of my pain, and he rushed over to drive me to an Urgent Care facility, where the doctor administered shots of antibiotics and a painkiller and advised me to get a CT scan the next morning. But as Josh and I were leaving, my body started shaking uncontrollably, so the Urgent Care doctor insisted that we immediately go to a hospital ER," Warren explained in the email obtained by CBN News.
He also explained why emergency surgery was needed.
"At the hospital, the staff got my CT scan which revealed that my intestine had perforated (torn) and was releasing infection into the abdominal area. So I quickly had emergency surgery and I am now recovering," Rick Warren wrote.
After thanking his church family for their prayers and love, Rick Warren noted that he'll need a second surgery after Christmas.
In a Saturday morning update in the comment section of the CCV Facebook post, Kay Warren wrote, "Hello dear friends - just an update on Rick. He is much better today! The surgery went even better than expected and he will be released in a few days. Things were quite serious for a day but he is strong and tough and he is on the road to recovery! Thank you for your prayers for us! I am keenly disappointed to not be with you at Illuminate 2018; trusting that our sovereign God holds all things in His hands. I pray that what transpires in the lives of the women who attend will mark each one permanently - that unforgettable moments with Jesus and each other will take place. Until we meet in person, love to you all...."
Rick Warren is best known as the author of The Purpose Driven Life (2002), one of the best-selling non-fiction books in publishing history. It has sold over 50 million copies and been translated into 74 languages.