Rick Warren: Suicide Is Never the Solution; I Grieve Every Day Over Son's Fatal Decision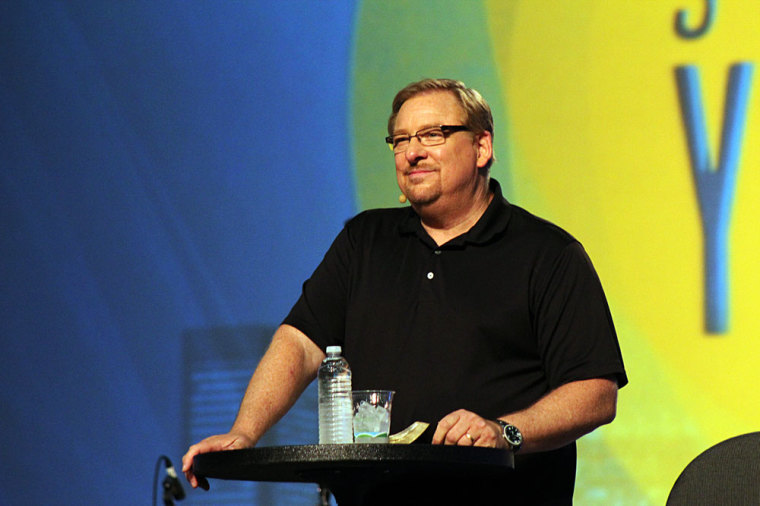 Evangelical Pastor Rick Warren is sharing a message for those who are contemplating suicide, saying that as the father of a son who took his own life, "I still grieve every day about the permanency of his decision."
"A lot of studies have shown that almost everybody has felt suicidal at some low point in their life," Warren, the pastor of Saddleback Church in Orange County, California, says in a video message posted to his Facebook page last month.
Warren adds that while some may think suicide will end their problems, it is in fact a permanent solution to a temporary problem.
In his message, Warren shares the deep suffering and grief his family endures daily following the suicide of his son, Matthew, on April 5, 2013, explaining that his youngest child struggled with mental illness his entire life.
"It was the worst of my life and I still grieve every day about the permanency of his decision to take his own life," Warren says.
Warren goes on to share a message with those contemplating suicide, saying that while the act may seem like a solution, it is in fact permanent and irreversible.
"Suicide is a permanent, irreversible attempt to solve a temporary problem. It is not a wise solution. You don't have to die to end your pain," Warren stresses, comparing the act of suicide to "using a nuclear bomb to wipe out a nest of mosquitos."
"It's irreversible and it'll do far more damage than you possibly realize and it will affect many other people besides yourself."
Warren goes on to emphasize that "no emotion lasts forever," and while depression may feel intense, "it cannot last forever."
Additionally, those suffering from depression must not carry their despair alone, but rather they should turn to others for help, Warren advises, citing Galatians 6:2 that encourages Christians to "bear one another's burdens."
Ultimately, the evangelical leader states that God has a plan and a purpose for every one of his children, and this "plan or purpose for your life is greater than the problem or the emotion you're feeling right now."
Kay told The Christian Post in September that she maintains "certain hope" that her son is in Heaven after taking his own life.
"God's promised us that Matthew's salvation was safe and secure. Matthew gave his life to Jesus when he was a little boy. And so, I'm absolutely 100 percent confident based on the work of Jesus that Matthew is in Heaven," Kay told CP. "And that's a certain hope."
Kay went on to say that her optimism for her son's life was "fragile" in the years leading up to his suicide because of his struggle with mental illness.
"I had a very fragile hope when Matthew was alive. I wanted things that I couldn't control. I wanted him to be well. I wanted him to be healed. I wanted him to live a normal life like his brother and his sister, and like most people that I see. Like we do," she said.
"I have a certain hope that God will make all things right and He will rebuild the ruins of our lives. I'm absolutely certain that I will join Matthew in Heaven because Jesus is alive. I'm gonna live. Those are things that are absolutely certain. I don't have any doubt over them. And so my hope is stronger than it ever has been," Kay added.