Rihanna Debuts Short Hair Ahead of VMAs Performance (PHOTO)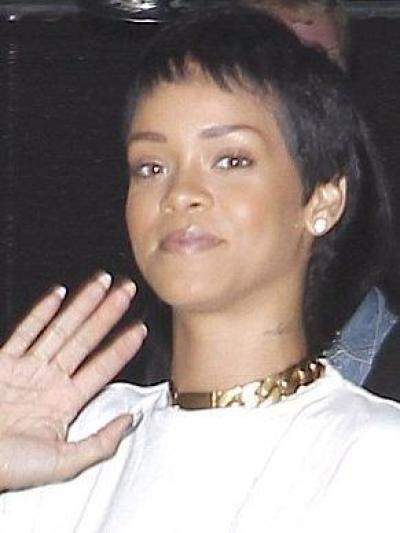 Rihanna debuted a much shorter hair style in Los Angeles on Thursday as she arrived hours ahead of her opening performance at the 2012 MTV Video Music Awards.
The pop star appeared to good spirits as she entered the Staples Center for her performance rehearsal, and onlookers were stunned to see Rihanna without her usual hair extensions. She showed off a short black pixie haircut.
The 24-year-old is renowned for her ever-changing hairstyles, which has previously included fire red hair extensions and bright blonde curls, and her stylist, Ursula Stephen, once explained the singer's constant desire for change.
"We are always changing it up, experimenting, and having fun with hair. That's what I love to do! Her hairstyle typically changes depending on what's on our agenda, what she's wearing, or how she's feeling," Stephen told BellaSugar.com in 2011.
"We take it day by day and event by event, and usually will both bring ideas to the table. It's always a collaboration, which is such a great way to work. It's all about the products that we use to maintain moisture in between all the styling. If we're going heavy with color, we'll lay off the chemical treatments; if her hair needs a break, we'll try a wig or weave," she went on adding "It's all about knowing and understanding the client's hair and reacting to it as you go along."
Rihanna is scheduled to open the highly anticipated awards show with her hit single "We Found Love" followed by her brand new remix of "Cockiness (Love It)" with A$AP Rocky, according to MTV.com.
Despite rumors that the Bajan singer would be performing with her ex-boyfriend Chris Brown, new reports confirm that she is not and that he is not even attending the event.
"[Chris Brown] will not be at VMAs in any capacity," a representative for Brown reportedly told Gossip Cop.com.
2012 Grammy Awards - Coldplay ft. Rihanna, Princess of China / Paradise