Ring in the New Year With 12-Hour Tim Tebow Marathon (VIDEO)
Tim Tebow fans can now spend New Year's Eve reliving historic moments of the Denver Broncos' QB football past, as CBS Sports Network airs a marathon of the Christian athlete's college games.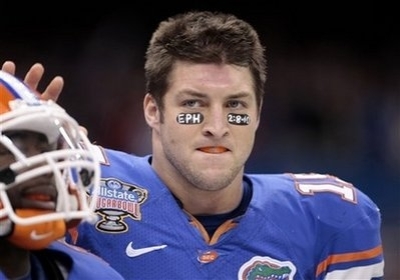 "CBS Sports Network will ring in the New Year with a marathon of classic Florida football games featuring former Gators quarterback Tim Tebow," the network announced.
Tebow, who won a BCS Championship with the Gators during his junior year, led the Gators with a Heisman trophy win his sophomore year and received three most valuable player awards, will be the center of attention for 12 hours beginning Saturday night.
CBS Sports Networks has invited fans to watch the marathon via Twitter, saying "ring in the new year with a Tim Tebow marathon."
However, some people had mixed reactions upon hearing the news.
"Is this an April fools joke," one fan questioned.
Another seemed to want to avoid the marathon tweeting, "Thanks for the warning."
Although some did not seem excited at the possibility of watching Tebow's college football days for 12 hours, others welcomed the possibility.
"We're on it, thanks," tweeted one of Tebow's fan pages.
Tebow is known for being vocal about his Christian faith and giving credit to Jesus whenever it's due.
The CBS Sports network will broadcast games against Kentucky, where Tebow threw four touchdowns in his Heisman award-winning season; Alabama where Tebow threw three touchdowns to clinch the SEC title in a championship game; Georgia where Tebow threw two and ran two touchdowns, which broke an SEC career record; and finally an Arkansas game where Tebow helped his team win with a late game-winning drive.
The marathon is scheduled to begin on CBS Sports networks at 9 p.m. EST Saturday. Before the games are broadcast, the network will air the best SEC college games of 2011 from Wednesday to Saturday evening, leading into the encore of Tebow's notable college performances.
The Christian Post Daily Report 12.29.11